UPDATE 21. November 2020: GETTING COVID PROTECTS YOU FOR YEARS & NY Business Owners Stand Up To Unconstitutional "Lockdown" Orders
UPDATE 20. November 2020: NY sheriff refuses to enforce Cuomo's Thanksgiving restrictions & NEW STUDY: COVID WAS ALREADY HERE (as early as from Aug. 2019 onwards) & Portuguese Court Rules PCR Tests "Unreliable" & Quarantines "Unlawful" - Important legal decision faces total media blackout in Western world
UPDATE 19. November 2020: Dr. Roger Hodkinson on how governments responded to COVID & Chef der Biotech-Firma, die Covid-Tests verkauft, gibt zu, dass die ganze Sache ein Schwindel ist
UPDATE 13. November 2020: RAin in Südtirol: PCR-Test lt. Mike Yeaden (ehem. ViceDirector bei Pfizer) zu 95 % falsch!
ICYMI: IMPORTANT-Actual Proof The Virus Does Not Exist – Gemma O'Doherty & MASK WHISTLEBLOWERS TELL ALL - Dell Bigtree & NHS worker resigns and tells the truth about the Covid19/Coronavirus scam & VACCINE DEATH WAVE: UK government posts bid for AI system to process the expected flood of COVID-19 vaccine injuries and side effects described as a "direct threat to patient life" & Don't follow Europe's lockdown model on COVID-19
#Sitzung 27:
"Der Rundumschlag - A Sweeping Blow"
Corona-Ausschuss hört die Experten: Dr. Mike Yeadon (Ex-Vizepräsident Pfizer), Dr. Claire Craig (Ärztin und Pathologin) sowie Lungenfacharzt und Hygieniker Dr. Wolfgang Wodarg als medizin-wissenschaftlicher Berater.
English with some German translations
Livestream - 13. September 2020 - 11:00 h MEZ mit Zuschauerbeteiligung ⇊ (English mit tlw. deutscher Übersetzung)
•Streamed live on Nov 13, 2020 - 11h MEZ - [Um in den Livestream Chat zu gelangen bitte direkt zum LiveChat]
===
Unterlagen / Dokumente / Documents
What SAGE Has Got Wrong
16 October 2020. Updated 21 October 2020.
By Mike Yeadon
https://lockdownsceptics.org/what-sage-got-wrong/
===
WIR FORDERN DIE SOFORTIGE BEENDIGUNG DER CORONA ZWANGS-TESTS
- da die verwendeten PCR-Tests und deren Auswertung keinerlei schlüssige und medizinisch-volksgesundheitliche Aussagekraft haben.
Auch gibt es wesentlich gefährlichere Mensch-zu-Mensch Kontaktinfektions-Krankeiten (wie Anthrax, Botulismus, CCHF, Ebolafieber, HIV/AIDS, Hantavirus, Influenza incl. Influenza A HxNy (neuer Subtyp), Lassafieber, Marburgvirus-Infektionen, Pest, Pocken, Syphilis (Lues), West-Nil-Fieber) für die nicht einfach z.B. jeder Reisende zwangsgetestet wird und auch von daher steht die auf SARS-CoV-2 abgestellte Zwangstestung nicht im Verhältnis zu anderen, wesentlich gravierenderen Ansteckungs-Krankheiten zwischen Menschen - weder volksgesundheitlich noch volkswirtschaftlich.
Darüberhinaus fordern wir die sofortige Anwendung aller Vorschriften insbesondere bezüglich der Vertraulichkeit, des Daten-, Genmaterial-, und Persönlichkeitschutzes, wie sie für HIV/AIDS Erkrankte bestehen, auch für die an SARS-CoV-2 Erkrankten.
Wenn seitens der Regierung weiterhin auf dem Corona-Zwangstest bestanden werden sollte dann folgt daraus zwingend, dass alle Tests auch auf die schwerwiegenderen Erkrankungen, für die es keine Impfung gibt (wie HIV/AIDS etc.), ausgeweitet werden müssen und auch die Tester nicht nur vor- und nachweislich medizinisch qualifizert sind, sondern der zu testenden Person ebenfall einen umfänglichen Negativ-Test-Nachweis vorlegen müssen bevor eine erzwungene Probenentnahme stattfinden darf.
Infektionskrankheiten A-Z
A
B
C
D
E
F
G
H
I
K
L
M
N
O
P
Q
R
S
T
U
V
W
Y
Z
===
Dr Mike Yeadon exposes the Coronavirus/Covid 19 scam with James Delingpole
First published on BITCHUTE October 29th, 2020.
Truth bombs aplenty against the way this Tory Government has handled this "virus".
===
UPDATES:
GETTING COVID PROTECTS YOU FOR YEARS
THE HIGHWIRE: GETTING COVID PROTECTS YOU FOR YEARS (21. November 2020)
Recent data from scientists at the Center for Infectious Disease and Vaccine Research suggests those who have had COVID-19 may be immune for years. Del & Jeffery Jaxen breakdown the science and show why herd immunity [better term would be population immunity, since only cattle and chattle form herds] may be an effective tool to end the pandemic.
===
RAin in Südtirol: PCR-Test lt. Mike Yeaden (ehem. ViceDirector bei Pfizer) zu 95 % falsch!
Re-Upload •Nov 25, 2020 - Video vom 13. November 2020 - Dr. Renate Holzeisen
Damit wären alle Maßnahmen, die auf den positiven PCR-Tests (Fallzahlen) beruhen, verfassungswidrig!
===
NY Business Owners Stand Up To Unconstitutional "Lockdown" Orders
•Nov 21, 2020 (deleted by the criminal GooTube censors)
The business owners tell the Sheriff's deputies and health department workers that they're not welcome on their property and that they're not shutting down.
News article on the video: https://www.radio.com/wben/news/local...
BACKUP
NY BUSINESS OWNERS STAND UP TO UNCONSTITUTIONAL 'LOCKDOWN' ORDERS
Republished on BITCHUTE November 22nd, 2020.
NY Business Owners Stand Up To Unconstitutional 'Lockdown' Orders-B_WDJ19HA-E.mp4
BigTech just purged the president of the United States and untold numbers of creators and users.
===
NY sheriff refuses to enforce Cuomo's Thanksgiving restrictions
•Nov 20, 2020
New York's Fulton County Sheriff Richard Giardino tells 'Outnumbered Overtime' he is refusing to follow Gov. Andrew Cuomo's 10-person limit on Thanksgiving gatherings.
===
NEW STUDY: COVID WAS ALREADY HERE (as early as from August 2019 onwards)
THE HIGHWIRE: NEW STUDY: COVID WAS ALREADY HERE (20. November 2020)
A new study is raising serious questions about the #Covid19 timeline. Antibodies of the virus in asymptomatic participants may go back even further than we initially thought. Find out how far back, and why this may change everything we think we know about the Coronavirus.
READ ALSO: What we wrote in the PROLOGUE here already earlier: COVID spared Africa so far - SARS-CoV-2 was around at least from October 2019 in Eastern Africa.
===
Portuguese Court Rules PCR Tests "Unreliable" & Quarantines "Unlawful"
Important legal decision faces total media blackout in Western world
By OG - 20. November 2020
An appeals court in Portugal has ruled that the PCR process is not a reliable test for Sars-Cov-2, and therefore any enforced quarantine based on those test results is unlawful.
Further, the ruling suggested that any forced quarantine applied to healthy people could be a violation of their fundamental right to liberty.
Most importantly, the judges ruled that a single positive PCR test cannot be used as an effective diagnosis of infection.
The specifics of the case concern four tourists entering the country from Germany – all of whom are anonymous in the transcript of the case – who were quarantined by the regional health authority. Of the four, only one had tested positive for the virus, whilst the other three were deemed simply of "high infection risk" based on proximity to the positive individual. All four had, in the previous 72 hours, tested negative for the virus before departing from Germany.
In their ruling, judges Margarida Ramos de Almeida and Ana Paramés referred to several scientific studies. Most notably this study by Jaafar et al., which found that – when running PCR tests with 35 cycles or more – the accuracy dropped to 3%, meaning up to 97% of positive results could be false positives.
The ruling goes on to conclude that, based on the science they read, any PCR test using over 25 cycles is totally unreliable. Governments and private labs have been very tight-lipped about the exact number of cycles they run when PCR testing, but it is known to sometimes be as high as 45. Even fearmonger-in-chief Anthony Fauci has publicly stated anything over 35 is totally unusable.
You can read the complete ruling in the original Portuguese here, and translated into English here. There's also a good write up on it on Great Game India, plus a Portuguese professor sent a long email about the case to Lockdown Sceptics.
* The media reaction to this case has been entirely predictable – they have not mentioned it. At all. Anywhere. Ever.
The ruling was published on November 11th, and has been referenced by many alt-news sites since…but the mainstream outlets are maintaining a complete blackout on it.
The reddit Covid19 board actually removed the post, because it was "not a reliable source", despite relying on the official court documents:
Lookout for a forced and disingenuous "fact-check" on this issue from HealthFeedback or some other "non-partisan" outlet in the near future. But until they find some poor shlub to lend their name to it, the media blackout will continue.
Whatever they say, this is a victory for common sense over authoritarianism and hysteria.
===
Dr. Roger Hodkinson on how governments responded to COVID
•Nov 19, 2020 (deleted by the criminal GooTube censors)
Dr. Roger Hodkinson offers his informed perspective to Edmonton's City Council on how governments responded to COVID-19. He has called for the end of restrictions, mask use, testing, and social distancing. He agrees it is time we return to normal. Dr. Roger Hodkinson is a virologist and has held many prestigious positions in medical institutions across Canada. Presently his firm sells COVID tests and has direct knowledge on the lack of effectiveness to diagnose illness.
Full meeting: https://www.youtube.com/watch?v=K1W0F...
BACKUP
Republished on BITCHUTE December 7th, 2020. ... and another BACKUP
Dr. Roger Hodkinson offers his informed perspective to Edmonton's City Council on how governments responded to #COVID19. He has called for the end of restrictions, mask use, testing, and social distancing. He agrees it is time we return to normal. #onpoli #cdnpoli #abpoli
Dr. Roger Hodkinson is a virologist and has held many prestigious positions in medical institutions across Canada. Presently his firm sells COVID tests and has direct knowledge on the lack of effectiveness to diagnose illness.
Full meeting: https://www.youtube.com/watch?v=K1W0FHuR-Rc
===
Chef der Biotech-Firma, die Covid-Tests verkauft, gibt zu, dass die ganze Sache ein Schwindel ist
First published as BACKUP on BITCHUTE November 19th, 2020.
Übersetzung:
Roger Hodkinson, Vorsitzender des Komitees des Royal College of Physicians and Surgeons in Ottawa, CEO eines großen privaten medizinischen Labors in Edmonton, Alberta, und Vorsitzender einer medizinischen Biotechnologiefirma, die den COVID-19-TEST VERKAUFT:
"Es gibt eine völlig unbegründete öffentliche Hysterie, die von den Medien und Politikern angetrieben wird. Dies ist der größte Schwindel, der jemals einer unverdächtigen Öffentlichkeit angetan wurde. Es gibt absolut nichts, was getan werden kann, um dieses Virus einzudämmen. Dies ist nicht mehr als eine schlechte Grippesaison. Es ist Politik, die Medizin spielt, und das ist ein sehr gefährliches Spiel.
"Es besteht kein Handlungsbedarf... Masken sind völlig nutzlos. Es gibt keinerlei Beweise dafür, dass sie überhaupt wirksam sind. Es ist völlig lächerlich, diese unglücklichen, ungebildeten Menschen wie Lemminge herumlaufen zu sehen, die wie Lemminge ohne jeden Beweis gehorchen. Soziale Distanzierung ist ebenfalls nutzlos... Das Risiko, unter 65 zu sterben, liegt bei 1 zu 300.000... "
===
ICYMI:
VACCINE DEATH WAVE: UK government posts bid for AI system to process the expected flood of COVID-19 vaccine injuries and side effects described as a "direct threat to patient life"
By Mike Adams - 16. November 2020
(Natural News) While the lying, treasonous mainstream media are telling us all that covid-19 vaccines are perfectly safe and "95% effective" — and this lie is being repeated by PJ Media, Breitbart and other so-called "conservative" news publishers — the UK government has posted a bid and an award contract notice, seeking an Artificial Intelligence (AI) system that can process the expected flood of covid-19 vaccine injuries and side effects.
Titled simply, "Supplies – 506291-2020" and found at this link on Tenders Electronic Daily, this contract award notice we originally posted on October 19th, 2020 and is summed up as follows:
The MHRA urgently seeks an Artificial Intelligence (AI) software tool to process the expected high volume of Covid-19 vaccine Adverse Drug Reaction (ADRs) and ensure that no details from the ADRs' reaction text are missed.
The request for the AI system to process covid-19 vaccine reactions comes from the UK's Medicines & Healthcare Products Regulatory Agency, the MHRA.
Further in the document, the MHRA describes an "extreme urgency under Regulation 32(2)(c) related to the release of a Covid-19 vaccine" and says that the expected flood of covid-19 vaccine adverse reactions will overwhelm its current "legacy systems."
"If the MHRA does not implement the AI tool," the MHRA explains, "it will be unable to process these ADRs effectively. This will hinder its ability to rapidly identify any potential safety issues with the Covid-19 vaccine and represents a direct threat to patient life and public health."
The extreme urgency status of this bid is further explained:
Reasons of extreme urgency — the MHRA recognises that its planned procurement process for the SafetyConnect programme, including the AI tool, would not have concluded by vaccine launch. Leading to a inability to effectively monitor adverse reactions to a Covid-19 vaccine.
Events unforeseeable — the Covid-19 crisis is novel and developments in the search of a Covid-19 vaccine have not followed any predictable pattern so far.
Does this sound like an agency expecting the covid-19 vaccine to be safe and effective?
What's clear from the description in the contract award document is that:
The MHRA is expecting covid-19 vaccines to cause a surge of adverse events / side effects.
The MHRA is fully aware that these adverse events will harm and kill many patients. They specifically warn of, "a direct threat to patient life."
The MHRA's legacy systems are unable to handle the expected volume of incoming reports of covid-19 vaccine injuries, meaning the expected volume of such reports will be very large and unprecedented.
The MHRA recognizes the "extreme urgency" of putting a new system in place to identify the adverse reactions of covid-19 vaccines.
The MHRA states that if a new AI system is not urgently installed, it will be unable to identify many of the adverse reactions stemming from the covid-19 vaccine, and that this failure will negatively impact public health. (i.e. People will die.)
What this shows is the brutal honesty of the MHRA behind the scenes, in their contract bid process for AI systems. Yet publicly, nearly all government regulatory agencies around the world — including those in the UK and USA — share no such details with the public and falsely portray covid-19 vaccines are nearly 100% safe and effective.
We now know that even the UK's MHRA realizes the covid-19 vaccines are going to be extremely dangerous to the public, generating a catastrophic wave of adverse reactions and deadly side effects.
It begs the question: Why isn't the MHRA saying any of this publicly?
(h/t to the creator of the following video on Brighteon.com, which first brought this bombshell to my attention.)
Culling the human population with deadly bioweapons and toxic vaccines: The "great reset" is medical tyranny and economic communism
No doubt the CDC knows all this too, and they're aren't broadcasting anything that would alert the public to this reality.
Obviously, the public is being deliberately kept in the dark about the dangers of covid-19 vaccines, and sadly, even pro-Trump, conservative media outlets in the USA are parroting vaccine industry propaganda to try to make people think covid-19 vaccines are going to save the world.
Keep in mind that the treasonous tech giants have all conspired over the last several years to censor anyone who questions the safety of efficacy of vaccines. This means that as people are dying from the covid-19 vaccine, no one will be allowed to talk about it or raise the alarm. All covid-19 vaccine deaths will be covered up and kept from the public. The media, of course, will do everything to protect Big Pharma, just like they worked overtime to project Joe Biden and the Biden Crime Family from shocking disclosures about communist China's control over Hunter Biden.
In essence, Big Pharma and the globalist controllers expect humanity to line up, take the shot and die in silence as everything is stolen from us all by the evil globalist "great reset" collaborators. Vaccine shots that achieve their goal of mass genocide and depopulation are just one layer of their grand plan which also involves the coordinated, global theft of all private assets via an engineered fiat currency collapse that renders all currency-denominated savings and assets instantly worthless.
Not only will people who take the shots end up injured or killed; everything they once owned will be confiscated and stolen from them by the very same globalists pushing vaccines and censorship.
These are the same globalists who just stole the 2020 election in the USA, of course, by rigging Dominion voting machines and gaslighting the entire nation with their fake news media.
The final solution against humanity is a combination of a global economic reset, mass genocide via vaccines, engineered starvation via a controlled collapse of the food supply, and the total control over speech and thoughts via Big Tech censorship and social engineering schemes. To the globalists, you are nothing but a farm animal, and they believe it's time to round up all the animals for slaughter.
Hence the need for the SARS-cov-2 coronavirus from the very start: It allowed globalists to unleash all their agendas to enslave humanity and destroy human freedom, all while claiming to be "protecting" you from the very same biological weapon they built and released in the first place.
===
Don't follow Europe's lockdown model on COVID-19
Lockdowns are medically, socially and economically devastating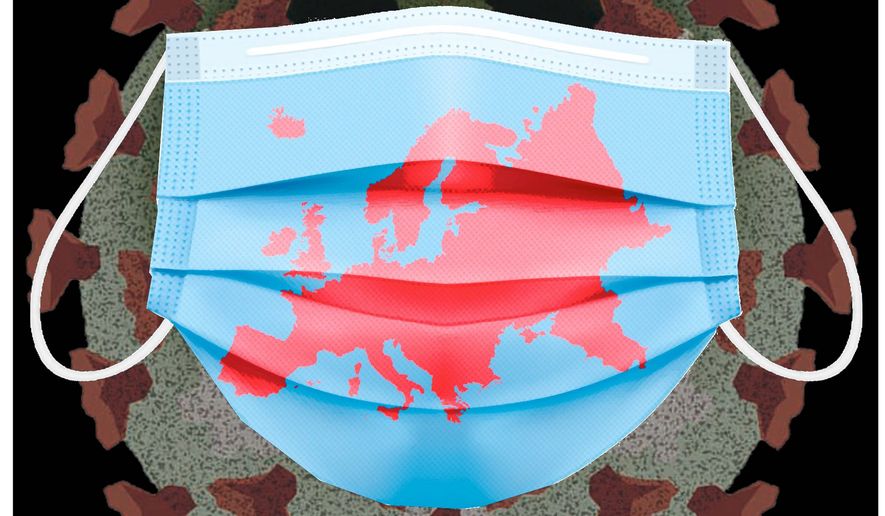 By Simone Gold - - Saturday, November 14, 2020
ANALYSIS/OPINION:
The United States just passed 10 million confirmed coronavirus cases. Dr. Anthony Fauci is predicting a dark winter. Presumptive President-elect Joe Bidensays he has a plan but continues to focus on an unenforceable mask mandate and the potential for more lockdowns.
In Europe, where an aggressive lockdown strategy was once heralded by public health officials and media pundits, the COVID-19 winter has already arrived. Across the continent, countries have responded to the pandemic by imposing new nationwide or partial lockdowns. Ordinary Europeans, who are familiar with the strategy's staggering costs, are staging protests. They know a second round of lockdowns would be medically, socially and economically devastating.
Prime Minister Boris Johnson shut down his country for at least four weeks to prevent what he calls a "medical and moral disaster" for Britain's government-run health care system.
In Italy, the government in Rome forced a nationwide curfew along with travel restrictions in certain regions.
German citizens are told to accept "wavebreaker" lockdowns for the rest of November and rule out "lavish New Year's Eve parties," says Chancellor Angela Merkel.
Public health officials around the world are using infection models to justify draconian measures. The experience and counsel of front-line doctors and physicians who are treating patients during the pandemic barely register with these "experts."
Lockdowns aren't treatment. They're not science. They're reckless. The U.S. must resist taking cues from governments across the Atlantic on how to handle a second wave.
General lockdowns are both unnecessary and demonstrably ineffective. Research and experience tell us that COVID-19 spreads most efficiently indoors. In a study of more than 7,300 cases, international researchers found that just two infections could be linked to outdoor settings. Effective social distancing is relaxed or unobserved inside and the often drier, uncirculated air of indoor environments encourages viral transmission. In short, keeping people locked up in their homes exposes them to a greater level of risk over time.
The stated purpose of both the European and American lockdowns earlier this year was to prevent overwhelming local hospitals with critically ill patients. However, as the shutdown dragged on in places like New York and California, public health officials saw increases in heart disease and cancer rates, as well as functional decline directly attributable to fearful Americans putting off visits to their doctor or hospital.
Addiction and mental health crises have grown rapidly during the pandemic. Rates of suicide, depression and substance abuse are up. Children are expressing higher levels of loneliness, anxiety and neuroses. Following the European shutdown model again would only lead to more non-COVID excess deaths.
Furthermore, advances in treatment since the start of the pandemic have led, on average, to lower mortality rates and shorter hospitalizations, or at-home treatment for those who exhibit symptoms. One of these safe and effective treatments is FDA-approved hydroxychloroquine, a medication which concerned physicians have lobbied the federal government to make available over the counter in the U.S., just as it is in many countries around the world. There is no reason why the citizens of Poland, Iran, Indonesia, Turkey, Venezuela, the Philippines and others should have greater access to this inexpensive treatment than Americans.
Then there is the economic damage. The International Monetary Fund estimates the global cost of the pandemic at about $28 trillion. In the U.S., the number of long-term unemployed is rising, even as the economy gradually rebounds from its COVID-induced recession. There are about 7 million more people out of work now than prior to the pandemic, and the longer the laid off go without a job the harder it becomes for them to find one. The retail, hospitality and travel industries, along with thousands of businesses, have all been impacted, perhaps permanently, with economists predicting that the U.S. job market won't recover until at least 2022.
Some limited initial lockdowns may have been a logical stopgap measure in the spring, when we were still learning about this highly infectious virus — not anymore.
America should lead with what it has learned. Whether it's Donald Trump or Joe Biden, we should not follow the European lockdown model. The White House should take advice from those who have actually treated COVID-19 patients in clinical settings instead of trusting more failed models and made-for-media science. By choosing to follow the evidence and learning from experienced physicians, the U.S. can beat the pandemic, protect vulnerable groups and avoid subjecting Americans to Europe's long, dark winter.
• Simone Gold, a board-certified emergency physician and a lawyer, is the founder of America's Frontline Doctors (AFLDS). To learn more about America's Frontline Doctors, visit americasfrontlinedoctors.com.
===
NHS worker resigns and tells the truth about the Covid19/Coronavirus scam
- Truro, Cornwall, 04. November 2020
First published on BITCHUTE November 5th, 2020.
Moment whistleblower NHS worker publicly resigns claiming she had 'no work for three weeks' at the height of the pandemic and alleges her hospital now count flu and Covid cases as 'the same thing'
https://t.co/15BNuTIw0l?amp=1
===
===
MASK WHISTLEBLOWERS TELL ALL - with Dell Bigtree
THE HIGHWIRE: MASK WHISTLEBLOWERS TELL ALL (July 2020 - 06. October 2020)
Government trained OSHA mask experts Tammy Clark & Kristen Meghan join Del in-studio to break down vital info on masks, PPE, and their role in #Covid19 prevention. Every adult on this planet wearing a mask needs to hear this riveting discussion.
===
Plandemic Indoctornation World Premiere
By LondonReal - 18. August 2020
We did it.
The Digital Freedom Platform by London Real exclusively livestreamed what might be the most important documentary you will ever see: PLANDEMIC – INDOCTORNATION.
Created by the team behind the game-changing Plandemic video segment from Mikki Willis featuring Dr. Judy Mikovits that went viral and was banned on every major social media platform for exposing the truth about Covid-19, this new FEATURE LENGTH PIECE which is the most revelatory film on what is driving the vaccine agenda, the various roles of the WHO, Bill Gates, Tedros Adhanom, Anthony Fauci and more.
Going deep into what is really happening with mainstream media, Silicon Valley tech giants, big pharma and our health protection agencies, Mikki's new film finally connects the dots…
… And we are excited to be able to share this with you…
We believe that this film will fundamentally shift the discourse around Coronavirus, the lockdown and the vested interests involved.
Download clips
A number of clips from this groundbreaking interview are now available to
download, share and repost. Spread the word and defend our human rights: grab
these clips today!
1. The Event '201'
2. The Backstory Behind The Judy Mikovits Interview
3. Interview With David E. Martin "Turning Coronavirus From A Pathogen To Profit"
4. Where Did The Coronavirus Originate And How Was The Media Spread It
5. How Does Google And Other Silicon Valley Companies Control The Narrative
6. Should We Trust Our So Called 'Fact Checkers'
7. Power Hungry People Controlling The Narrative, The So Called 'Mocking Bird'
8. How The Media Targets Whistleblowers
9. The Out Break Of Coronavirus Was Predicted Long Before The '201 Event'
10. Leadership Is Compromised By Merits Of Influence Rather Than Qualities
11. Why We Will Never Be Able To Fix Our Medical Care System
12. Who Is Bill Gates And What Eruption Has He Caused
13. 'The National Childhood Vaccine Injury Act'
14. From Microsoft To Creating A Vaccine, How Is Gates Involved With Epstein
15. A Vaccine Or A Population Management Story
16. Stand Up To The Conspiring Parties To Reclaim Your Humanity!
---
By LondonReal - 13. August 2020
Plandemic The Feature That Started It All
When Plandemic was released earlier this year, there was a huge amount of controversy around its contents which focus on interviews with Dr. Judy Mikovits who has also been a guest on London Real.
Exposing the vaccine agenda and the vested interests behind it, Plandemic went viral generating millions of views before being removed from major platforms including YouTube, Facebook and others.
As part of the build-up to Plandemic: Indoctornation, a new feature length documentary from Mikki Willis (the filmmaker behind Plandemic) which goes deep into subjects including the role of the Bill & Melinda Gates Foundation, the WHO and Big Pharma which is being broadcast here exclusively on the Digital Freedom Platform, we encourage you to watch the original 26 minute piece and find out what makes this such a must-see documentary.
===
Stiftung Corona-Ausschuss
Wir untersuchen, warum die Bundes- und Landesregierungen beispiellose Beschränkungen verhängt haben und welche Folgen diese für die Menschen hatten.
Der Corona Ausschuss wurde von vier Juristen ins Leben gerufen. Er führt eine Beweisaufnahme zur Corona-Krise und den Maßnahmen durch. Der Corona Untersuchungsausschuss wird vertreten durch die Rechtsanwältinnen Viviane Fischer, Antonia Fischer sowie die Rechtsanwälte Dr. Reiner Füllmich und Dr. Justus. P. Hoffmann
Erfahren Sie mehr über den Ausschuss: https://corona-ausschuss.de und
Telegram: https://t.me/s/Corona_Ausschuss
Haben Sie Fragen für den Untersuchungsausschuss? Können Sie als Zeugin oder Zeuge zur Aufklärung von Umständen beitragen? Können Sie als Expertin oder Experte Fachwissen beisteuern?
Schreiben Sie uns:
Anonyme Hinweise an den Corona-Ausschuss: https://securewhistleblower.com/ [Anmerkung d.R.: Dieser Dienst, der auf einem Server in der Schweiz gehostet ist, ist nicht wirklich sicher, verschlüsselt lediglich die Übertragung (nur mit SSH), nicht die Mitteilungen oder Anlagen selbst (d.h. Servermanager oder Hacker finden Klartext) und sollte keinesfalls ohne VPN oder TOR angesteuert werden. Dienste, die auf einem Server oder seiner "cloud" basieren, speichern die Meta-Daten des Senders etc. - Read: https://ecoterra.info/index.php/de/about - you can contact us for advise how to transmit very sensitive material.]
Wer Hintergrundinfos / Insiderwissen zum Thema "Corona und die Rolle der Medien" hat bitte per E-Mail an
Sie können unsere Arbeit mit einer Spende unterstützen. Spendenbescheinigungen können wir derzeit leider noch nicht ausstellen. Die Bankverbindung ist: Rechtsanwaltsanderkonto/Treuhandkonto: Rechtsanwalt Tobias Weissenborn Verwendungszweck "Spende Corona-Ausschuss" IBAN: DE14 2604 0030 0602 3832 04 BIC: COBADEFFXXX
===

Die Corona-Krise hat die Menschen auf der ganzen Welt hart getroffen. Ganz besonders den Unternehmen wurden bereits mit den ersten Einschränkungen "das Wasser abgedreht". Gerade für viele Kleinstbetriebe, kleinere und mittlere Unternehmen muss daher rasch eine Lösung her und die heißt Schadenersatz.
Rechtsanwalt
Marcel Templin
Kreuzbergstraße 72, D-10965 Berlin
https://www.corona-schadensersatzklage.de
===
Die Filmemacher von OVALmedia haben diese live-Übertragen ohne Budget umgesetzt. Wir produzieren zudem einen Kinofilm zur Coronakrise.
Ihr könnt uns unterstützen, z.B. über das Crowdfunding, siehe www.corona.film, oder auf dem direkten Weg: Bank transfer: OVALmedia Berlin GmbH Volksbank Lippstadt IBAN: DE82416601240017170703 Paypal: OVALmedia Berlin GmbH https://www.paypal.me/ovalmediaberlin Bitcoin (primary address) bc1q7xfc7ppuw5jwz77sy29txy0efwqnpxw70swgy6 Monero (primary address) 4ATT5z6TgvR6aH9HsPjjLENB6wMaF36aMYwFs2N6sXXWfMZpgz5Vs2GNBrtLAJxVdZEPnvRiF4c56R1k2pfGEvvfFfBztpn
===
SITZUNGEN & FAKTEN DES CORONA UNTERSUCHUNGS-AUSSCHUSS DER SCA
CORONA UNTERSUCHUNG TAG 46 - Angst ist heilbar
CORONA UNTERSUCHUNG TAG 45 - Kann denn Rechnen Sünde sein?
CORONA UNTERSUCHUNG TAG 44 - Die Wurzeln des Übels
CORONA UNTERSUCHUNG TAG 43 - Einmal Faschismus und zurück
CORONA UNTERSUCHUNG TAG 42 - Die Systemkrise
CORONA UNTERSUCHUNG TAG 41 - Troja Allenthalben
CORONA UNTERSUCHUNG TAG 40 - The Great Recall
CORONA UNTERSUCHUNG TAG 39 - Die globalen Zusammenhänge und die Presse: Russland, Schweden, Italien etc.
CORONA UNTERSUCHUNG TAG 38 - Angriff auf Mensch und Gesellschaft
CORONA UNTERSUCHUNG TAG 37 - Die Abrechnung: Rechtssystem und mRNA Technologie
CORONA UNTERSUCHUNG TAG 36 - Ist es ein Teufelszeug? - mRNA-Technologie im Schafspelz
CORONA UNTERSUCHUNG TAG 35 - Recht und Gesundheit / Lex et salutem - Der blinde Fleck
CORONA UNTERSUCHUNG TAG 34 - Die im Dunklen sieht man nicht
CORONA UNTERSUCHUNG TAG 33 - Schlussstrich 2020
CORONA UNTERSUCHUNG TAG 32 - Die Rolle der Kirchen und Religionsgemeinschaften in der Corona-Krise
CORONA UNTERSUCHUNG TAG 31 - Der Damm bricht liebevoll
CORONA UNTERSUCHUNG TAG 30 - Unter der Lupe
CORONA UNTERSUCHUNG TAG 29 - Der Angriff auf Körper und Seele
CORONA-KLAGE: Jetzt Geht Es Los ! - Klage gg. Drosten & Co. beim Berliner Langericht eingereicht
CORONA UNTERSUCHUNG TAG 28 - Der abschüssige Hang
CORONA UNTERSUCHUNG TAG 27 - Der Rundumschlag
CORONA UNTERSUCHUNG TAG 26 - PCR-Test - die Dominosteine fallen
CORONA UNTERSUCHUNG TAG 25 - Die Gefahr der Gleichschaltung unseres Rechtssystems, Polizeigewalt und Übergriffe von Privaten
CORONA UNTERSUCHUNG TAG 24 - Die Stärke unseres Immunsystems und die Stimmen der Kinder
CORONA UNTERSUCHUNG TAG 23 - Spiel und Ernst sowie ein Blick ins Innere einer Gewerkschaft
CORONA UNTERSUCHUNG TAG 22 - Die Player: Drosten, Ferguson, Wieler, die Charité und die Rolle von TIB Molbiol
CORONA UNTERSUCHUNG TAG 21 - "Die Macht der Konzerne und die Korruption"
CORONA UNTERSUCHUNG TAG 20 - Finanzsystem und Hartz IV-Regime
CORONA UNTERSUCHUNG TAG 19 - Risiken durch die Behandlung / Interna aus den Schulen
CORONA UNTERSUCHUNG TAG 18 - Gefährdung durch die Maßnahmen, Risiken durch die Behandlung
CORONA UNTERSUCHUNG TAG 17 - Die Volkswirtschaft im Griff der Pandemie & Die Corona Impfung
CORONA UNTERSUCHUNG TAG 16 - Die Corona-Sprechstunde: Hilfe zur Selbsthilfe bei Masken, Tests, Quarantäne
CORONA UNTERSUCHUNG TAG 15 - Hypnose, Rituale, Angst und Wege raus aus der Traumakrise
Sondersitzung: Gespräch mit Robert F. Kennedy Jr zu den Berliner Demonstrationen und zur Corona-Impfung
CORONA UNTERSUCHUNG TAG 14 - Astroturfing und die Berliner Demonstrationen
CORONA UNTERSUCHUNG TAG 13 - Mittelstand in der Krise, Staatsverschuldung, Pandemiegewinnler
CORONA UNTERSUCHUNG TAG 12 - Fehlanreize im System - Die Rolle der Medien II & MONEY TALKS II
CORONA UNTERSUCHUNG TAG 11 - Datenschutz - 1 Million Genome, Gesundheits-ID, Tracking-App / Rechtssystem - Grundlagen für die Massnahmen, Grundrechtseingeriffe
CORONA UNTERSUCHUNG TAG 10 - Gefährlichkeit des Virus, Behandlung der Krankheit, Impfen als Ausweg?
CORONA UNTERSUCHUNG TAG 9 - Die Rolle der Medien
CORONA UNTERSUCHUNG TAG 8 - USA - der Blick von innen & Die Lage in anderen Ländern
CORONA UNTERSUCHUNG TAG 7 - Schützen die Masken oder schaden sie?
CORONA UNTERSUCHUNG TAG 6 - Die Lage der Kinder - Corona-Ausschuss hört Kinder-Psychologen
CORONA UNTERSUCHUNG TAG 5 - Die Lage der kleinen Unternehmer und der Selbständigen & Zwischenbilanz & MONEY TALKS I
CORONA UNTERSUCHUNG TAG 4 - Der Drosten-Test, die Immunität und die zweite Welle
CORONA UNTERSUCHUNG TAG 3 - Bergamo - was war da los? mit Top-Eperten aus Italien
CORONA UNTERSUCHUNG TAG 2 - Die Lage der Menschen in den Pflegeheimen
CORONA UNTERSUCHUNG TAG 1 - Ablaufplan, Themenkreise, Lernen vom Untersuchungsausschuss Schweinegrippe
Corona-Untersuchungsausschuss beginnt die Arbeit - International Media Event