Attacks on West Papuan protesters condemned by rights groups
By RNZ - 31 August 2019
An Australia-based human rights group and others the world over have condemned the fatal shooting of West Papuan protesters by Indonesian security forces this week.
This comes amid widespread protests in cities and towns across Papua region which began almost two weeks ago as anti-racism rallies but have developed into the biggest West Papuan pro-independence demonstrations seen in decades.
Reports filtering out from Deiyai regency have described a large public rally being met with a heavy handed response by Indonesian security forces.
Indonesia's Foreign Ministry said at least two Papuan protesters and an Indonesian soldier were killed in a bloody clash in the regency on Wednesday. However, activists and local media reports claim up to seven protesters died in Deiyai.
A spokesperson for the Institute for Papuan Advocacy and Human Rights, Paula Makabory, has called on the Indonesian president Joko Widodo to stand his security forces down in Indonesia's eastern provinces.
"They are the perpetrators who triggered this conflict at a peaceful demonstration," she said.
Ms Makabory said security forces ridiculed Melanesian locals, calling them "monkeys" before firing on them with tear gas.
When some locals responded with traditional bows and arrows, she explained, the Indonesian military responded with gunfire and killed civilians.
The incident in Deiyei is part of a broader pattern of violence, according to an Associate Professor of Anthropology at Melbourne's Deakin University, Dr Eben Kirksey, who said he had found evidence of 29 extrajudicial killings in the regency in 2018 by Indonesian security forces over the past two decades.
West Papuans demonstrating in Jayapura, 29 August, 2019. Photo: Supplied
"The United Nations has requested access to West Papua to investigate this long history of killings," Dr Kirksey said.
"The Indonesian government should stop stone walling and grant access to UN Special Rapporteurs."
More than 2,000 extra security forces have been deployed since the beginning of West Papuan uprising 12 days ago.
The government has blocked internet across Papua in what it claims is a necessary anti-disinformation measure. But it is struggling to stop thousands of Papuans taking to the streets to voice their independence aspirations.
In recent days Papua's capital Jayapura has experienced a second wave of large protests which lapsed into rioting by elements of the large crowd involving the burning of the Papuan People's Assembly complex and other buildings.
Papuans also occupied the provincial governor's buildings, with some activists claiming the protesters were trying to shelter from public mobs trying to attack them.
According to Al Jazeera, at least one person has been killed as police fired rubber bullets after residents in Jayapura attacked Papuan protesters.
The residents included owners of kiosks and restaurants who were angry at the protesters and blocked roads to impede the demonstration, as Jayapura descended further into unrest.
One group of residents stopped a car carrying six Papuans from the highlands, dragged them out of the car, before assaulting and stabbing them with machetes and knives.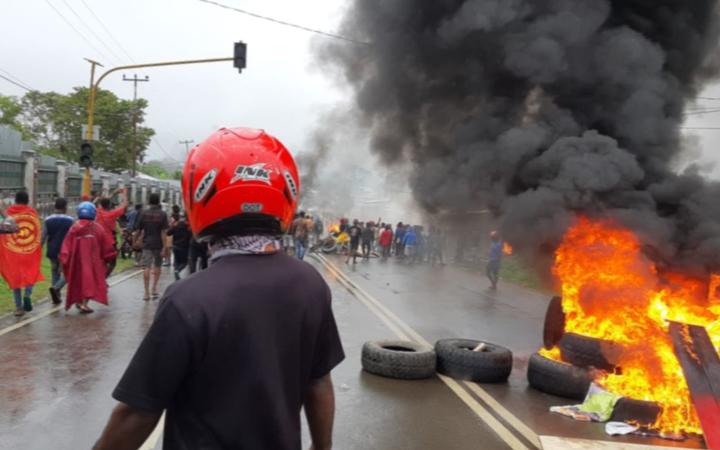 Protesters burned tyres during demonstrations in Manokwari on 19 August, 2019. Photo: Ucu Sawaki
"West Papua must be opened up to outside world," said Ms Makabory.
She said the remote mountainous region of Deiyai, Paniai, Puncak Jaya and Nduga regencies, should be accessed for independent investigation by the UN Human Rights Commissioner and "especially the UN Special Rapporteurs on Torture and Extra Judicial Killings".
Dozens of protesters in Indonesia's Papua continue to occupy the governor's office, after violent protests rocked Jayapura.
Several government buildings in the provincial capital were torched on Thursday as thousands took part in anti-racism rallies.
Mackenzie Smith reports.