UPDATE - 06. May 2022: Artificial Womb - ARTIFICIAL INTELLIGENCE TO CREATE DESIGNER BABIES IN ARTIFICIAL WOMBS
UPDATE - 30. December 2019: Chinese scientist who edited genes of twin babies is jailed for 3 years
UPDATE - 19. November 2019: Since it is now widely publicized: "Genetically Engineered Babies Only Two Years Away", one can securely assume that the are around us already since 15-20 years.
The Genetic Editing of Human Life is "Big Business"
Dr. He Jiankui, used the CRISPR technology "to alter the embryos of seven couples [allegedly] to make them resistant to HIV". He Jiankui made his announcement at the Second International Summit on Human Genome Editing held at the University of Hong Kong.
Dr. He claims to have used CRISP "to tweak the DNA of human embryos during in vitro fertilization".
The broad implications of this experiment are far-reaching. The genetic editing of human life forms including embryos has a bearing on the future of humanity.
It opens up the pandora's box of genetic engineering applied to human beings.
It undermines the "reproduction of real life". Potentially, it destroys humanity.
The experiment raises important scientific and ethical issues. Human embryos are not commodities.
The Chinese government immediately opened an investigation, Dr He Jiankui was fired by his University in January 2019.
Corporate Interests: Genetic Editing is "Big Business"
Despite government regulations and ethical issues, there are powerful corporate interests involved in the development and patenting of genetic editing of life forms including Dr. He's findings on "genetically modified babies".
While Dr. He's University based lab biology project at SUST has been closed down, he nonetheless remains Chairman and major stakeholder of the Shenzhen based Direct Genomics Biotechnology, "a genome sequencing" firm, with extensive financial resources. Direct Genomics received at least US$43 million in funding from both Chinese and international investors:
"… The funding was led by Shenzhen Cosun Venture Capital Investment Management, a venture capital firm owned by Shenzhen-listed Coship Electronics and Chen Libei, an executive of state-backed Fortune Capital. …

Other investors include Beijing Xiyi Asset Management, which has only one venture capital deal – Direct Genomics – since its inception in 2016 on public record. …

In November 2016, Direct Genomics received an undisclosed amount of funding from three investors – Beijing Tengye Venture Capital, Amer International Group, and Sinotech Genomics, according to tianyancha.com, a Chinese corporate information data provider. (SCMP, November 29, 2018)
We're talking about "Big Business" involving the potential marketing and sale of genetically modified human and animal life forms. Imagine the potential strategic and military applications, not to mention the emergence of a corporate health service economy for the super-rich, where "perfect babies" can be purchased for a million dollars.
Following the Chinese government investigation, there is no concrete evidence that this corporate genetic editing project has been discontinued. Quite the opposite.
It is worth noting that the intellectual property rights pertaining to the CRISPR -Cas9 gene editing technology used by Dr. He's team (i.e. editing the DNA of human and animal life) are not registered in China. The patent belongs to a US based entity: the Broad Institute, located in Cambridge, Mass. with links to Harvard and MIT.
The Broad Institute is firmly committed to the pursuit of genetic editing of human living cells:
The ability to precisely edit the genome of a living cell holds enormous potential to accelerate life science research, improve biotechnology, and even treat human disease.
While the Broad Institute owns the intellectual technology, CRISPR-Cas9 was invented by a Chinese American scientist Dr. Feng Zhang based at the Broad Institute and MIT.
MIT Prof. Feng Zhang responding to Dr He's controversial announcement calls for "a moratorium on implantation of edited [human] embryos …until we have come up with a thoughtful set of safety requirements first."
This statement represents the interests of the Broad Institute. According to Feng Zhang's colleague Professor David Liu (also on behalf of the Broad Institute):
"[Dr He's] reported use of CRISPR nuclease to edit CCR5 in human embryos, resulting in live births, … [constitutes] a serious breach of ethics … Foremost, that edited human babies were generated without the full engagement of independent scientific and ethics experts, relevant regulatory institutions, and governing bodies is appalling." (emphasis added)
These statements are tantamount to "crocodile tears". Failing effective government regulation (e.g. by the Trump administration), the ethical considerations will eventually be scrapped or bypassed.
"Moratorium" rather than "Abolition" of a potentially dangerous technology is the talking point: "We have a legal moratorium on that here," said U.S. FDA Commissioner Scott Gottlieb… The potential applications are also relatively dangerous if they get into the hands of people who don't have good judgment or have ill intent." (Bloomberg SFGate, November 27, 2018)
Screenshot Source Nature News Carl Zimmer.
A moratorium on behalf of those who own the CRISPR patent does not foreclose the development and marketing for profit of genetic editing of human embryos. Money is the driving force. The Moratorium will eventually be lifted. Potentially, what is at stake is a multi-billion dollar undertaking.
In all likelihood, there will be a battle for the intellectual property rights pertaining to CRISPR-Cas9 technology, involving both US and Chinese corporate interests.
While the Broad Institute was granted ownership of the CRISPR-Cas9 patent by the US Court of Appeals for the Federal Circuit, less than 3 months prior to Dr. He's announcement in Hong Kong, the ownership of CRISP is actively contested. The University of California at Berkeley is also involved in the fight for patent ownership against the Cambridge based Broad Institute. (Wired, September 11, 2018).
* Note to readers: Forward this article to your email lists. Crosspost on your blog site, internet fora, etc.
===
UPDATES
Artificial Womb
ARTIFICIAL INTELLIGENCE TO CREATE DESIGNER BABIES IN ARTIFICIAL WOMBS
Re-published on BITCHUTE May 6th, 2022.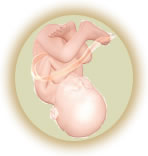 Artificial wombs are mechanisms that are used to grow an embryo outside of the body of a female. Could this be the future of reproduction for humans? Scientists at Cornell University have grown mice embryos in man-made, bubble shaped wombs.
This technology could bring hope to parents who before could not have children. It could also open the door for mothers to choose to have their babies outside their bodies, to avoid the stress of childbirth.
If and when artificial wombs become available, they are sure to be controversial. What are the moral and ethical implications of artificial wombs? What effect would being developed outside the womb have on the child?
Artificial Womb Articles
===
Genetically Engineered Babies Only Two Years Away
Wikimedia Commons. Image: Ravedave
POSTED BY: HENRY HOLLOWAY VIA DAILY STAR - 19 . November 2019
Transhumanism advances in the name of preventing genetic disease, thus extending life. Universities around the world are working feverishly and largely on tax payer money, to create a future nobody else wants. ⁃ TN Editor
Genetically engineered designer babies could be just two years away and spark a revolution in editing human embryos, scientists have said.
Researchers have predicted the "ethically sound" creation of the so-called designer babies by 2022.
It is expected to spark a revolution in a new wave of genetic medication of humans.
Kevin Smith, from Abertay University in Dundee, has published analysis that found the risks of gene editing are now low enough to warrant its use with human embryos.
He argued a morally justifiable attempt could be less than two years away.
And he predicted such research could kick-start a revolution in producing genetically-modified (GM) people.
Dr Smith said: "The human germline is by no means perfect, with evolution having furnished us with rather minimal protection from diseases that tend to strike in our later years, including cardiovascular disease, cancer and dementia.
"GM techniques offer the prospect of protecting future people against these and other common disorders.
"This has previously been achieved to an extent in GM experiments on animals.
"If several common disorders could be avoided or delayed by genetically modifying humans, the average disease-free lifespan could be substantially extended."
The academic, who is programme leader for Abertay's biomedical science courses, said research in this area would offer hope to parents at risk of transmitting serious genetic disease to their future children.
He warned an ethical approach must be at the heart of any advances if public trust is to be won.
Dr Smith added: "Society is largely opposed to genetically modifying humans and the negative publicity generated by the ethically problematic first-ever production of GM babies in China last year was strongly criticised by most geneticists and ethicists, further hardening attitudes against the creation of so-called 'designer babies'.
===
Chinese scientist who edited genes of twin babies is jailed for 3 years
By Julia Hollingsworth and Isaac Yee - 30. December 2019
(CNN)A Chinese scientist who helped create the world's first gene-edited babies has been sentenced to three years in prison.
He Jiankui shocked the world in 2018 when he announced that twin girls Lulu and Nana had been born with modified DNA to make them resistant to HIV, which he had managed using the gene-editing tool CRISPR-Cas9 before birth.
He, an associate professor at the Southern University of Science and Technology in Shenzhen, said at the time that he was "proud" of the achievement. He later claimed that a second woman was pregnant as a result of his research.
But he was condemned by many of his peers, with the experiment labeled "monstrous," "unethical," and a "huge blow" to the reputation of Chinese biomedical research. Many people within the scientific community raised ethical concerns, including the level of consent He had obtained from the parents of the babies, and the level of transparency around gene editing.
On Monday, the Shenzhen Nanshan District People's Court sentenced He to three years behind bars and a 3 million yuan ($430,000) fine, China's state-run news agency Xinhua reported.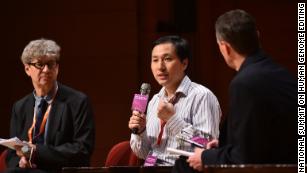 China suspends scientists who claim to have produced first gene-edited babies
According to the court's findings, He became aware of potential economic gains from human embryo gene-editing technology in 2016, Xinhua reported. He worked with two medical researchers, Zhang Renli and Qin Jinzhou, to use gene-editing technology to produce babies that were resistant to HIV.
"The court held that the three defendants failed to obtain a doctor's qualification and pursued profit, deliberately violated the relevant national regulations on scientific research and medical management, crossed the bottom line of scientific and medical ethics, and rashly applied gene-editing technology to human-assisted reproductive medicine, and disrupted the medical treatment," Xinhua reported. "The nature of their behavior is serious and has constituted the crime of illegal medical practice."
Zhang was sentenced to two years in prison and fined 1 million yuan ($143,000), while Qin was given a suspended sentence of one year and six months in prison and fined 500,000 yuan ($71,600). According to Xinhua, all three defendants pleaded guilty in trials that were closed to the public to protect individual privacy.
All three defendants have reportedly also been banned from engaging in human-assisted reproductive technology services for life.
Editing the genes of embryos intended for pregnancy is banned in many countries, including the United States. In the United Kingdom, embryos can only be edited for research purposes with strict regulatory approval. It is unknown whether the procedure is safe or, if used in pregnancy, whether it can have unintended consequences for the babies later in life or for future generations.
In January this year, investigators from Guangdong Province Health Commission said that He had conducted the work "in pursuit of personal fame and fortune, with self-raised funds and deliberate evasion of supervision and private recruitment of related personnel." The authorities also said He forged ethical review documents and blood tests to circumvent a ban on assisted reproduction for HIV-positive patients.
China has invested heavily in gene-editing technology, with the government bankrolling research into a number of world "firsts," including the first use of the gene-editing tool CRISPR-Cas9 in humans in 2016 and the first reported use of gene editing technology to modify nonviable human embryos in 2015.
===
The 47th chromosome! Is This What They're Doing? genetically engineer humans 20 20 20
•Jul 20, 2020
Jul 20 2020
47th chromosome! genetically engineer humans Is This What They're Doing?
DARPA to Genetically Engineer Humans by Adding a 47th Chromosome https://unspy.wordpress.com/2013/08/0... Future Warfare NASA document from 2001 THEY WANT FULL CONTROL Watch this and you'll know the plan. https://www.wired.com/story/mind-game... https://www.youtube.com/watch?v=dEZz8...
TMFproductions https://www.youtube.com/results?searc...
MATH POWERLAND https://www.youtube.com/c/TheNASAchannel
roypotterqa DO NOT Get Nano Test or YOUR Life Will Never Be Your Own Again https://www.youtube.com/user/roypotte...
Brain Science from Bench to Battlefield: The Realities – and Risks – of Neuroweapons | CGSR Seminar Risks of Neuroweapons" by Dr. James Giordano on June 12, 2017. https://www.youtube.com/watch?v=aUtQb...
aplanetruth5 https://www.youtube.com/watch?v=yPRic...
Original nasa video Truthstream Media (2013) https://www.youtube.com/user/TRUTHstr... http://fedgeno.com/documents/future-s...
Future Strategic Issues/Future Warfare [Circa 2025] by Dennis Bushnell et.al. Check this one. John C Oddity 👋 ALL TARGETED INDIVIDUALS HAVE CYBERNETICS https://www.youtube.com/watch?v=i70_3...
===
We must prepare for artificial wombs, say bioethicists
By Michael Cook 03. May 2020
The journal Bioethics has just released a special issue on ectogenesis, or gestating babies in artificial wombs. Although it is only an idea at the moment, scientists are making progress and it could be ready for human use in the foreseeable future.
The idea is an old one – in Aldous Huxley's dystopian novel Brave New World all babies are gestated in "hatcheries" – but contemporary discourse also treats it as a human rights issue. Some bioethicists believe that ectogenesis is "a moral imperative, something that would liberate women from the unjust burdens of pregnancy and reproduction". The editors of the special issue write:
While full ectogenesis is not possible at the moment, recent advances in both animal studies and embryology suggest that the technology might become feasible at some point in the foreseeable future. When this happens, we should be ready for it. It is essential to consider the ethical implications of ectogenesis before we find that the technology is suddenly upon us.
Several of the eight papers take thought-provoking approaches to the topic, as the editors note in their introduction.
Zeljka Buturovic, of the Center for the Study of Bioethics, in Belgrade, believes that the long-run effect of ectogenesis could be bad for women: "ectogenesis will fundamentally undermine the importance or even existence of the category of mother. Thus, she suggests that ectogenesis may render women vulnerable to either male assimilation or aggression."
Another article contends that "we have a moral obligation to ensure that full ectogenesis will also be made available to individuals or couples identifying as members of sexual or gender-minority groups seeking parenthood".
From a different feminist perspective, ectogenesis could be a step forward. Another article contends that "the fundamental basis of women's oppression is the link between femaleness and reproduction … Ectogenesis hold the potential to enable us to do this, by radically challenging the dominant notions of gender categories and family roles."
Michael Cook is editor of BioEdge