IF JAPAN GOES AHEAD BY CONTAMINATING THE SEA -->>> BOYCOTT ALL JAPANESE GOODS, TRAVELS AND THE OLYMPICS !!! And tell the UN/IAEA they can pump that nuke-fluid up their backsides!
UPDATE 13. April 2021: Beijing slams Japan's plan for radioactive Fukushima water as 'extremely irresponsible'
UPDATE 12. April 2021: Japan Decides To Dump One Million Tons Of Radioactive Fukushima Water Into The Pacific; IAEA Approves
UPDATE 07. April 2021: Dumping of Fukushima radioactive water into ocean 'unavoidable', Japanese PM says, as country's fisheries reject plan
UPDATE 11. March 2021: Japan falls silent for Fukushima: Emperor leads memorial events 10 years on from earthquake, tsunami and nuclear meltdown that killed 18,500
UPDATE 10. March 2021: Fish off the coast of Fukushima show high concentrations of radioactive cesium
BACKGROUND: 9 million bags of Fukushima cleanup material and the Yakuza Mafia
Fukushima: "An Ongoing Global Radiological Catastrophe". "A Huge Coverup".
Transcript of 8th anniversary interview with Dr. Helen Caldicott
As part of efforts to normalize this historic event and cover it up in its magnitude, the Japanese government has invested considerable financial, public relations and other resources into what they are billing the 'Recovery Olympics' set to take place in a year's time in Tokyo. But Helen Caldicott warns that the dangers associated with Fukushima have not gone away and remain a cause for concern.
On the week marking the eighth anniversary of the Fukushima meltdowns, the Global Research News Hour radio program, hosted by Michael Welch, reached out to Dr. Caldicott to get her expert opinion on the health dangers posed by the most serious nuclear disaster since, at least, the 1986 Chernobyl event.
Global Research: Now the Japanese government is preparing to welcome visitors to Japan for the 2020 Olympic Games, and coverage of the 8th anniversary of the Fukushima disaster is hardly, it seems to me, registered given the significant radiological and other dangers that you cited and your authors cited in your 2014 book, Crisis Without End. Now it's been more than four years since that book came out. I was hoping you could update our listenership on what is currently being recognized as the main health threats in 2019, perhaps not registered in the book, that you're currently looking at in relation to the Fukushima meltdown.
Helen Caldicott: Well it's difficult because the Japanese government has authorized really only examination of thyroid cancer. Now thyroid cancer is caused by radioactive iodine and there were many, many cases of that after Chernobyl. And already, they've looked at children under the age of 18 in the Fukushima prefecture at the time of the accident, and … how many children… 100…no 201 by June 18 last year… 201 had developed thyroid cancer. Some cancers had metastasized. The incidence of thyroid cancer in that population normally is 1 per million. So obviously it's an epidemic of thyroid cancer and it's just starting now.
What people need to understand is the latent period of carcinogenesis, ie the time after exposure to radiation when cancers develop is any time from 3 years to 80 years. And so it's a very, very long period. Thyroid cancers appear early. Leukemia appears about 5 to 10 years later. They're not looking for leukemia. Solid cancers of every organ, or any organ as such appear about 15 years later and continue and in fact the Hibakusha from the Hiroshima and Nagasaki who are still alive are still developing cancers in higher than normal numbers.
The Japanese government has told doctors that they are not to talk to their patients about radiation and illnesses derived thereof, and in fact if the doctors do do that, they might lose their funding from the government. The IAEA, the International Atomic Energy Agency interestingly set up a hospital – a cancer hospital – in Fukushima along with the Fukushima University for people with cancer, which tells you everything.
So there's a huge, huge cover up. I have been to Japan twice and particularly to Fukushima and spoken to people there and the parents are desperate to hear the truth even if it's not good truth. And they thanked me for telling them the truth. So it's an absolute medical catastrophe I would say, and a total cover up to protect the nuclear industry and all its ramifications.
GR: Now, are we talking about some of the, the contamination that happened 8 years ago or are we talking about ongoing emissions from, for example–
HC: Well there are ongoing emissions into the air consistently, number one. Number two, a huge amount of water is being stored –over a million gallons in tanks at the site. That water is being siphoned off from the reactor cores, the damaged melted cores. Water is pumped consistently every day, every hour, to keep the cores cool in case they have another melt. And that water, of course, is extremely contaminated.
Now they say they've filtered out the contaminants except for the tritium which is part of the water molecule, but they haven't. There's strontium, cesium, and many other elements in that water – it's highly radioactive – and because there isn't enough room to build more tanks, they're talking about emptying all that water into the Pacific Ocean and the fishermen are very, very upset. The fish already being caught off Fukushima, some are obviously contaminated. But this will be a disaster.
Water comes down from the mountains behind the reactors, flows underneath the reactors into the sea and always has. And when the reactors were in good shape, the water was fine, didn't get contaminated. But now the three molten cores in contact with that water flowing under the reactors and so the water flowing into the Pacific is very radioactive and that's a separate thing from the million gallons or more in those tanks.
They put up a refrigerated wall of frozen dirt around the reactors to prevent that water from the mountains flowing underneath the reactors, which has cut down the amount of water flowing per day from 500 tons to about a hundred and fifty. But of course, if they lose electricity, that refrigeration system is going to fail, and it's a transient thing anyway so it's ridiculous. In terms… So over time the Pacific is going to become more and more radioactive.
They talk about decommissioning and removing those molten cores. When robots go in and try and have a look at them, their wiring just melts and disappears. They're extraordinarily radioactive. No human can go near them because they would die within 48 hours from the radiation exposure. They will never, and I quote never, decommission those reactors. They will never be able to stop the water coming down from the mountains. And so, the truth be known, it's an ongoing global radiological catastrophe which no one really is addressing in full.
GR: Do we have a better reading on, for example the thyroids, but also leukemia incubation—
HC: No they're not looking–well, leukemia they're not looking for leukemia…
GR: Just thyroid
HC: They're not charting it. So the only cancer they're looking at is thyroid cancer and that's really high, and you know it's at 201 have already been diagnosed and some have metastasized. And a very tight lid is being kept on any other sort of radiation related illnesses and leukemia and the like. All the other cancers and the like, and leukemia is so… It's not just a catastrophe it's a…
GR: …a cover up
HC: Yeah. I can't really explain how I feel medically about it. It's just hideous.
GR: Well I have a brother who's a physician, who was pointing to well we should maybe, the World Health Organization is a fairly authoritative body of research for all of the indicators and epidemiological aspects of this, but you seem to suggest the World Health Organization may not be that reliable in light of the fact that they are partnered with the IAEA. Is that my understanding…?
HC: Correct. They signed a document, I think in '59, with the IAEA that they would not report any medical effects of radiological disasters and they've stuck to that. So they are in effect in this area part of the International Atomic Energy Agency whose mission is to promote nuclear power. So don't even think about the WHO. it's really obscene.
GR: So what would… the incentive would be simply that they got funding?
HC: I don't know. I really don't know but they sold themselves to the devil.
GR: That's pretty incredible. So there's also the issue of biomagnification in the oceans, where you have radioactive debris, hundreds of tons of this radioactive water getting into the oceans and biomagnifying up through the food chain, so these radioactive particles can get inside our bodies. Could you speak to what you anticipate to see, what you would anticipate, whether it's recorded by World Health authorities or not, what we could expect to see in the years ahead in terms of the illnesses that manifest themselves?
HC: Well number one, Fukushima is a very agricultural prefecture. Beautiful, beautiful peaches, beautiful food, and lots of rice. And the radiation spread far and wide through the Fukushima prefecture, and indeed they have been plowing up millions and millions of tons of radioactive dirt and storing it in plastic bags all over the prefecture. The mountains are highly radioactive and every time it rains, down comes radiation with the water. So the radiation – the elements. And there are over 200 radioactive elements made in a nuclear reactor. Some have lives of seconds and some have lives of millions of years or lasts for millions of years will I say. So there are many many isotopes, long-lasting isotopes – cesium, strontium, tritium is another one – but many, many on the soil in Fukushima.
And what happens is – you talked about biomagnification – when the plants take up the water from the soil, they take up the cesium which is a potassium analog – it resembles potassium. Strontium 90 resembles calcium and the like. And these elements get magnified by orders of magnitude in the rice and in the plants. And so when you eat food that is grown in Fukushima, the chances are it's going to be relatively radioactive.
They've been diluting radioactive rice with non-radioactive rice to make it seem a bit better. Now, into the ocean go these isotopes as well, and the algae bio-magnify them by – you know -ten to a hundred times or more. And then the crustaceans eat the algae, bio-magnify it more. The little fish eat the crustaceans, the big fish eat the little fish and the like. And tuna found in – off the coast of California some years ago contained isotopes from Fukushima. Also fish, being caught on the west coast of California contained some of these isotopes. So, it's an ongoing bio-magnification catastrophe.
And the thing is that you can't even taste, smell or see radioactive elements in your food. They're invisible. And it takes a long time for cancers to occur. And you can't identify a particular cancer caused by a particular substance or isotope. You can only identify that problem by doing epidemiological studies comparing irradiated people with non-irradiated people to see what the cancer levels are and that data comes from Hiroshima and Nagasaki and many, many, many other studies.
GR: Chernobyl as well, no?
HC: Oh, Chernobyl! Well, a wonderful book was produced by the, uh, Russians, and published by the New York Academy of Sciences, called Chernobyl with over 5000 on the ground studies of children and diseases in Belarus and the Ukraine, and all over Europe. And by now over a million people have already died from the Chernobyl disaster. And many diseases have been caused by that, including premature aging in children, microcephaly in babies, very small heads, diabetes, leukemia, I mean, I could go on and on.
Um, and those diseases which have been very well described in that wonderful book, um, which everyone should read, are not being addressed or identified or looked for in the Fukushima or Japanese population.
May I say that parts of Tokyo are extremely radioactive. People have been measuring the dirt from rooves of apartments, from the roadway, from vacuum cleaner dust. And some of these samples, they're so radioactive that they would classify to be buried in radioactive waste facilities in America. So, that's number one.
Number two, to have the Olympics in Fukushima just defies imagination. And uh, some of the areas where the athletes are going to be running, the dust and dirt there has been measured, and it's highly radioactive. So, this is Abe, the Prime Minister of Japan, who set this up to – as a sort of way to obscure what Fukushima really means. And those young athletes, you know, who are – and young people are much more sensitive to radiation, developing cancers later than older people – it's just a catastrophe waiting to happen.
GR: Dr. Caldicott…
HC:They're calling it the radioactive Olympics!
GR: (Chuckle). Is there anything that people can do, you know, whether they live in Japan or, say, the west coast of North America to mitigate the effects that this disaster has had, and may still be having eight years later?
HC: Yes. Do not eat any Japanese food because you don't know where it's sourced. Do not eat fish from Japan, miso, rice, you name it. Do not eat Japanese food. Period. Um, fish caught off the west coast of Canada and America, well, they're not testing the fish so I don't know what you'd do. Um, I mean, most of it's probably not radioactive but you don't know because you can't taste it.
Um they've closed down the air-borne radioactive measuring instruments off the west coast of America, uh, but that's pretty bad, because there still could be another huge accident at those reactors.
For instance, if there's another large earthquake, number one, all those tanks would be destroyed and the water would pour into the Pacific. Number two, there could be another meltdown, a release – huge release of radiation, um, from the damaged reactors. So, things are very tenuous, but they're not just tenuous now. They're going to be tenuous forever.
Dr. Helen Caldicott has been an author, physician and one of the world's leading anti-nuclear campaigners. She helped to reinvigorate the group of Physicians for Social Responsibility, acting as president from 1978 to 1983. Since its founding in 2001 she served as president of the US based Nuclear Policy Research Institute later called Beyond Nuclear which initiates symposia and educational projects aimed at informing the public about the dangers of nuclear power, nuclear weapons, and nuclear war. And she is the editor of the 2014 book, Crisis Without End: The Medical and Ecological Consequences of the Fukushima Nuclear Catastrophe.
===
BACKGROUND:
9 million bags of Fukushima cleanup material confirm my Yakuza mafia report (as well as the original Fukushima report) was BANG ON.
By jimstone.is - 14. December 2015
How bad was Fukushima blown away? So bad that an entire section of Japan had to have the first three inches of top soil stripped from the ground by workers, countless numbers of which have died, and these people who have died were Japan's homeless, who were pulled from the streets by the Israeli controlled Yakuza mafia and forced to work until the radiation killed them.
Unlike the heroic pilots who died in Russia with honors after putting Chernobyl out, Japan's dead will be buried in the homeless stats.
Obviously such a story would eventually have proof evident everywhere, despite efforts to contain it. Well, to blow the lid off and prove that countless workers really have been stripping the top three inches of soil off of a large section of Japan all you now have to do is google "black bags fukushima" and images of these cleanup bags will now be prominent. I guess they figured the topic had cooled off enough to let this level of truth out.
All the stories about seepage into the pacific are straw man reports that are out there to hide the bigger reality - millions of times as much radiation is getting into the Pacific via rainwater runoff from all over Eastern Japan, where reactor 3 is now laid out like pepper.
The original Yakuza mafia Fukushima cleanup report now follows:
SHUT UP OR DIE!
50,000 workers doing Fukushima cleanup DOCUMENTED, with over 800 dead from radiation poisoning DOCUMENTED
Fukushima cleanup workers given death threats by mafia
BOMBSHELL! ISRAELI MAFIA RUNNING FUKUSHIMA CLEANUP
NEW BOMBSHELL: JAPAN LIMITING ISRAELI VISAS TO KEEP ISRAELI MAFIA OUT . . . . Israeli travelers now using fake passports from other countries to enter Japan.
"I submitted a visa application to the Israeli consulate in Tokyo, but was informed that a visitor's visa is usually not granted because the Israeli mafia is growing rapidly in Japan"
I know the above headline sounds too incredible to be true, but it is definitely true. Organized crime is usually tied to intelligence agencies at the top, and it is the Israeli Mossad, the same group that fronted Magna BSP, that is now handling Fukushima "cleanup" via control of Japan's Yakuza mafia. The Yakuza and the Israeli mafia formed an alliance with each other in 1990. Take a look at what is here, it may sound too "out there" to be true, but it definitely is true.
All of what is spoken of on this page is now properly referenced.
UPDATE: CONFIRMED BY REUTERS - over 50,000 people now doing cleanup of radioactive debris from reactor 3. FINALLY the real numbers. Unconfirmed blogs say medical professionals have recorded over 800 radiation deaths of cleanup workers and have been told to keep their mouths shut under heavy threat in the name of "national security". THAT MAKES SENSE.
Updated Dec 14 2015
For now, there are an officially claimed 5,000 workers doing fukushima cleanup, at least that is the number the ziopress is willing to admit to. I guess they think that is a believable number that people can cope with. But there is a huge problem with this number. And that is -
Over 700 different registered companies and at least 50 unregistered companies are involved in cleanup of radioactive debris left in the wake of the reactor 3 explosion. Virtually ALL of these companies are Yakuza mafia run. And if over 700 of these companies add up to 5,000 people, it means that only seven people per company are working fukushima cleanup. That is not a believable number. It is my guess that the real number is between 50,000 and 100,000 people are working on Fukushima cleanup, numbers so high that they would result in hard questions being asked by the greater nuclear community and that is why the real numbers are being kept silent.
The official story right from the beginning is that the explosions were hydrogen gas explosions which would be harmless and incapable of spreading a lot of radioactive material. That is the only thing that can match a realistic scenario for boiling water reactors. You cannot, with such a reactor, get expulsion of hard material up into the atmosphere. Due to the inherent nature of the system, the only disaster scenario that can happen is melt downs and not explosions and expulsions of reactor cores.
And since having huge amounts of radioactive debris spread over miles cannot in any non warfare, HARDWARE ONLY related situation happen, it is the job of the scamming ziopress and fake alternative press to hide the reality that this indeed happened, a reality which resulted in the need for an epic cleanup effort.
Reactor 3 never melted down before the explosion. It was destroyed by a nuclear weapon while still fully functional. This is the only thing that matches the scenario for what actually happened.
What proves this to be the case? It is the large amount of dust from the reactor core, dust which is now being cleaned up by thousands of admitted to, and probably upwards of a hundred thousand people. Reactor fuel pellets in a boiling water reactor are composed of uranium oxide dust which has a zircon cladding around the dust to keep it in pellet form. If the reactors had melted down before the explosions, there would have been no dust, the fuel would instead have been in the form of a liquid that would not have spread so readily and floated on the wind.
Furthermore, it took an extreme kinetic event to pulverize the fuel pellets and send the uranium oxide dust inside them skyward. To do this, first the explosion had to penetrate a final thick concrete shield immediately surrounding the reactor that is inside the inner containment. It then had to completely blow away the reactor pressure vessel, which is several inches of solid steel thick. After that, it then had to blow apart the core, to get to the fuel pellets, and THEN have enough energy left in the shock wave to pulverize the fuel pellets and send them skyward in the form of dust. There is no conventional weapon on earth that could do that, only a nuclear weapon could, and the proof that this event did indeed happen via a beyond conventional explosion is the fact that much of Japan is now completely covered in this dust. Neither the hardware of the reactor itself or conventional weaponry could create such a scenario.
And the bigger point is that if the reactors had only melted down, there would be no cleanup needed outside of the power facility. Yet melt downs are the only scenario the laws of physics support with the given materials and hardware absent a nuclear weapon blast, so melt downs are what scam sites like ENE news and others are pushing with regard to the dead starfish. And melt downs and open air gas explosions would never have destroyed or breached the inner containments, only explosives would, so why are these containments now leaking?
===
The key to keeping the lid on all of this now is silence from the workers
And that is precisely why they are being given death threats for speaking up about what is really going on with all of this. Obviously
after
the explosions, whatever was left of the reactors melted completely down. But at the time of the explosions there could not possibly have been melted reactor cores, the hard material now being cleaned up over 20 km away could not have come from that scenario.
Make sure you scroll FAR down this page to the links that prove the Israelis are in full control of Yakuza, this particular report is huge
And HOW IN THE HELL DID THE ISRAELI CONTROLLED YAKUZA MAFIA GET THIS JOB? I will tell you how - If you want to cover up a crime scene, have criminal organizations in charge of the cover up.
People are dying left and right out at Fukushima because there is so much nuclear material laying around in the open compliments of reactor 3's core ejection.
Since we have a scenario that could not have happened absent an act of war, criminals have to handle it if it is to remain a suitable secret. If anyone speaks up, BOOM, they are dead. If anyone steps out of line, a bullet to the head. And Tepco could not possibly get away with this, they are not the ones in charge of it. All this criminal activity is taking place under the radar, via mafia controlled subcontractors with Jewish overlords at the top.
Japan is absolutely screwed
The contamination ended up being exactly what I said it would be from the beginning. But I was wrong about something - and that is that rather than abandon land, the Japanese are actually going to clean it up.
This will involve the removal of all vegetation from thousands of square kilometers of land, and the top five centimeters of soil from all of that land.
The cleanup does not only involve the exclusion zone, it extends all of the way through Sendai.
And the big question is, WHY is this only coming to light NOW? I will tell you exactly why. It took this long for the public to mostly forget that officially, the fukushima disaster was only a little steam and a little loose gas. And Tepco could not and did not front a lie like that, the lie HAD TO come straight from the ziopress. Tepco initially stated that the radiation released was, in their own words "immeasurable" but the ziopress and nuclear blackmail silenced them within two days of them saying it. Now, over two years later, the public concience is sleeping on the topic and it is FINALLY safe for the ziopress to tell pieces of the truth, first starting with obscure news outlets such as AlJazeera because with an event that far back in the past people won't care about the details and Tepco has been successfully blackballed.
They now have to begin telling at least pieces of the truth, because the scenario on the ground has become too obvious for the official lie to cover up. They are obviously calculating what information to release at what time to avoid having too many lights go on all at once.
The least influential people in Japan are doing the cleanup
The mafia contractors are taking the drug addicts, homeless, and other extremely disadvantaged and unsophisticated people and using them exclusively for the cleanup, especially at Fukushima proper. They are not having geniuses go in there. And there are reasons for this - this low economic class will produce the fewest complaints after being destroyed by the radiation, and this particular class of people will mostly lack the ability to question what is going on and what really happened to those reactors. It is also because
These people are largely isolated and disposable, and few people, if any at all will notice if they die.
The fact that death threats are being issued at all, the fact that the Mafia is involved with this at all should say it all.
In order to cover up a war crime this big, a police state style management had to happen to keep the people silent, which Japan does not have via the government. The mafia had to be brought in, and you can't tell me the Japanese government is unaware. The Japanese government would not permit the cleanup via the mafia to happen as it is happening, but they are allowing it to proceed the way it is because they are under threat, which is:
In Magna BSP's own words, with only 12 employees, IDF front company Magna BSP is handling the security for ALL of Japan's reactors. Magna has to be an IDF/Mossad front company, because 12 people could not possibly either protect or threaten that many reactors. 12 claimed employees means it can only be a mafia style protection racket that is "protecting" Japan's reactors, a "protection" racket which is run by the top criminals in the highest political places outside of Japan - and if Japan steps out of line, Stuxnet and more nukes go hot and it is BOOM to more reactors.
YOU GOT THAT RIGHT. VIA CONTROL OVER THE LOCAL YAKUZA MAFIA THE ISRAELI MAFIA IS RUNNING A MAJORITY OF THE SUBCONTRACTORS THAT ARE HIRING PEOPLE TO WORK FUKUSHIMA, AND I HAVE PROOF. I MANAGED TO DIG WELL ENOUGH AND HAVE CONFIRMED - THE HEAVILY ISRAELI MOSSAD INFLUENCED ISRAELI MAFIA IS RUNNING MOST OF THE SUBCONTRACTING FIRMS HANDLING FUKUSHIMA CLEANUP VIA CONTROL OF LOCAL JAPANESE YAKUZA MAFIA GROUPS. WITH THE ISRAELI MAFIA ALSO RUNNING THE GLOBAL SEX SLAVE TRADE, THEY ARE VERY ADEPT AT KEEPING BIG SECRETS HIDDEN. Now we know why at least one worker received death threats for speaking up about what is really going on out there.
Working in Tokyo for the Israeli Mafia
This is the account of a witness to the Israeli mafia in Japan. It is indeed there and in control of the Yakuza
Note - I lived in Japan for almost a decade. The Israelis have had a strong presence there for at least 2 decades. On the cover of the Japan Times, circa 1990, there was a small article stating that the Israeli Mafia and the Japanese Mafia had formed a pact.
I knew an Iranian who sold drugs for the Japanese mob (Yakuza). He said some Iranian Jews he knew were selling jewelry in Tokyo and making $2000 a day - in actuality, they were selling hash and meth to the Japanese. Some (not all) of these Israeli street hawkers are really in the drug trade. More than a few of them get jobs in Tokyo through connections in Bangkok at Israeli run guest houses, like the ones on Khao San Road.
There are better ways to make a living.
It'said that a fool and his money are soon parted. And that' exactly why there are so many Israelis selling jewelry on the streets of Japan and theyare making it even easier. But the good news for the traveller in search of a buck is that you don't have to be Israeli to hawk fake Rolexes and silver rings to the Japanese. I did it and I am as uncircumcised as the next goy.
The boss once asked me: tom, are you Jewish?"
"no"
"well, nobody's perfect"
Yes, you will be working for the Israeli mafia and they'll suck all the work they can out of you. They're lying, corrupt sleazebags but at least you won't have to kow-tow to some nerdy Japanese boss. The Israelis have all the pitches on the streets sewn up these days so there's no choice but to work for them. At least you don't have to bring any stock yourself and they take care of all the practical stuff for you. All you've got to do is sell.
The set-up is like this: You get yourself to Japan and the Israelis will find some cheap accommodation for you. If you're hard up they might even lend you a bit of money for the first week or two. Then after a few days of hanging around the stalls of the other sellers, learning the tricks of hard sell and some basic Japanese, you'll be given a pitch of your own. You'll be driven to work every day and set up four boards of jewelery and one table for the fake watches. For every item there is a minimum price, but you get 40% of the gross so you sell them for whatever you can get away with.
And then you're on your own. For the next 10 hours you do your best to lie, flirt, bully and manipulate by any means possible anyone and everyone who passes by into buying something. "Please, sir! Come and look at my shop! Looking is free only! I make you good price! Buy something for your girlfriend!" Sound familiar? Yes, you have to become just like all those merchants and hawkers who drove you crazy all across Asia. Believe me, you'll feel more sympathy for them in the future.
You'll fleece drunken salary men returning from a night out at a blowjob bar, bimbos looking for a new Gucci accessory, and naive teenagers who want to buy their first Rolex. And if you can't agree about the price? Well, this is a society of Samurai, after all. Looking some defiant student in the eye, I'd draw back my shoulders and say:
"Are you a man?"
"Yes, of course!"
"Then let's play junken!"
Also known as scissors, paper, and stone, this ancient game is sacred and few lacked the honour to pay your asking price if they lost.
But whatever you do, don't convert the prices into dollars in your head because you'll die laughing. You can sell pieces of purple string to put around the wrist for $15. It all depends on your confidence. Once, my friend told me, our boss was hanging around his stall and he set down on the table some lighter that he'd bought at 7-11 for two dollars. Some drunken businessman came along and fell in love with the thing. He was talked into buying it for $100.
Of course, the business is not exactly legal. I was working on a busy shopping street over Christmas, and in 10 days the police closed me down 35 times. They'd march up to my stall and shout angrily in Japanese I would pretend not to understand. They'd make me sign some form in Japanese, then I'd turn off the lights and look sorry. When they were out of sight, I'd open up again. They couldn't believe I kept coming back.
"He's a real tough cookie, this one," they must have mumbled.
And if it wasn't the boys in blue wearing me down with their clipboard and forms, it was the Yakuza. They're paid off by the Israelis of course, but there's always some drunk criminal who wants to scare a gaijin ( any foreigner.) Usually it was just some young, Mafia wannabe punk out to prove himself, but once I was fooling around with some pissed old guy who came to me on a quiet night.
"I am businessman!" He told me and held up his left hand with the missing little finger. When the Yakuza fuck up, honour demands that they cut off one of their finger segments to atone. As a guitarist, it was a horrific sight. All I could say was: "Yes, sir! No, sir! How many bags full, sir?"
On a good day, selling silver in Tokyo was like stealing food from a paraplegic, and I couldn't believe how a nation of such hopeless suckers ever got so rich in the first place. On the bad days, though, when rain came with the cold and random street aggravation, I hated the work as much as my own corrupted soul for sinking so low as to take such a job.
Still, I was lucky. Over three months I managed to save about US$3,000, but others I met only managed to cover their costs. This is definitely a job best suited to pretty girls and good liars
Other links proving the Israeli Mafia is running the Yakuza mafia, and therefore Fukushima cleanup
http://www.vosizneias.com/39454/2009/10/06/tokyo-police-crack-suspected-israeli-drug-trafficking-ring-in-japan/
"I submitted a visa application to the Israeli consulate in Tokyo, but was informed that a visitor's visa is usually not granted because the Israeli mafia is growing rapidly in Japan" My comment: Yeah, with billions of dollars in Fuku cash they ought to be growing rapidly!
The first paragraph of this one pretty much nails it: Read the first paragraph, the Israeli mafia is obviously well entrenched in Tokyo
These are good:
http://www.youtube.com/watch?v=2FdVck03_vc
http://www.youtube.com/watch?v=tZOfDE2Y4lE
http://www.youtube.com/watch?v=MgSvyFlggJs
This one is cute! http://theuglytruth.wordpress.com/2011/03/23/rabbi-japans-disasters-due-to-prosecution-of-hasidic-drug-smugglers/
https://twitter.com/jpnKevin_T/status/305559407763267584
These collectively show that there is a very strong presense of the Israeli mafia operating in Japan, and as far back as 1990 the Israeli mafia had united with Yakuza. Given the skills of the Jews in taking over everything, simple logic would dictate that 25 years later, and current Japanese restrictions on Israeli passport visas for the sole purpose of keeping the Israeli mafia out, that Israel now owns Yakuza. If Yakuza and other mafia (Israeli) are providing a majority of the workers for Fukushima cleanup, it then follows simple logic to conclude that the orders for silence (or face death) threats given to workers have their origins in Israel, which is a nation in deep militarily strategic need of the best cover up possible.
Here is the Japanese reality about Fukushima
Radiation in Japan much higher than stated in the MSM, workers likely issued death threats by Israeli Mossad front companies
This is to once again re-state that Northern Japan is basically ruined and the hype about radioactive water leaking into the ocean is practically meaningless when put in contrast with the massive shot of radiation the Pacific got from the explosion at reactor 3.
I am not going to be like CNN and Fox, sitting around saying only a little steam got out, nor am I going to say that the Pacific is dying because of Fukushima. This is mostly because all the anomalies in the Pacific are simultaneously occurring in the Atlantic. The starfish issue is not related to Fukushima, something else is amiss. For something that is actually true about Fukushima and damn spooky, Click here, and remember, the readings of 1,000 times over normal are OUTSIDE THE DECLARED DANGER ZONE just like I said it would be. Crazy stuff indeed. Watch for ENE to parrot this.
Obviously, since the reactors used uranium with a half life of many millions of years, and Plutonium, with a half life of thousands of years, and this stuff is dispersed evenly over a large area, there will be no practical way to clean any of this up. If you bury it, erosion will eventually expose it, and how can you scrape up the surface of every mountain, valley, field, or other terrain features and dispose of the entire top layer of the earth? That cannot happen, Japan really is screwed.
On the other side of the issue however is he Pacific. Ordinary people are going out with their own geiger counters and finding nothing wrong. No damning radiation stats are forthcoming from the starfish crowd. Oceanographers are calling it a massive viral outbreak involving both the Pacific and the Atlantic. And I therefore believe there is a huge effort underway by usurpers of the truth movement to get people all scared over Fukushima, never tell them Israel did it, blame Tepco and the nuclear industry, and side track the truth movement AWAY from the real issues, such as Stuxnet at home, tainted vaccines, the encroaching police state, the Obama care disaster (and NO, you CANNOT opt out so I did not link that crap) and many other issues we should all be focused on.
The big dirty at Fukushima already happened, and it happened when reactor 3 had its guts blown into the Pacific compliments of Magna BSP and the IDF. If there is a radiation problem in the pacific right now which I seriously doubt, it came from the big blast and not from a little ground water seeping in from the shoreline. It came from the big blast, which was carried by the wind into the ocean. This horrible contamination in Japan is the result of whatever dust was laying around after the big blast in the immediate vicinity of reactor 3 and then subsequently carried abroad. Had the wind currents been different and had the entire core been dispersed over land and not the ocean immediately following the blast, it would have literally cut Japan in half.
There is no doubt a lot got dumped into the Pacific, enough to make the water beneath the initial dust trail from reactor 3 240 times the safe limit within 10 miles of the coast. That has since dispersed. But that is a comparably small area, and I do not buy that it would contaminate the entire ocean. The starfish have had trouble off the coast for years now, even before Fukushima ever happened and it takes more time for the ocean currents from Japan to even hit the west coast than the current starfish die off can support, this die off started happening too soon for that. True, the water should be arriving at the coast right around now, but this starfish die off has been ongoing for two years.
Oceanographers are saying it is a virus and not Fukushima doing this. So are they all bought out by the Israeli Mossad too? Did Israel go into damage control mode and pay all of the oceanographers to shut up? Oh, I get it, TEPCO PAID THEM ALL OFF INSTEAD.
If anyone believes the west coast is frying from fukushima while the oceanographers say nada, I would say it is time for the thinking cap. If ENE and Infowars can say the ocean is destroyed with a web site, the oceanographers can say so as well. No one is shutting anyone up over this. Why are the oceanographers saying it is not Fuku then? How did the Pacific ocean currents carry Fuku fallout to the Atlantic to kill the starfish there as well?
And about the latest propaganda row over how the workers are treated at Fukushima, blame it on Israel. Find out who is running those subcontractor companies. I bet a dime to a dollar they are all Mossad fronts, issuing death threats against workers to NOT talk about how it could not possibly have been hydrogen gas that destroyed the place. If any are smart enough to figure out what really went on there, it is shut up or die, straight from the mouth of the Mossad. COUNT ON IT.
===
UPDATES:
Beijing slams Japan's plan for radioactive Fukushima water as 'extremely irresponsible'
By RT - 13 Apr, 2021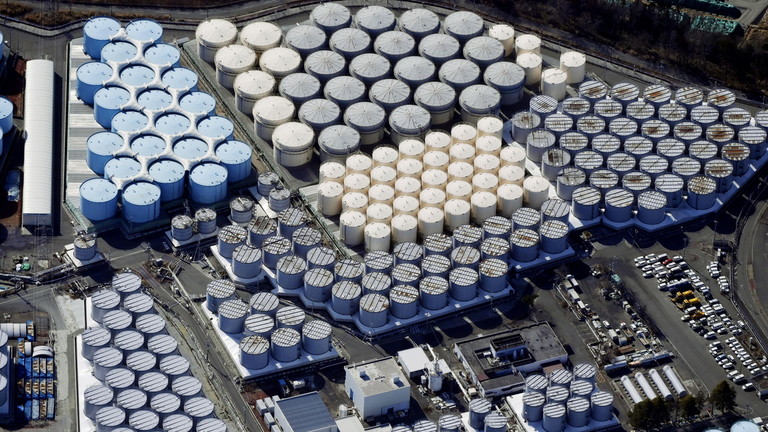 An aerial view shows the storage tanks for treated water at the tsunami-crippled Fukushima Daiichi nuclear power plant in Okuma town, Fukushima prefecture, Japan, February 13, 2021 © Kyodo via Reuters
China has condemned the Japanese government's decision to release tritium-contaminated water from the Fukushima nuclear power plant into the ocean as irresponsible, saying Tokyo "must not" do so without consultations.
"Japan has not exhausted safe disposal methods, regardless of domestic and foreign questions and opposition," the Chinese Foreign Ministry said on Tuesday, calling the decision by Prime Minister Yoshihide Suga's government to release a million-plus tons of wastewater into the ocean "extremely irresponsible."
This will "seriously damage international public health and safety and the vital interests of people in neighboring countries," Beijing said.
Japan "must not initiate the discharge into the sea without authorization until full consultation and agreement with various interested countries and the International Atomic Energy Agency [IAEA]," China added.
The government in Tokyo announced on Tuesday that it will allow the release of wastewater, containing the radioactive hydrogen isotope tritium, from storage tanks at Fukushima into the ocean in a year or two.
The Dai-ichi Nuclear Power Plant in the Fukushima prefecture suffered a meltdown after being struck by a 9.0 magnitude earthquake and a 15-meter tsunami in March 2011. It was the worst nuclear disaster since the 1986 Chernobyl accident in the USSR.
The plant's operator, Tokyo Electric Power Company (TEPCO) Holdings, expects to run out of storage space as early as fall 2022. The tritiated water has already been treated in a process that removes other radioactive materials, including the highly toxic strontium and cesium, TEPCO said. Japan has said there is no practical way to remove tritium from the water, and that the IAEA has endorsed its plan to dump the waste into the ocean.
===
Japan Decides To Dump One Million Tons Of Radioactive Fukushima Water Into The Pacific; IAEA Approves
We live in a bizarre world: one where the the Keystone XL pipeline must be shut in case of a hypothetical (and extremely unlikely) leak, but where Japan is allowed to dump over one million tons of radioactive water into the Pacific Ocean. Actually, it's either bizarre or simply exposing just how profoundly hypocritical, self-serving and corrupt the ESG/Green/Greta Thunberg theater truly is.
Last week we wrote that ten years after the Fukushima disaster, Japan had finally come "clean", and admitted that it is "unavoidable" that it would have to dump radioactive Fukushima water in the Pacific Ocean. Fast forward to today when moments ago Kyodo confirmed what we already knew: the Japanese government decided to release treated radioactive water accumulating at the crippled Fukushima Daiichi nuclear power plant into the sea, having determined "it poses no safety concerns to humans or the environment" despite worries of local fishermen and neighboring countries.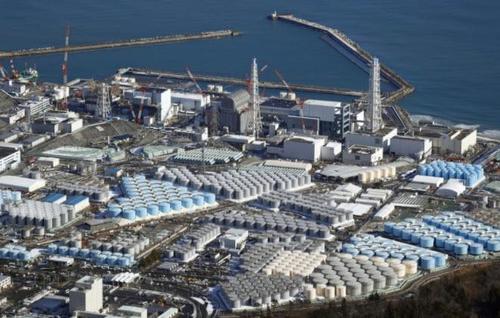 So an oil pipeline whose odds of leaking are virtually zero must be shuttered immediately, but a million tons of radioactive water is "safe" and can be released into the Pacific Ocean, from where it will eventually finds its way into billions of humans around the globe.
But wait, the insanity gets better: Japan's decision to release all this radioactivity into the ocean was backed by none other than the "scientists" at the International Atomic Energy Agency, with Director General Rafael Grossi saying it is "scientifically sound" and in line with standard practice in the nuclear industry around the world.
So... the IAEA has a standard practice of what exploded nuclear power plants do with their fallout water? And how often has this particular standard practice been invoked we wonder?
Between this and the covid debacle, one can almost see why nobody trusts the world's so-called whores for hire scientists any more.
Anyway, back to the cartoonish nation of Japan, whose Prime Minister Yoshihide Suga met with members of his Cabinet including industry minister Hiroshi Kajiyama to formalize the decision, which comes a decade after a massive earthquake and tsunami triggered a triple meltdown in March 2011.
It is here that over the past decade, water pumped into the ruined reactors at the Fukushima plant to cool the melted fuel, mixed with rain and groundwater that has also been contaminated, has been treated using a liquid processing system, or ALPS, which in theory removes most radioactive materials including strontium and cesium but leaves behind tritium, which according to scientists poses little risk to human health in low concentration. The water is being stored in tanks on the plant's premises -- more than 1.25 million tons in total.
Of course, if the water is so safe, we wonder when the "scientists" will demonstrate that there is nothing to be concerned about by chugging a gallon of the "ALPS-treated" radioactive sludge. We won't be holding our breath.
The real reason why Japan has no choice but to dump the toxic fallout into the ocean is that plant operator TEPCO (Tokyo Electric Power Company Holdings) expects to run out of storage capacity as early as fall next year, and the government had been looking for ways to safely dispose of the tritiated water. Having found no viable alternative, it decided to do the simplest possible thing: dump it.
"Disposing of the treated water is an unavoidable issue in decommissioning the Fukushima Daiichi plant," Suga said at the meeting, adding the plan will be implemented "while ensuring that safety standards are cleared by a wide margin and firm steps are taken to prevent reputational damage."
A Ministry of Economy, Trade and Industry subcommittee concluded in February 2020 that releasing the tritiated water into the sea and evaporating it were both realistic options, with the former more technically feasible. Hilariously, and as noted above, the International Atomic Energy Agency has backed the move, with Director General Rafael Grossi saying it is scientifically sound and in line with standard practice in the nuclear industry around the world.
Yet despite Japan's and the IAEA's assurance, China and South Korea on Monday voiced deep concern over Japan's plan - and now decision - to release treated radioactive water that has accumulated at the crippled Fukushima nuclear plant, saying discharging it into the sea would have a negative impact on its neighbors. Apparently they have not been briefed by the ALPS "experts" that there is nothing to worry about.
China said it has conveyed its "serious concern" to Japan, calling on Prime Minister Yoshihide Suga's government to make a cautious decision to protect the public interest of international society as well as the health and safety of Chinese citizens. Arguing Tokyo has come under criticism globally over the issue, "Japan cannot overlook or shrug off" such a fact and "should not hurt the marine environment, food safety and human health anymore," the Chinese Foreign Ministry said.
A South Korean Foreign Ministry spokesman, meanwhile, said Monday that releasing treated water from the Fukushima plant would "directly and indirectly affect the safety of the people and the neighboring environment."
"It would be difficult to accept the release into the sea if the Japanese side makes a decision without sufficient consultation," the spokesman said, adding South Korea will "respond by strengthening cooperation" with the International Atomic Energy Agency. Apparently he was unaware that the IAEA was already bribed convinced by Japan that there is nothing wrong what what is about to take place.
But wait... we thought that "scientists" said it was safe: does China and South Korea practice a different "science" - one where a million tons of radioactive water getting dumped into the ocean is actually - gasp - dangerous.
Could it be that we have two "scientific" camps, one of which is motivated by things far more mundane than the scientific method to reach its conclusion. Things such as money?
Of course, for Japan which prints trillions of said money every months, it's not a concern, and that's music to the "scientists" ears. Suga said the IAEA and other third parties will be involved in the plan, ensuring it is carried out with transparency. We can only assume that the "third parties" will also receive copious amounts of money to find that nothing is wrong here.
In any case, the poisoning of the Pacific Ocean won't take place for another two years: that's when the the tritiated water is actually released into the sea due to the need to build new facilities and conduct safety screenings. The government had initially hoped to make the decision last October, viewing it as necessary to clear up space at the Fukushima plant in order to move forward with the decades-long decommissioning process, but decided it needed more time to convince local fishermen who have voiced strong opposition.
Apparently the local fishermen have also not heard of this thing called "science" according to which there is nothing to worry about.
The good news is that with a two year lead time, such aspiring eco-saints as Greta Thunberg will have more than enough time to prevent this plan from being realized. Unless, of course, Greta's entire eco spiel is one giant lie. Failing that, and should Greta also be convinced by money the IAEA that there is nothing wrong with the water, we can only hope that she will drink several gallons of the radioactive substance on live TV.
Meanwhile, we wonder how those other eco-saints at Blackrock will respond: having banned investments in such devious, diabolical industries as coal and shale, we can only imagine the loophole Larry Fink's henchmen will have to come up with to continue investing in Japan without looking like total sellouts. One suggestion has already emerged: the "Blackrock Nuclear Treated Water Socially Responsible Inclusion Oil Sands Exclusion ETF"
Author: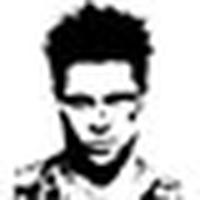 TYLER DURDEN
===
Dumping of Fukushima radioactive water into ocean 'unavoidable', Japanese PM says, as country's fisheries reject plan
By RT - 07. April 2021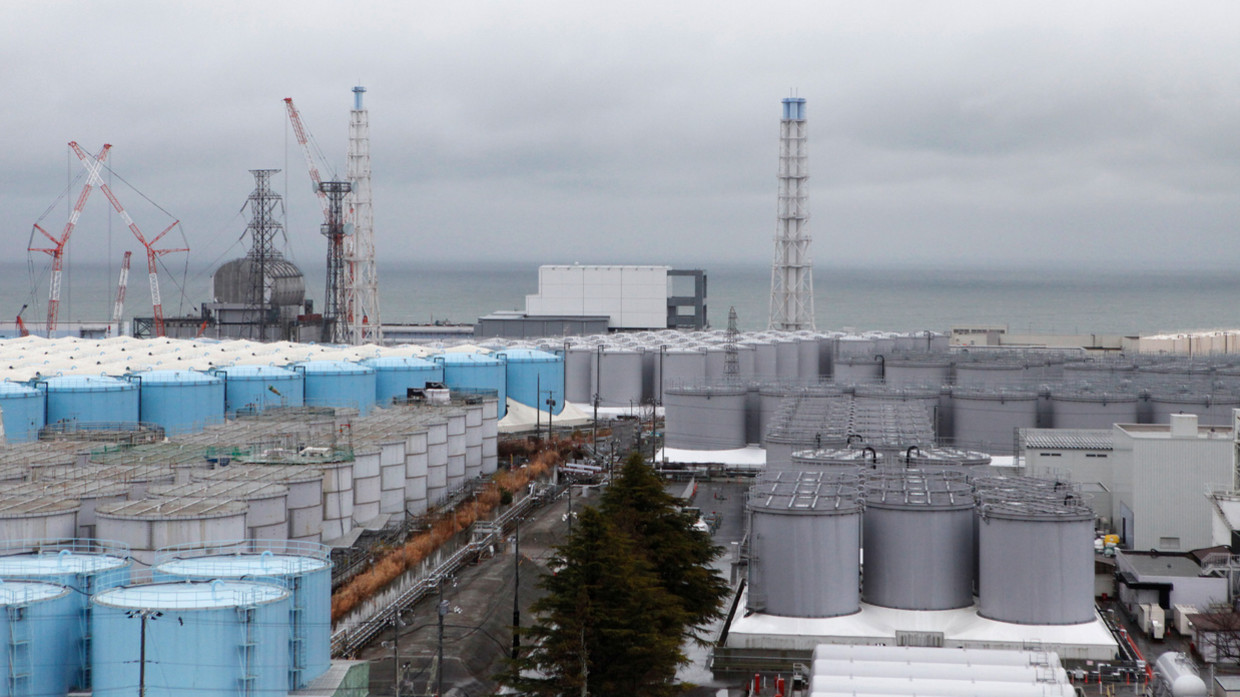 Storage tanks for radioactive water are seen at tsunami-crippled Fukushima Daiichi nuclear power plant. © Reuters / Aaron Sheldrick
Japan's fisheries union says it remains opposed to the idea of dumping radioactive water accumulated at the Fukushima nuclear plant into the ocean, as top government officials signal the controversial plan will likely go ahead.
Japanese Prime Minister Yoshihide Suga met with the head of the National Federation of Fisheries Co-operative Associations, Hiroshi Kishi, on Wednesday, discussing the options for disposing of the radioactive waters – described by the government as "treated" – that have accumulated in storage tanks around the nuclear power plant.
The meeting was seemingly not fruitful, with the fisheries union boss saying afterwards that fisheries groups remain opposed to the dumping of tainted water into the ocean, which is set to happen over the course of many years. While the plan has not yet been signed into policy, it has been widely considered to be the main option on the table for dealing with the buildup.
"The disposal of … treated water is unavoidable and experts have recommended that the release into the sea is the most realistic method that can be implemented. Based on these inputs, I would like to decide the government's policy," Kishi quoted Suga as saying after the meeting.Trade Minister Hiroshi Kajiyama, however, said that the government can no longer postpone its decision on the Fukushima waters.
"What to do with the ALPS treated water is a task that the government can no longer put off without setting a policy," Kajiyama said. ALPS refers to the 'advanced liquid processing system' used to 'treat' the tainted waters before storing.
The Fukushima nuclear power plant suffered a catastrophic meltdown back in 2011, following a major 9.0-magnitude earthquake and subsequent crippling tsunami. In the years since, the plant has accumulated a large stash of contaminated liquid, which includes cooling water, as well as groundwater and rain seeping into the plant daily.
Currently, some 1.2 million tons of radioactive water rest in storage tanks around the premises. The plant's operators are expected to run out of water storage space by 2022.
The plans to release the tainted waters into the ocean have been repeatedly criticized by environmentalist groups, which have argued it may cause an unprecedented ecological disaster. Last October, Greenpeace accused Tokyo of bending the truth by describing the water as "treated," claiming the liquid contains "dangerous levels of carbon-14," which have the "potential to damage human DNA."
Late in March, Japan sought help from the International Atomic Energy Agency (IAEA), asking the UN nuclear watchdog to conduct a safety review of its plans. Back then, Kajiyama said it had been "increasingly important to dispel concerns and reputational worries over the safety of the water which have been raised domestically as well as from our neighboring countries."
The IAEA, in turn, signaled it was ready to back the government's plans to deal with the Fukushima water, expressing confidence that Tokyo had enough determination and technological capacity to pull off the disposal properly.
READ ALSO:
Safety first? Japan asks UN nuclear watchdog to review its plans to release Fukushima radioactive water into ocean
Glowing opportunity: Japan to pay citizens up to $19k to settle around crippled Fukushima nuclear plant
===
Safety first? Japan asks UN nuclear watchdog to review its plans to release Fukushima radioactive water into ocean
By RT - 23. March 2021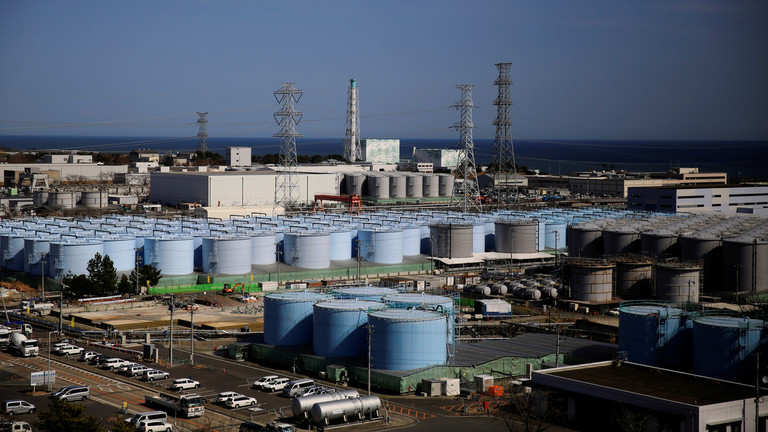 The storage tanks for water are seen at the tsunami-crippled Fukushima Daiichi nuclear power plant in Japan on March 1, 2021. © Reuters / Sakura Murakami
Tokyo has asked the UN nuclear watchdog for support and back-up for its plans to empty a huge stash of radioactive water stored around the Fukushima power plant into the sea – a plan that's sparked fears of an ecological disaster.
The matter of how to dispose of the tainted water was raised during virtual talks between Japan's economy minister Hiroshi Kajiyama and the director general of the International Atomic Energy Agency (IAEA), Rafael Grossi, on Tuesday.
Tokyo has asked the watchdog to evaluate the plans and methods to be used in the disposal of water Japan describes as having been "treated." While no official announcement has been made, the primary option reportedly under consideration is for it to be released into the ocean over the course of many years. The Japanese government is in "final-stage coordination" on the issue, Kyodo News reported.
Now Japan is seeking to recruit the IAEA to convince the global community that its plans to deal with the water is solid and safe, believing the watchdog would be "extremely effective" in doing so.
"It has become increasingly important to dispel concerns and reputational worries over the safety of the water which have been raised domestically as well as from our neighboring countries," Kajiyama told the media before the talks.
In turn, Grossi signaled that the UN agency was ready to back Japan and carry out a safety review of the chosen plan, whatever it might be, saying he was convinced of Tokyo's determination and technological capacity to pull off the challenge.
"We're very close to starting our cooperation with Japan on the handling of Fukushima's ALPS [Advanced Liquid Processing System] treated water before, during, and after its disposal. Japan is a key partner for the IAEA," Grossi said on Twitter after the talks.
Excellent conversation today with 🇯🇵 @METI_JPN's Kajiyama Hiroshi. We're very close to start our cooperation with Japan on the handling of #Fukushima's ALPS treated water before, during and after its disposal. Japan is a key partner for the @IAEAorg. pic.twitter.com/PHZlY9EyFl

— Rafael MarianoGrossi (@rafaelmgrossi) March 23, 2021
The Fukushima plant suffered a major meltdown in 2011, following a 9.0-magnitude earthquake and subsequent crippling tsunami.
In the years since, the plant has generated a large stash of contaminated cooling water that is being stored in large tanks around the premises. The tanks currently hold some 1.2 million tons of radioactive liquid and the plant is expected to run out of space to store any more by 2022.
The plans to release the water into the ocean have been repeatedly criticized by environmentalist groups, which have warned it may prompt an unprecedented ecological disaster. Greenpeace accused the Japanese government of distorting the situation last October when it described the water as having been "treated."
The environmental group claimed the water contains "dangerous levels of carbon-14," that have the "potential to damage human DNA."
READ ALSO:
Japan expected to dump over 1 MILLION TONS of radioactive Fukushima water into Pacific, fishermen fear 'catastrophic impact'
Greenpeace condemns Japanese plans to release Fukushima reactor water into the sea, claims it could damage human DNA
===
Japan falls silent for Fukushima: Emperor leads memorial events 10 years on from earthquake, tsunami and nuclear meltdown that killed 18,500
Thursday marks 10 years since an earthquake caused a tsunami and nuclear disaster in Japan
A minute's silence was held at 2.46pm, the exact moment that the earthquake struck, killing 18,500
Emperor Naruhito spoke of the 'unforgettable memory' of the country's worst disaster in recent times
By AFP - 11. March 2021
Japan fell silent today to mark 10 years since the worst natural disaster in the country's living memory: the powerful earthquake, deadly tsunami and Fukushima nuclear meltdown that traumatised a nation.
A minute's silence was observed across the country at 2.46 pm local time , the precise moment a 9.0 magnitude quake hit off the northeast coast on March 11, 2011.
Around 18,500 people were killed or left missing in the disaster, most of them claimed by the towering waves triggered by one of the strongest quakes ever recorded.
The ensuing meltdown at the Fukushima Daiichi nuclear plant blanketed nearby areas with radiation, rendering some towns uninhabitable for years and displacing tens of thousands of residents.
Imperial mourning: Japan's emperor Naruhito and empress Masako bow at an altar in Tokyo commemorating the victims of the March 11, 2011 catastrophe
Prayer by the sea: A man bows his head by the coastline in Fukushima prefecture today, a decade on from the disastrous earthquake that caused a tsunami and nuclear disaster
Grief: A local resident who lost his daughter in the disaster pays his respects at a cemetery in Namie on Thursday as Japan marks the 10-year anniversary of the earthquake
Grief: A Buddhist monk prays for the victims of the earthquake and tsunami by wading through the sea at a beach in Iwaki on Thursday
Remembrance: Hundreds of people gather to release white dove-shaped balloons into the sky to mourn the victims of the tragedy
Poignant: A man looks at a clock showing the time 2.46pm of the devastating 2011 earthquake which led to the deaths of thousands
Overrun: Huge waves breach an embankment in the city of Miyako in Iwate prefecture, in the wake of the earthquake on March 11, 2011
Devastated: A view from a helicopter shows the wreckage of Minamisanriku in north-eastern Japan two days after the tsunami
Speaking at a ceremony in Tokyo's national theatre, Emperor Naruhito said the 'unforgettable memory of the tragedy' persisted a decade on.
'Many of those afflicted, in spite of their having suffered from unimaginably enormous damage, have overcome numerous hardships by helping one another,' he added.
The annual memorial event was held before a smaller audience than usual, with the capital and nearby areas currently under a virus state of emergency.
Japanese PM Yoshihide Suga said the challenges faced by survivors had been compounded by the pandemic and natural disasters, including a recent strong quake in the region, classified as an aftershock of the 2011 tremor.
But he said Japan had always 'overcome every crisis with courage and hope'.
Private and public commemorations were seen across Japan as bereaved local residents laid flowers at graves and placed letters to missing family members into the sea.
Minute's silence: Mourners fall silent at 2.46pm local time on Thursday, the exact time when the 9.0-magnitude earthquake triggered the disaster
Spiritual: Buddhist monks entered the sea to pray for the victims of Japan's worst natural disaster in living memory
Solitude: A couple visit the shores of Arahama district in Sendai, Miyagi prefecture, to offer prayers at sunrise
Grieving: School students wearing face masks observe a moment of silent prayers while overlooking the coast where the tragedy struck
A line of Buddhist monks walk across the sand towards the sea to honour the 18,500 victims of the tragedy
A crowd of people gathered to release multicoloured balloons into the sky on a day of national mourning in Japan
The search goes on: Members of the Tomioka fire brigade continue their hunt for traces of missing people on the shores near the Fukushima nuclear plant
Private and public commemorations took place across Japan to mark a decade since the 2011 quake, tsunami and nuclear disaster
A diagram showing the area of the Fukushima nuclear disaster and the parts of Japan where decontamination work has not yet finished
Smoke rises from Kesennuma on March 12, 2011, a day after it was overrun by the tsunami
The same area of Kesennuma is pictured last month, a decade on from the disaster
Condolences have poured in from around the world, with everyone from UN chief Antonio Guterres to singer Lady Gaga offering their thoughts on the anniversary.
Searches for those still missing are taking place this week, as loved ones refuse to relinquish hope of finding them even a decade on.
The chances of success may appear slim, but just last week the remains of a woman missing since the tsunami were identified, in what her surviving son described as a chance to process his emotions and move forward.
As the sun rose in Fukushima prefecture's Hisanohama, 78-year-old Toshio Kumaki walked along a giant sea wall built after the tsunami and offered a prayer.
Kumaki's eyes filled with tears as he remembered the disaster. 'It was really scary,' he said.
Around 60 people were killed in Ohisa, one of the districts adjacent to the beach, when 23ft tsunami waves washed ashore, wiping away everything but a tiny shrine.
Buddhist monks chant prayers near the coastline in Fukushima province to mark the anniversary
Some towns were rendered uninhabitable for years after the disaster which killed around 18,500 people
Searches for those still missing are taking place this week - with one woman's remains being identified only last week in a move welcomed by her son
The anniversary comes just two weeks before the Olympic torch relay begins in Fukushima prefecture, nodding to efforts to make them the 'Reconstruction Games'.
The pandemic has cast a long shadow over the Olympics, forcing their unprecedented year-long postponement, but the government and organisers are hoping the relay will bring the spotlight back to the region.
A decade on, the disaster has shaped Japan's preparations for natural disasters, with many towns along the coast building new or higher sea walls.
Evacuation routes and plans have been refined and improved in a country that regularly deals with disasters ranging from typhoons to earthquakes.
Nayuta Ganbe in Miyagi's Sendai city speaks often at events about disaster prevention, sharing his experience of the tsunami, but he usually marks the anniversary privately.
'It's the day when I lost my classmates. People died before my eyes. March 11 is a day that I hoped would never come again,' the 21-year-old said.
But this year he has decided to participate in an event on the anniversary, hoping it will help him with the ongoing work of processing the trauma he experienced.
Two people stand by the sea in Hisanohama on Thursday on the 10th anniversary of the quake
People (top) evacuated by boat down a flooded road in Ishinomaki on March 12, 2011; and the same area (bottom) is pictured nearly 10 years later
In South Korea, the anniversary prompted environmental activists to stage a protest in Seoul with a banner reading 'no more nuclear power plants'
For others, the anniversary will be a moment for private reflection on a tragedy that continues to reverberate.
Tens of thousands of people who evacuated fearing radiation are still displaced, and around two percent of Fukushima remains off-limits.
Most of Japan's nuclear reactors are still offline, and government plans to revitalise the sector are controversial.
Reverend Akira Sato, who ministered at several churches that in areas still largely off-limits around the Fukushima plant, will be spending the day in reflection at one of the churches he had to abandon.
'Together with my wife, I will silently think back over the days of the disaster and offer a prayer.'
===
Fish off the coast of Fukushima show high concentrations of radioactive cesium
By Divina Ramirez - 10. March 2021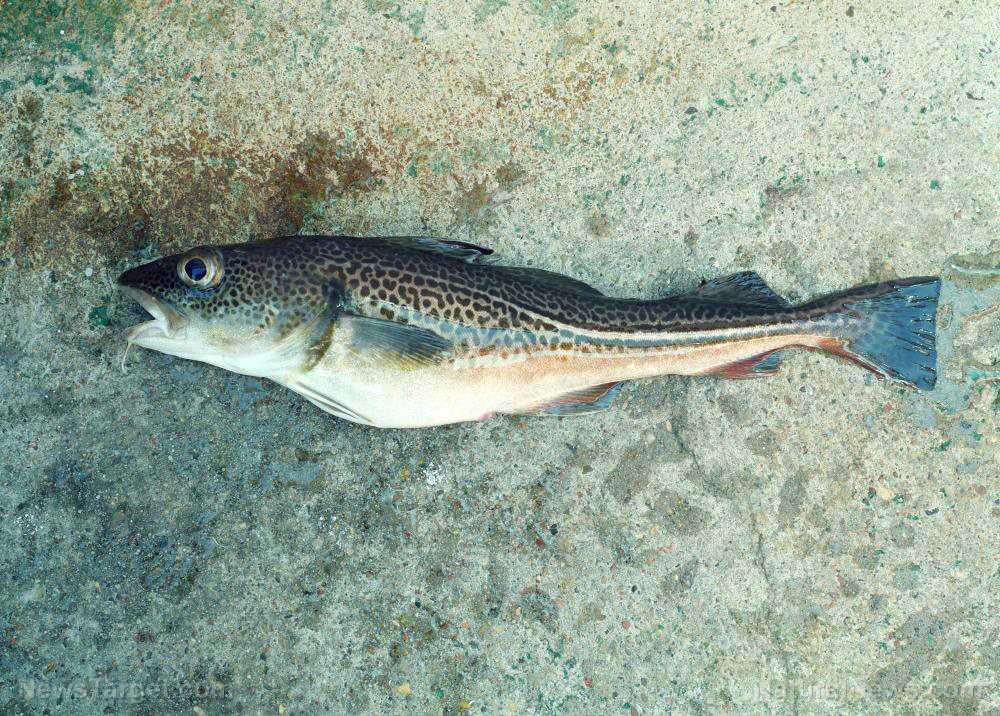 For the first time since 2019, fish contaminated with high levels of radioactive cesium have been caught off the coast of the Fukushima Prefecture in Japan on Feb. 22, according to local public broadcaster NHK.
Laboratory tests revealed that black rockfish caught at a depth of 24 meters (m) nearly 8.8 kilometers (km) off the coastal town of Shinchi were contaminated with up to 500 becquerels (Bq) of radioactive cesium per kilogram. The permitted standard level is 100 Bq of radioactive cesium per kilogram.
Fishermen in affected coastal towns have since suspended fishing for the species, citing potential health issues. In addition, the Fukushima Prefectural Federation of Fisheries Cooperative Associations has also halted the distribution of black rockfish until local authorities can declare it safe to do so.
On Feb. 19, Tokyo Electric Power Co. (TEPCO) said cooling water levels have fallen in two reactors at the Fukushima Daiichi Nuclear Power Plant since a powerful earthquake hit the area over the weekend. The earthquake might have caused damage to the plant and caused water to leak.
In 2011, an earthquake had damaged the plant's cooling system, causing three reactor cores to melt. Moreover, nuclear fuel fell to the bottom of its containment vessels. Since then, cooling water in the plant has been escaping from the damaged vessels into the basements of the buildings holding the reactors.
To make up for the loss, operators had tried to pump more cooling water into the reactors to cool the fuel. But the recent decline in cooling water levels would suggest that more water is leaking out than before.
A spokesman with TEPCO said the operator will monitor water and temperature levels at the bottom of the containment vessels. Local officials could use information from this surveillance to determine whether the leakage from the plant led to the irradiation of black rockfish in Fukushima.
Not the first time Japan has seen irradiated fish
The Fukushima power plant was disabled after the 2011 disaster. But the leakage from the plant led to roughly 320,000 gallons of radioactive water. This water is set to be released into the ocean based on the recommendation of the government's advisory panel.
Since the plant was disabled, that water was used to cool the damaged reactors to prevent meltdowns. Officials had it stored in large tanks, but those are expected to be full by 2022.
If released, radiation in the sea off Fukushima might rise to dangerous levels and poison fish and other marine animals. Radiation levels in that area are already millions of times higher than permitted levels.
In fact, reports of irradiated fish being caught in Fukushima are not new. In October 2019, the Fukushima Prefectural Federation of Fisheries Cooperative Associations also voluntarily suspended seafood shipments after white perch were found to contain 53 Bq of radioactive cesium per kilogram. The permitted level is only 50 Bq of radioactive cesium per kilogram of white perch.
And in 2012, researchers from Stanford University in California and the State University of New York at Stony Brook found that tuna caught off the coast of San Diego carried radioactive cesium.
They studied the element to understand the origin and timing of the tuna's migration across the Pacific Ocean. They traced the contamination to the Fukushima Daiichi power plant disaster. (Related: Fukushima: Radiation now reported in West Coast Tuna.)
The levels of radioactive cesium in the fish were not considered a threat to human health. But the study shows the extent of the impact of the disaster.
And with the Japanese government poised to release the radioactive water from the plant into the sea, experts might soon be faced with more irradiated tuna and other marine animals.
Go to Fukushima.news to read more about the environmental impact of radiation in Fukushima.
Sources include: