OUTLOOK: It seems obvious that the Freedom Rallies without a take-over task and target are not doing much to stop the tyrants - you are just a training exercise for their goons. Most of the larger events are not even getting the truth out, because the mainstream is blocking broadcasting the speeches or distorting the messages. Except for networking with like-minded people the peaceful mass-rallies without a clear task to take over an office or a vital segment of infrastructure had next to no impact so far. Real strikes or walk-outs had some effect, but they are limited, because most labour unions are part of the oppressive machine. Therefore: The next time you are at a rally, try at least to get together with a dozen or two likeminded, who can join on a specific day and time to descend as a dedicated group of "Truth Advocates" on a local target - a city hall, major's office, a governing party's office, a mall or a sports venue. Then, hand over notices to those responsible for enforcing Covid-measures and pass out flyers, fact sheets or brochures to the people - giving the latest facts (with many links) on the real issues like the Corona Crimes and the "vaccines". Talk to as many people as you can directly. If your local Truth Action gets any media attention, it will be viciously antagonistic. By going directly to the officials and the people, many more will begin to learn the truth and realize that they are trapped in a bubble of lies. Create locally autonomous communities, villages and towns and render the large cities with massive strikes, boycotts and walkouts non-functional until the tyrannical systems come tumbling down. "Cease To Obey, And You're Free"
UPDATE 19. November 2021: ROTTERDAM NETHERLANDS NOV 19TH - ANTI COVID RESTRICTIONS & PASSPORTS PROTESTERS + PROTESTOR SHOT & KILLED BY COP? BIG PROTEST AGAINST MANDATORY VACCINES & DISCRIMINATION IN ROTTERDAM + NO FORCED VAX: MASSIVE REVOLT/ REVOLUTION BREAKING OUT IN GUADELOUPE FRANCE
UPDATE 16.November 2021: GALLOWS AT THE MELBOURNE PROTEST
Gallows at the Melbourne Protests
UPDATE 14. November 2021: CANADA PROTEST RALLY AT KINGSTON CITY HALL FOR FREEDOM FROM VACCINE MANDATES & MEDIA LIES | NOV 14TH 2021
UPDATE 11. November 2021: OPERATION REMEMBRANCE: A DECLARATION OF CITIZEN'S ARREST OF THE HALTON POLICE CHIEF | NOV 11 2021 - Canada
UPDATE 08. November 2021: The world is waking up + MASSIVE WORLDWIDE RALLIES AGAINST VACCINE SEGREGATION & MANDATES: UK, GERMANY, FRANCE, BELGIUM, ITALY, GREECE, UKRAINE, US, IRAN, ISRAEL +++ 2h compilation
UPDATE 07. November 2021: TENS OF THOUSANDS MARCH ON PARLIAMENT IN NEW SOUTH WALES - Let's Go BranDAN #SACKDAN + RISE UP MELBOURNE 6-11-21 + MELBOURNE: KILL THE DICTATORIAL BILL PROTEST + HUNDREDS CLASH WITH LEIPZIG POLICE AT PROTEST AGAINST COVID MANDATE + LONDON UK NOVEMBER THE 5TH PROTESTS FOR FREEDOM. AS IT UNFOLDED... F@<K BORIS JOHNSON
UPDATE 06. November 2021: MASSIVE MELBOURNE AUSTRALIA PROTEST AGAINST MANDATES, SEGREGATION & TERRIBLY EVIL PROPOSED BILL + 5TH NOVEMBER 2021 LONDON HOUSES OF PARLIAMENT 'MILLION MASKS' FREEDOM PROTEST + "TOGETHER, UNITED, WE'LL NEVER BE DEFEATED" MASSIVE PATRIOT PROTEST IN MELBOURNE, AUSTRALIA
UPDATE 05. November 2021: FUCK JOE BIDEN! HUGE WORLDWIDE PROTESTS DEMAND ABOLITION OF VACCINE PASSPORTS & MANDATES
"THE RIGHTS OF EVERY MAN ARE DIMINISHED, WHERE THE RIGHTS OF ONE MAN ARE THREATENED!" - J.F. KENNEDY
'V For Vendetta' In Real-Life? Masked-Protesters Clash With UK Cops In Central London; 8 Injured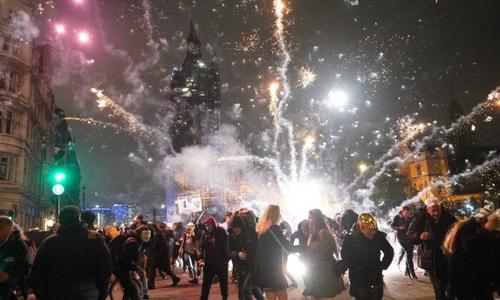 Remember, remember the 5th of November
By Alexander Zhang - 05. November 2021
Eight British police officers were injured and 12 people were arrested on Friday evening as hundreds of protesters clashed with police in central London on Bonfire Night.
Protesters wearing Guy Fawkes-style masks gathered at Trafalgar Square and burned an effigy of Prime Minister Boris Johnson.
The protesters then moved to Parliament Square where they clashed with police wearing protective gear.
The Metropolitan Police said on Twitter that the demonstrators had been "dangerously lighting fireworks and rockets," some of which "struck people or exploded near to the crowd."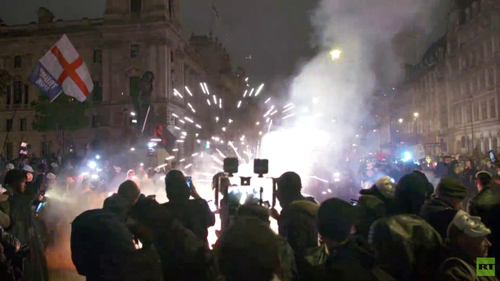 The Met said a total of 12 arrests were made "for a variety of offences" during the demonstrations across London.
The force said eight officers were injured, which it said was "unacceptable."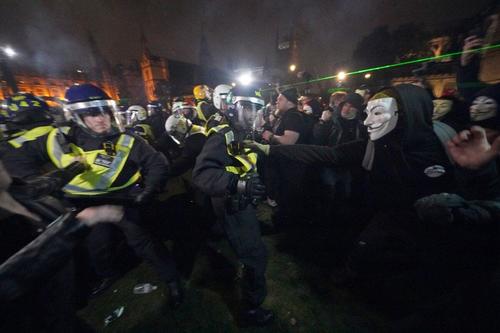 Police clash with protesters as they take part in the Million Mask March in Parliament Square, London, on Nov. 5, 2021. (PA)
Many of the demonstrators taking part in the rally, which is known as the Million Mask March, held signs protesting against the COVID-19 lockdown.
Since March 2020, England has undergone three national lockdowns and a wave of "tiered" regional lockdowns, resulting in numerous job losses and the permanent shutdown of many businesses. Schools were shut for months on end, with exams cancelled for two consecutive years. For months, attending events and protests was also outlawed, as was meeting with friends and family.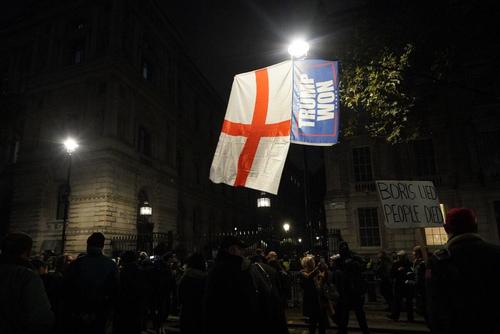 A St. George's Flag and "Trump won" flag, fly over people taking part in the Million Mask March outside Downing Street, London, on Nov. 5, 2021. (PA)
The UK government lifted all CCP (Chinese Communist Party) virus lockdown restrictions on July 19 in England. On Sept. 12, the government said the prime minister was set to repeal in the near future some of the emergency powers enacted in England by the Coronavirus Act 2020.
Bonfire night, also known as Guy Fawkes Night, is a British tradition that originates from Nov. 5, 1605, when Guy Fawkes was arrested for trying to blow up the House of Lords, and King James I with it.
Britons mark the day with bonfires and fireworks each year.
The white, smiling Guy Fawkes masks have become popular among protesters globally by anti-establishment hackers and the film "V for Vendetta."