Yaqui in Sonora ban pesticides resulting in deaths
By Brenda Norrell (*) - Human Rights Editor, U.N. OBSERVER & International Reporter
VICAM PUEBLO, SONORA, MEXICO -- Yaqui in Sonora enacted a declaration to halt the use of banned pesticides in agricultural fields here, now resulting in cancer and death for community members, and demanded that corporations be responsible for health damages and Mexico ensure safe water.
Currently, aerial spraying of crops and the unmonitored, unregulated storage of dangerous pesticides are devastating Yaqui and other Indigenous communities. Acute poisoning from exposure to toxic contamination is resulting in the deaths of very young children and adults.
Attracting support from the United Nations and government of Mexico, the traditional authorities of five Yaqui Pueblos on the western coast of Mexico are taking the lead to halt the use of banned pesticides exported from the U.S. and other industrialized countries to undeveloped countries.
"Now we understand that newborns and those yet unborn are some of the persons most gravely affected in the exposed communities, since they are especially susceptible to these toxics in their mothers' wombs," said Andrea Carmen, Yaqui and executive director of the International Indian Treaty Council.
"This applies as well to nursing infants," said Carmen, pointing out the rising number of cancer victims and children with birth defects.
"The development, health, and potential of our future generations are at risk," she said.
Now, Yaqui are more alarmed than ever, following a report from a health center in Sonora that two Yaqui communities, Potam and Bataconsica, have the highest level of agro-chemical saturation in the state.
Earlier, in Potam Pueblo on May 29 --31, Yaqui authorities of Potam, Vicam, Torim, Rahum and Huirivis Pueblos, which comprise "Yaquis Unidos por la Madre Tierra" (Yaquis United for Mother Earth) joined with the International Indian Treaty Council to take action. IITC is an international organization with Consultant Status before the United Nations Economic and Social Council.
During the international conference, more than 300 Yaqui joined with Tohono O'odham, Huichole, Mayo and Zapoteca from Mexico, Mayan of Guatemala, Yaqui of Arizona and other Indigenous Peoples. Physicians, biologists, scientists and environmentalists gathered with IITC representatives, including Saul Vicente and Angel Valencia.
The Yaqui offered testimonies on individual cases of cancer, birth defects and other health maladies resulting from exposure to agricultural chemicals. Physicians and biologists explained both the long-term effects on health and how lands are losing their richness and waters are becoming contaminated.
Dr. Elizabeth Guillete, scientist, participated in the conference and presented studies she conducted in Yaqui communities in Sonora. In 1997, Guillete conducted a study on Yaqui traditional lands and discovered high levels of multiple pesticides in the umbilical-cord blood of newborns and in their mother's milk. Guillette's studies revealed that Yaqui children living in the agricultural areas suffered from serious learning and development problems.
Mr. Okechukwu Ibeanu, United Nations Special Rapporteur on the Adverse Effects of the Illicit Movement and Dumping of Toxic and Dangerous Products and Wastes on the Enjoyment of Human Rights, sent Yaqui a letter of support and concern. Rapporteur Ibeanu shared his concern for the effects of toxic pesticides on Indigenous Peoples in Mexico and other countries.
Rapporteur Ibeanu said the unsound use of these chemicals leaves "individuals and communities unable to make informed choices about products," in some cases "further aggravating conditions of poverty" due to their adverse effects on human health and the environment.
The Rapporteur asked Yaqui to continue providing his office at the United Nations with testimonies on the effects and harm suffered by Yaqui in Sonora. IITC is continuing to document the harm resulting from these pesticides.
The Yaqui Pueblos received a detailed letter of support from the federal government of Mexico, from Gustavo Torres of Mexico's National Commission on the Development of Indigenous Peoples.
The International Indian Treaty Council said it hopes the courageous action of the traditional Yaqui authorities will inspire other Indigenous Peoples to take action.
"In our view, this is an historic and courageous step for the protection of the health and well-being of their communities and the assertion of their rights and responsibilities in this regard," said IITC's statement signed by Francisco Cali, director, and Carmen.
International Law to which the country of Mexico is signatory upholds the rights of all Peoples to self-determination, which includes the right to freely pursue their economic, social and cultural development. The Yaqui Traditional Authorities have decided that the current indiscriminate use of pesticides in their communities is adverse to the health, human rights and development of their Peoples. We support them in this assertion and call upon the local, state and national governments as well as the international community to respect their decisions and uphold their rights in this regard.
Indigenous Peoples around the world as well as in Mexico have the right to live in health, to control and use their traditional lands and resources, and to protect their homelands, waters, means of subsistence and families from toxic contamination. We thank the Yaqui Traditional Authorities and community members once again for this courageous stand. We hope that it will provide an inspiration to other Indigenous communities throughout this hemisphere who are facing the same dire effects of contamination by toxics products, including pesticides, in their homelands."
Yaqui have confirmed 67 solutions to halt the effects of the careless disregard for health and human life, the land and water and the quality of life of future generations. From the participants' final 67 recommendations and actions, Yaqui have now selected eight as vital short solutions to the indiscriminate use of pesticides and other agro-chemicals on Yaqui lands.
In the Declaration passed on December 7 in Vicam Pueblo, Yaqui insist that these eight points are vital to ensure their welfare, health, food sovereignty and economic development.
The Yaqui demand that all persons using Yaqui land comply immediately with these requirements.
The eight primary points resolved:
1) Under the principle of free, prior and informed consent, all persons who intend to use or apply pesticides or other chemicals to their crops must submit their plans and the products they intend to use, including their common and scientific names, their chemical contents, their known harm, their legal status (prohibited, restricted or allowed in Mexico and/or in other countries), and the recommended requirements for their use, to the authorities together with members of the community. After receiving this information and with sufficient time to study it, the authorities shall grant permission or denial for their use in Yaqui territories, and shall specify under what conditions their use would be permitted.
2) Under no circumstances shall the aerial application (flyovers) of pesticides, fumigants, or other chemicals be allowed. Those products that are allowed under Point No. 1 would be by ground application.
3) The implementation of adequate training programs for workers or other persons who come into contact with pesticides so that they will be aware of the risks and how to avoid them if they have to use such products in their work.
4) The companies shall ensure that all workers shall have equipment and means of protection and adequate security to protect themselves and their families from harm, and that all the requirements for the use of these chemicals are met.
5) The movement of the application equipment, storage tanks, and the used residues of the pesticides outside of the communities and populated areas.
6) Monitoring through a commission of technicians designated by the people and supported by the federal government to carry out the supervision of the pesticides applied and report crimes and problems to the traditional authorities and to other indicated agencies.
7) Medical and/or financial support for all persons and families who have suffered harm from the effects of the pesticides such as cancers, leukemia, and birth defects, among others, including for the families of those who already died, whether they are insured by the government or directly by the companies involved.
8) That the federal government guarantees that there is potable water that is not contaminated by pesticides in the Yaqui communities, including a program of regular testing of the canals, wells, and rivers that the communities use to ensure a monitoring of the condition of the existing water.
---
Yaqui in Mexico suffer effects of toxic pesticides used in agricultural fields.
By Brenda Norrell (*) - Indian Country Today - February 20, 2006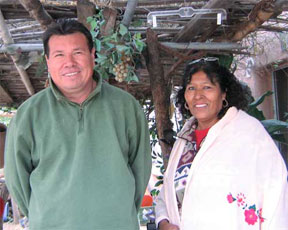 OBREGON, Mexico - Yaquis from Sonora, Mexico, Francisco Villegas Paredes and Maria de los Angeles Verdia Matus, attended the 2006 International Indian Treaty Council Conference at the Independent Traditional Seminole Nation in Okeechobee, Fla., in February.
Paredes and Matus told conference attendees that pesticides, banned in other countries, are being imported to Mexico and are causing birth defects and cancer in Yaqui working in agricultural fields.
Yaqui from Sonora, Mexico, are seeing an increase in birth defects, while young people are dying from cancer after working without protective clothing with pesticides in agricultural fields near their villages.Francisco Villegas Paredes, Yaqui from Vicam village, said doctors have confirmed that the birth defects and cancers are the result of Yaquis working in fields where these dangerous pesticides and chemicals - which have been banned in other countries - are being used by farmers who lease Yaqui lands primarily for wheat and corn crops.
Describing the deformities of a 9-year-old child who sleeps face-down because of a bone growth on his spine, Paredes said, ''It would make you so sad to see these Yaqui children.'' Pointing out that most of these pesticides and chemical fertilizers are banned in the United States, Canada and Europe, Paredes said the government of Mexico is allowing dangerous pesticides and chemicals to be imported and used in Mexico without warnings. ''Mexico knows these toxic chemicals are banned, but allows other countries to come in and violate the laws,'' Paredes told Indian Country Today, speaking through a translator. ''In Mexico, there are no strict regulations or environmental laws to protect the people. The chemicals imported into Mexico should have warning signs on them. The farmers should inform the workers that these chemicals are dangerous and they should supply the workers with gloves, masks and protective clothing.''
Maria de los Angeles Verdia Matus, from Potom village, said four Yaqui youths from her village died during the past five years from working with the pesticides without wearing protective clothing or masks. The youths worked in the fields at home spraying pesticides on weekends and vacations from their studies at the universities in Obregon and Hermosillo.
When doctors confirmed that the brain tumors and cancers of these youths were caused from the chemicals used in the fields, Yaqui communities began take action. Struggling to find strength and support, Paredes and Matus attended the 2006 International Indian Treaty Council Conference at the Independent Traditional Seminole Nation in Okeechobee, Fla., the second week of February. Matus said, ''All of this time, we thought we were alone and we felt we couldn't continue to struggle alone. But I saw that so many Indian people have the same problems and some people came with problems worse than ours.'' Worldwide, she said indigenous are struggling for their land rights. ''We thought we were the only ones fighting for our territory, but we found out that indigenous people are fighting for their territory all over the world.'' Around the world, indigenous are being exposed to dangerous pesticides which contaminate the air and waters. Those pesticides migrate and penetrate the food chain, causing cancer, birth defects and other health problems, according to the International Indian Treaty Council.
The United States, Canada and Europe continue to allow the production and exportation of various toxic chemicals, including some prohibited in their own countries, to Mexico, Guatemala and other countries. Pesticides, chemical fertilizers and other man-made poisons are used increasingly on crops where indigenous people work. Between 1996 and 2000, the United States exported 1.1 billion pounds of pesticides, that is, 16 tons per hour, that were identified as suspected carcinogens, according to the IITC.
Calling for intervention by the United Nations, IITC is pressing for new policies that would prohibit countries from exporting toxins known to be dangerous in their own countries. Also, IITC is calling on governments to take into account the disproportionate impact of pesticides and toxins on indigenous peoples. IITC supported the North/South Indigenous Network Against Pesticides and passed a resolution at the anniversary of the IITC hosted by the Confederacy of Treaty 6 First Nations at Ermineskin Cree Nation in Alberta in August of 2005. Denouncing the North American Free Trade Agreement and other multi-lateral trade agreements, IITC said the push for free and fast trade has increased the abuse of indigenous peoples. ''The use of pesticides in agriculture contributes negatively to climate change. The farmers have been encouraged by governments and free trade agreements to over-fish, over-farm and use an excessive amount of chemicals in order to over-produce goods,'' IITC said. Persistent organic pollutants bioaccumulate in humans, disperse in the environment and contaminate foods, especially dairy products, meats and breast milk. Among the threats is Lindane, a highly toxic POP.
In North America, Lindane is a treatment for agricultural food crops and used for head lice and scabies. Worldwide, indigenous people are suffering from mercury emissions, industrial pollutants and other toxins as they work and live in areas where their own governments have ignored their basic human rights, according to IITC. Now, Yaqui in the villages of Rio Yaqui, Sonora, Mexico, plan a workshop in May to educate Yaqui about pesticides and dangerous agricultural chemicals. Seeking support and participation from Tohono O'odham and other neighboring Indigenou peoples, Yaqui are planning educational seminars and hope to produce a video of the health crisis in eight Yaqui Pueblos known as Rio Yaqui, near Obregon.
For more information, write to Villegas Paredes, Calle Cocorit No. 15, Vicam Sonora, Mexico; or call (Spanish only) 016434380623.
(*) Brenda Norrell is a journalist in Indian country for 35 years. Norrell created Censored News after she was censored and terminated as a staff reporter at 'Indian Country Today' in 2006. She began as a reporter at 'Navajo Times' during the 18 years that she lived on the Navajo Nation. She was a stringer for 'AP' and 'USA Today' and later traveled with the Zapatistas through Mexico. She has been blacklisted by all the paying media for 12 years. Contact and see: https://bsnorrell.blogspot.com/