UPDATE 15. April 2021: NOTHING HAS CHANGED - everything only got worse in Kenya. While the UNHCR deputy representative of the Kenya branch, the Austrian Ms. Walburga Englbrecht, who was also in charge of refugee protection, just left Kenya hurriedly when the lockdowns set in and never returned though she had left her docket in a mess, the looming closure of the refugee camps in the arid North of Kenya, the COVID-19 hype and its oppressive measures, rendered especially those LGBT+ refugees, which she had brought from Kakuma to Nairobi after international LGBT+ groups had pressured UNHCR, completely hopeless and desperate,. That group was never really cared for in Nairobi and still isn't helped. The lost intervention at the High Courts of Kenya to change the Kenyan legislation concerning the gay-ban only enhanced the brutality of police and security guards, while UNHCR does - as usual - nothing tangible and even fails to provide refugee protection to which UNHCR and the Republic of Kenya are obliged based on the refugee conventions.
UPDATE 09. July 2020: UNHCR must address suffering of LGBTI refugees in Kenya
UPDATE 25. April 2020: At around 20h30 a 21 year old South Sudanese boy living in Kakuma Refugee Camp in Kenya as a registered refugee under UNHCR was brutally beaten by the Kenyan police since he had violated the government imposed COVID-19 curfew that starts at 19h00. The beating caused severe injuries leading to his death on 26th April 2020 in the evening. He had lost a lot of blood, several bones were broken including his neck, which had been kicked many times by the police officers - as eye witnesses reported. The victim pleaded and cried for almost 20 minutes during this torture, but the police had no mercy on him. His death caused a lot of grieve to the refugee community in Kakuma. "We now often feel it its better to die in our home countries than dying in a place we came to seek security and where we thought we finally find peace. But here we have ended up in the wrong place, just another hell," explained one of the refugees and added: "The South Sudanese refugee community living in the camp has the culture of eating together and sometimes the unaccompanied minors would take their food ration to a female relative to cook for them. Their refugee shelters might be a distance away from where they stay and use to eat and this forces them to move at night in search of something to eat. Sometimes the food is prepared late and you just have to wait until you eat, then go home and try to avert the police. If humanity is the core then someone can easily understand this kind of situation and at least listen to us and protect us not - harming us." The refugees demand from UNHCR: "We want UNHCR to intervene immediately and at least train the Kenyan police on human rights. They need to understand the camp situation. Failure to immediately ending the police brutality I'm very sure not just one or two refugees but many will perish at the hands of the Kenyan police. We are humans not animals treat us with dignity and respect!"
UPDATE 22. April 2020: Disease X Cases in Kenya: 296 - Deaths: 14 - The Kenya Government must stop that refugees in Nairobi are kicked out by their landlords, because UNHCR doesn't care for them, and that especially vulnerable refugees like minors, single ladies, persons with albinism and members of the LGBT+ community are fully protected against discrimination and criminal assault.
UPDATE 18. April 2020: A post-mortem has been carried out, a police investigation is ongoing and in addition the UN Inspector General's office has opened an investigation too. But based on previous experiences it is feared that without an independent investigation the case will just be covered up and brushed under the blood-stained rugs of UNHCR as well as the Kenya police. We demand that the culprits are brought to book, have to face the justice system and are punished, as well as the immediate removal of ignorant staff from the UNHCR Kenya offices. Mweru Aneste must not have died in vein.
UPDATE 17. April 2020: Ugandan Refugee took his own life in Kenya after UNHCR guards and police beat him up
UPDATE 14. April 2020: Abused Refugee Hangs Himself Outside UNHCR Office In Nairobi
ADDENDUM: NEW AND EXPANDED EDITION OF "KEEP YOUR EYES WIDE OPEN" - FREE E-BOOK DOWNLOAD (below)
Desperate refugee hangs himself outside UNHCR in Kenya
A desperate Ugandan refugee committed suicide outside the plush offices of the U.N. refugee agency in Nairobi today after he failed to get assistance from UNHCR, eyewitnesses reported.
Police spokesman Charles Owino said the body of a 25-year-old Ugandan national was found outside the UNHCR office in the affluent Westlands suburb early on Monday.
"We have to do an inquest into the cause of the death and it has to go before a magistrate, but from early indications it looks like suicide," Owino told the Thomson Reuters Foundation.
Mwiru was, according to United Nations officials, a Ugandan national recognised as a refugee by the Kenyan government.
Ugandan refugee Mweru Aneste sought asylum in Kenya in January 2017 and his refugee status was recognized by Kenyan authorities in March 2019, the African Human Rights Coalition stated.
Mweru Aneste, homeless and jobless, was depressed, according to his partner, because UNHCR didn't want to listen or help him. (Facebook)
Aneste Mwiru was one of more than two hundred LGBT+ asylum seekers who relocated from the Kakuma Refugee Camp to the capital city in 2019 due to the insecurity they faced there, where LGBT+ refugees make up a small, persecuted minority of the population of about 500,000.
But after struggling to score the vital financial assistance he needed to support his son in February, homeless and hungry, he began camping outside the UNCHR offices in the Westlands. His friends confirmed that he had lost his job at a small hotel, because the owner said he couldn't pay him due to the corona-virus crisis and then his landlord kicked him out because he couldn't pay the rent.
When approaching the UNHCR office to ask for food, guards informed him the office was shut until Tuesday and that senior staff that could make any decision would anyway not be there even then, because they work from home.
Guards told refugee to die 'if he wanted to escape [his] problems', activist claims.
Guards then allegedly "beat [him] seriously and unconscious", said Mbazira Moses, founder of Refugee Flag Kenya, an LGBT+ rights lobby group.
"When he gained consciousness again, he told the security men that he would rather die there where he is known, other than elsewhere."
The 28-year-old was then told by private guards to die by suicide "if he wanted to escape the problems", Moses claimed.
Mwiru suffered abrasions on his ankles and arms around the time of his death, photographs show.
His body was found hanging from a nearby tree at around 10am by a passersby, many of whom are a lifeline to refugees living in the streets who depend on handouts from locals, because neither UNHCR nor the Kenya government cater for their needs.
Fellow refugees, who camped under a footbridge nearby jeered at the private and armed security offices patrolling the UNCHR offices, blaming them for the death of their friend as authorities transferred Mwiru's body.
After the incident, more than a dozen agitated youths refugees staged a protest at the UNHCR offices blaming the UN organization for the death of their colleague.
Fellow refugees claim police and security assaulted him brutally when he asked for help.
Deceased refugee was severely depressed after losing job and funding
Mwiru's biography was one of his devotion to his son, but also of relentless homophobic abuse he was targeted with.
He was routinely "beaten and injured" while staying in Kakuma, Moses said, making him one of many victims of a spectre of violence cast on the camp's vulnerable LGBT+ community by homophobic locals who "never wanted them there".
In Kenya, gay sex is still punishable by up to 14 years in prison, and a challenge last year in the high court saw this position reinforced.
According to other refugee activists, Mweru hoped to get help from UNHCR today even though the agency was closed for the Easter Monday holiday. He had a confrontation with police and guards working for G4S Security Services, was assaulted by them, and then hanged himself with a white scarf from a nearby tree between the two lanes on Waiyaki way right in front of UNHCR, they confirmed.
Mbazira Moses, leader of the Refugee Flag Kenya advocacy group, reported:
Today April 13th, is the saddest Easter Monday to the LGBT refugee community living in Nairobi. After being continuously frustrated and ignored by UN protection officers, Aneste Mweru decided to hang himself by the tree at UNHCR offices Nairobi at around 10am. His lifeless body has been sent to the pathologist for a postmortem. (Eye witnesses say he was badly assaulted by G4S and police and therefore the postmortem report should independently be done and made public.)

Friends say that Aneste woke up today in very bad moods and wanted some assistance. He travelled to UNHCR confident that he would be assisted. Since Easter Monday is a public holiday most UNHCR officers were out on holiday enjoying life with their loved ones during this lock down period.

He was ordered by G4S to disappear or face it rough as usual. Aneste responded by saying he was not moving an inch and needed assistance. G4S and police usually have orders from their superiors to beat, [maim] or even kill if their orders are disobeyed.

Aneste was roughed up and badly assaulted. In so much pain, he crawled to the nearest tree, climbed it and hanged himself so that he could free himself from the extreme pain he had suffered.
Private security guards of G4S act under instructions from UNHCR Kenya branch and those officers, who assault refugees, as well as their UNHCR handlers must now finally face the law. For too long these atrocities have gone unpunished.
LGBT+ refugees face a precarious existence in the predominantly conservative Christian nation. It can take more than five years to be granted refugee status, during which time asylum seekers cannot work officially, beause the new Refugee Bill has still not been passed by parliament.
Already on Monday early morning , refugees who sleep under a footbridge along Waiyaki Way had a run-in with police officers who were dispersing them.
"Since the outbreak of coronavirus, nobody is willing to help us because we understand even Kenyans themselves have little for themselves, instead of UNHCR officials helping us at this time when everybody is in need of food, they choose to beat our friend," another Somali refugee who wished not to be named said.
The refugees who sleep outside the offices depend on handouts from well-wishers to survive. With the outbreak of coronavirus pandemic, fewer and fewer people are leaving their houses, thereby cutting off their only channel of getting food.
The refugees now want the government and private donors to consider them during food distributions meant to cushion Kenyans from the effects of the novel coronavirus.
UNHCR said that Kenyan police are investigating the incident, AHRC stated. Refugees who were with Mweru in the morning said he had complained of hunger before proceeding to ask for food donations outside the UNHCR offices. "He left us where we were sleeping and proceeded to ask for food but the officers started beating him with sticks," Jerome Sumbu, a refugee from Congo said.
His body was brought down from the tree later on by officers from Kilimani police station.
Kilimani Sub-County Police Commander Lucas Ogara said investigations are underway to ascertain the circumstances that led to the death of the refugee. "What we have confirmed is that he is a refugee. We don't have many details for now, but we are pursuing the matter," Ogara told journalists at Kilimani police station
The suicide comes at a time when the U.N. High Commissioner for Refugees (UNHCR) has not only been cutting back the minimal financial assistance that urban refugees in Nairobi have received in the past through an organization called HIAS that works as their implementing partner, But many refugees we spoke to stated that UNHCR has stopped providing any assistance, claiming their staff can only work online from home during the present corona-virus situation. Most refugees feel that this is a lame excuse, since many other non-govermental organizations have managed to continue their work.
This cutback is seen by UNHCR in line with the Kenyan government's policy that all refugees must be located in refugee camps such as the huge Kakuma Camp. A legal case challenging this dreadful presidential directive is still not decided.
One death is too many to any humane person
But the UNHCR's move to withdraw monthly stipends for refugees living in urban areas plunged his life into uncertainty.
Mwiru's partner, Nathan Shimwe of Congo, said he was in the throes of depression after losing his job as the coronavirus pandemic steadily begins to seize the land-locked country.
"We had constantly alerted the UNHCR about the dangers and desperation the former Kakuma refugees were being subjected to by withdrawing the financial assistance they were being given," Moses said.
"They were brought from there and now dumped with no program of what they can do to at least get food and accommodation.
"The frustrations among all of the remaining who get no assistance are so grave as confirmed by Mwiru's suicide.
"If they wanted to confirm how desperate people are, let Mwiru be more than enough.
'How many Ugandans do you want to die before you start listening to us?'
Among the many photographs of Mwiru are those of him smiling with friends.
Yet, for many of Mwiru's loved ones, photographs of his dead body will be how people remember him.
'If they wanted to confirm how desperate people are, let Mwiru be more than enough.'
For Doreen Andrewz, assistant director of the Refugee Trans Initiative, Mwiru's passing is a poignant reminder of the perilous journey migrants face in escaping the severe homophobia of Uganda.
"How many Ugandans do you want to die before you start listening to us," she said.
"I am tired of death – this is not what we came for in this country. [Mwiru], forgive us all."
UNCHR confirmed in a statement issued Monday that the agency is closely following police investigations of the incident.
On behalf of Fathiaa Abdalla, UNHCR representative in Kenya, UNHCR issued this statement:
"We, at UNHCR, the UN Refugee Agency, are profoundly shocked and saddened by the tragic death and apparent suicide of a refugee today in Nairobi.

Our thoughts and condolences are with his family and friends. We ask everyone to kindly respect his dignity and the dignity and privacy of his family, and to desist from circulating pictures of the deceased.

The deceased person, a Ugandan national was recognized as a refugee by the Government of Kenya.

We are in close contact with the Kenyan police, who have launched an investigation to clarify the circumstances surrounding his death.

UNHCR is also in regular contact with the refugee community and relevant authorities to ensure that any required support is provided and to prevent the spread of misinformation.

UNHCR is concerned about the growing challenges faced by refugees and asylum-seekers as well as communities hosting them, in meeting their basic needs in the current difficult context.

UNHCR will continue to do its utmost to deliver critical protection and assistance to the nearly 500,000 refugees and asylum-seekers living in Kenya, especially during these challenging times."
Several journalists tried to contact UNCHR for further comments regarding the allegations made against the G4S guards which UNHCR employs to guard the premises and their arrangement with the armed Keyan police officers deployed around the office - but to no avail.
Human Rights organizations have now called for an independent investigation by international experts into the circumstances of this suicide and all the other allegations like corruption, sexual abuse, physical assault or discrimiation as well as grievances like gross neglect of their security and needs to sustain their life, which the refugees regularly bring forward, but which seem to never be addressed or solved by UNHCR.
Refugees across the world are among those particularly affected by coronavirus lockdowns. Many lack proper documentation and survive with what they can find hand to mouth.
In Sudan's capital Khartoum, refugees protest too, saying they needed extra support to survive. "Refugees might be eradicated if emergency help doesn't reach [us]\. It's the worst time ever," one told The Irish Times through WhatsApp. He said while social distancing measures had been announced, without accompanying aid they were left in a situation without "humanity".
On March 25th, the UNHCR issued an appeal for €232 million to help with its Covid-19 response. "As the pandemic spreads, our response must encompass the most vulnerable in our societies, including millions of refugees and others affected by wars, persecution and disasters," said UN High Commissioner for Refugees Filippo Grandi, but human rights organizations say UNHCR must reform first and become proactive in order to be able to put such money to good use and not just waste it without that help is given to the refugees.
UNHCR Kenya branch, however, must not be given any further money until the death of Mweru Aneste is fully investigated and the culprits within UNCHR, who ignored his pleas, grossly neglected his rights and mistreated him, as well as the brutal security officers from G4S and Kenya police, who assaulted him, have been removed from duty and prosecuted.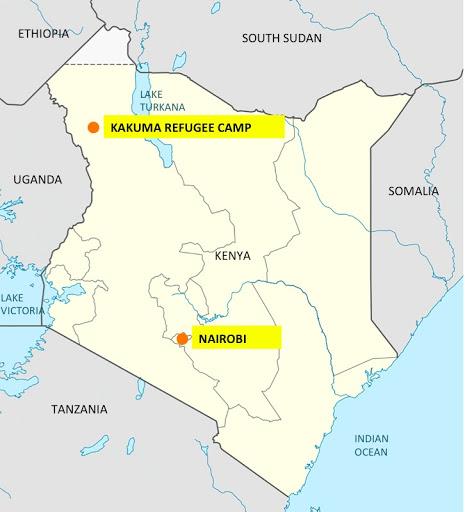 Map of Kenya shows the locations of Nairobi and the Kakuma refugee camp.
Related articles:
===
===
IMPORTANT NOTE: If you are a victim and need to urgently reach out to seek assistance in the struggle to free yourself, please check with your nearest police office, the child helpline or organizations helping in such cases in your country.
In case you cannot trust these official helplines, due to given specific circumstances and especially if you hail from an Indigenous Nation, then send your request and information confidentially to

- best if you make yourself a secure, free account at www.protonmail.com and then send it from there.
STAY STRONG - WE WILL HELP YOU - NO MATTER WHAT !
(NO FEES, COSTS OR ANY OTHER REQUIREMENTS APART FROM YOUR HONESTY)
---
IMPORTANT FREE E-BOOK (pdf):
FOR THE NEW AND EXPANDED JUNE 2020 (LOCKDOWN) EDITION - please CLICK HERE
===
UPDATES:
LGBTI activists in the U.S., Belgium, the Netherlands, Germany, the U.K. and other countries are expressing a growing concern about the way in which a considerable group of African LGBTI refugees, or at least part of them, are being treated in Kenya. Whereas they appreciate the efforts of UNHCR (the U.N. Refugee Agency), they also deplore the continuous cries of despair coming out of Kenya, especially from LGBTI refugees in Kakuma Refugee Camp. We urge UNHCR to take these claims and problems more seriously and to open a serious dialogue with the aim of improving the situation considerably. This needs to happen in the short term.

Homosexuality is criminalized in all but a few countries in Africa, which means that LGBTI people live marginalized and often in terror of their lives. Even in the countries that do accept sexual diversity, such as South Africa, which goes as far as to recognize same-sex marriage, the power of disapproval by society is such that LGBTI people live in fear of exposure, loss of jobs, or rejection by their families to the extent of being killed in "honor killings." Many LGBTI citizens in Africa are being excluded from their families or communities, which explains why many of them flee to other countries hoping to find a decent life there.

The situation has received evermore media attention over the past decade, fomented by the Ugandan government's particularly hostile stance, which provoked an exodus by LGBTI people, one which is ongoing. The obvious destination for these persons of concern, asylum seekers and refugees is neighboring Kenya, where UNHCR is based in Nairobi. For some years, the resettlement of LGBTI refugees in third countries proceeded at a reasonable pace, but the refusal of the Kenyan government last year to decriminalize homosexuality, plus the obdurate stance of the U.S. administration not to accept more refugees from certain categories, has worsened the situation. We also see that other countries, for example those of the European Union, don't do enough to accept LGBTI refugees from Kenya, where at least many hundreds of them have fled.

The Kenyan government insists that LGBTI refugees be kept in refugee camps, the largest and most notorious of these being Kakuma in Turkana County in the north of Kenya. There, some two hundred LGBTI refugees from Uganda, Burundi, Rwanda, the Democratic Republic of Congo, Ethiopia, Somalia and South Sudan, women, children and men, are kept without any protection, subject to attack by others living at the camp, mostly Sudanese, and the local Turkana people. Police protection is not provided, since Kenya insists that LGBTI people there are not refugees but "criminals." A mercenary security company G4S is also complicit in the brutality towards LGBTI refugees. The medical facilities at Kakuma frequently refuse to treat LGBTI refugees.

Advocates from around the world have been lobbying UNHCR to act and remove these LGBTI refugees to a safe place, but these appeals fall on deaf ears. The stance of UNHCR is that the stories by LGBTI refugees of attacks are either fabricated or greatly exaggerated, but eyewitness accounts by the LGBTI refugees themselves provide evidence in videos, photographs and graphic emails. The attacks are extremely violent, involving knife and panga attacks and burning of living quarters, theft of food and mobile phones, and refusal of access to shops and water.

Trust in UNHCR is fast eroding, as no one can understand what the agency's agenda is; it mostly maintains a deafening silence. The suspicion is that it is under the thumb of the Kenyan authorities, and does not have the moral stamina to confront Kenya on this abuse of human rights. One thing is certain: UNHCR, under High Commissioner Filippo Grandi, does not welcome outsiders' emails, and other than bland assurances that all is well at the camp, or protestations (amounting to threats) that emails on behalf of individuals put them at further risk, there is no comment from Geneva, Nairobi or the Kakuma Refugee Camp itself. Social media access has been blocked, and the belief among LGBTI people is that this is on the direct orders of UNHCR, in collusion with the Kenyan authorities. Some clearly don't like the LGBTI refugees to inform the international community about what they are undergoing!

While Black Lives Matter has taken the world by storm, Black LGBTI Lives in Africa do not get a look in, and the LGBTI world outside shows virtually no interest, preferring to concentrate on celebrating Pride month as though the battle has been fought and won. It never will be, but the very least that can be done is to remove all LGBTI refugees from Kakuma, as happened in December 2018, before the Kenyan authorities stepped in and ordered their return to Kakuma, with the evermore gory results that are being seen, harrowing videos and photographs of bodies hacked and bloodied, with minimal medical care and attention.

We would love serious NGOs like Amnesty International, Human Rights Watch and others to step in and get involved. To our satisfaction, we notice a growing willingness within the NGO community to get involved and investigate the claims and worries of many LGBTI refugees in Kenya. The world cannot continue to look away. And we, as serious LGBTI activists, clearly refuse to look away and leave these fellow human beings to their (sad) fate.
===
PROLOGUE: Only now - five month after the alleged Wuhan outbreak of corona virus SARS-Cov-2 became known, people reportedly fell sick with positive COVID-19 tests and the biologicl agent spread far and wide, UNHCR realizes that the desperate reports from refugee in East Africa are true. This in itself already shows the gross neglect, which is so charactristic for the shoddy work of this UN agency. And their only response is: We want more money. Can this be tolerated any longer?
East Africa: Urban Refugees Resort to Desperate Measures as COVID-19 Takes Hold
By Lisa Schlein - 27. May 2020
The U.N. refugee agency UNHCR warns hundreds of thousands of urban refugees across the East, Horn and Great Lakes region of Africa are resorting to desperate measures to survive as the economic impact of COVID-19, the illness caused by the coronavirus, takes hold.
Government-imposed lockdowns and curfews aimed at preventing the spread of the coronavirus are restricting everyone's freedom of movement and ability to earn a living. The U.N. refugee agency says urban refugees are most seriously affected by the measures and unable to meet their most basic needs.
UNHCR spokesman Charlie Yaxley says many urban refugees are at risk of exploitation and falling into debt. He warns many may be forced to take desperate measures to survive, such as engaging in transactional sex or child labor.
"Urban refugees are facing job losses as businesses are forced to downsize or close due to COVID-19 restrictions. Many were daily wage workers or worked in the informal economy and were already living hand-to-mouth before the pandemic struck. Many urban refugees are also living in overcrowded and unhygienic conditions and are particularly vulnerable to the spread of the virus," he said.
Yaxley says thousands of refugees in the Kenyan capital, Nairobi, are crammed into squalid districts with little access to clean water, making hand washing nearly impossible.
He says governments across the East, Horn and Great Lakes region so far have included refugees in COVID-19 response plans. He told VOA refugees have the same access to testing and treatment as members of the local communities.
"So, our call today is for governments to also ensure that refugees are included in social safety nets. So that they are able to access welfare support payments, so that they are able to get assistance with meeting their basic needs. So, they are able to pay rent, have shelters, so they are able to afford food," he said.
The UNHCR says food imports have become more challenging because of the pandemic, causing prices to rise. Additionally, it says swarms of locusts, especially in Kenya, Ethiopia and Somalia, are ravaging crops and threatening to increase hunger and poverty.
The agency is urging the international community to support its emergency response plan. It says $126 million is required to provide life-saving assistance before the rapidly deteriorating situation in the region reaches a breaking point.
Read the original article on VOA.
===
Ugandan Refugee took his own life in Kenya after UNHCR guards and police beat him up | Tuko TV
•Apr 17, 2020
He took his own life because of hunger | Tuko TV - A refugee from Uganda took his own life in Kenya because of hunger after allegedly being assaulted by police officers and UNHCR guards.
===
Abused Refugee Hangs Himself Outside UNHCR Office In Nairobi
By Richard Rosendall - 14. April 2020
Aneste (Ernest) Mweru R.I.P.
Refugee Flag Kenya posted on Facebook early Monday morning, April 13, accompanied by awful photos and a video of a young man hanging from a tree:
ERNEST MWIRU, One of the LGBTI refugees who were relocated by the UNHCR from Kakuma Refugee Camp in 2018 has committed suicide by hanging himself at the UNHCR compound tree.

This happened after he had been beaten by UNHCR security at the scene where he had gone to request for assistance in terms of food and accommodation following the withdrawal of the financial assistance he and many of his colleagues from Kakuma had been getting from the UNHCR for sustanance. They were abandoned by the UNHCR even when COVID 19 came in without food or accommodation.

The body is still hanging up the tree. Details will be communicated later.
Richard de Luchi, a British man who is part of a small group of people from several countries advocating for LGBT refugees in Kenya, wrote to UN High Commissioner for Refugees Dr. Filippo Grandi in Geneva, copying UNHCR staff in Nairobi along with several activists and journalists:
Dear Dr. Grandi,

I have just received news of the suicide by hanging of a refugee. I am informed that this was from a tree outside UNHCR premises in Nairobi and was the direct result of maltreatment by security guards employed by UNHCR.

I assume you have also been informed of this, and I trust that this will move the agency to take more care of those who plead for help. One of the constant complaints levelled at UNHCR is the indifference to suffering of LGBTI refugees and the acceptance of grossly unprofessional behaviour of outsourced staff such as security guards, who give vent to their homophobia with impunity. I will refrain from further speculation, as all I have been told is that this [Person of Concern], by name ANESTE Mweru … hanged himself following maltreatment.

The fact that there is a world pandemic raging cannot be used as an excuse to reduce care and protection of refugees. Your agency has pledged continued support for refugees, and this must include LGBTI. Anyone working for UNHCR who feels unable to honour the mission and mandate has the option to leave the agency's employ. The example of the National Health Service (NHS) in the UK, and other health services around the world, working tirelessly and with impartiality to save lives, should be taken as an example to follow.

Any one death is tragic; we are in danger of becoming indifferent to this as the numbers rise, and occasionally fall, around the world. A suicide such as this one is a terrible indictment on the failure of UNHCR to live up to its calling, one that your Secretary General, Eng. Antonio Guterres, frequently reminds the world that the United Nations is committed to.

Kindly ensure that your staff in Kenya, in Nairobi and the various refugee camps situated in the country are reminded of their high calling. There is such a thing as a moral compass, and this is not flexible, nor to be ignored on a whim.
I added my thoughts backing up Mr. de Luchi:
Dear Dr. Grandi,

I wish to echo the concerns of Richard de Luchi. I awoke this morning to pictures of the man, Aneste, hanging from a tree outside the UNHCR's Westlands office, and to messages from several distraught refugees. I have been offering them words of comfort. But we need more than prayers. We need action and strength by the people of your organization in Kenya, driven by decency and compassion. I am refraining from sending you one of the awful pictures. It is like one of the photos of lynchings from the last century in my country, a reminder of shame and horror and cruelty and indifference and inhumanity. That in this case it was a suicide driven by despair hardly makes it any better.

Aneste has joined his ancestors. Please remember your own, and the values you have expressed, and do something about the suffering of the LGBTI refugees languishing amid hate and violence in Kenya. They deserve so much better.
Later, after Aneste's body had been taken down, I followed up, attaching the photo atop this post:
Dear Dr. Grandi,

This photo of poor Aneste I can bear to share with you. It was sent to me by another of the refugees, who are reeling from this horrible event. I could not bear to send a picture of him hanging.

How could a beautiful young man with so much of life ahead have felt such despair as to take his own life? He had gone to UNHCR for assistance, and all he got was abuse.

For humanity's sake, do something about the systemic problems that led to this tragedy. If you won't, at least have the decency to quit your job. I am mourning today for someone I never knew. He was in your agency's charge.
A few hours later, UNHCR's Refugee Assistance Help Line for Kenya sent us (including the activists and journalists who were copied on these messages) an email titled "Tragic death of Aneste Mweru":
Dear Sirs/Madams,

Thank you to all of you who have written to us to express your concern in connection with the tragedy which unfolded near our office in Nairobi this morning.

UNHCR is deeply saddened to confirm the death today of Ugandan national Aneste Mweru, age 27. Our thoughts and profound condolences are with all of those who knew and loved Aneste.

The Kenyan police have initiated an investigation into the events leading to this tragic incident. We will closely follow this ongoing police investigation and will provide further information as it becomes available.

Mr Mweru sought asylum in Kenya in January 2017, and his refugee status was recognised by Kenyan authorities in March 2019.

In this moment of terrible sorrow, we ask all who are aware of this tragic event, wherever you may be in the world, to respect the basic dignity of the deceased, and those who survive him, by desisting from circulating pictures taken at the scene of his death today, as well as any speculative, unconfirmed information which may further exacerbate existing tensions. This is a particularly important request to you in the present context in Kenya, and globally.

May Aneste Mweru rest in peace.
I replied:
Dear UNHCR Kenya,

With all due respect, I think you deserve to be buried in those awful photographs until and unless you do something about the awful *reality* for LGBTI refugees in Kenya, including pushing back against the homophobic and transphobic Kenyan regime, and stop patronizing us.

It was those who loved Aneste who circulated the photos. Of course they are upsetting. That is the point. People's hearts are broken. People are frightened and anguished and battling their own despair. It would be lovely if just once you would communicate without patronizing us and without pretending that it is the refugees or those of us helping them who are in the wrong. Your deflection tactics cannot be accepted. Aneste hanged himself OUTSIDE YOUR OFFICES. Please stop treating us like fools.

You have blood on your hands, but I suppose you will make my undiplomatic tone the problem instead. Seriously? How many more displaced LGBTI people must die before you will stop playing these games?

Please, for God's sake, change. Help these beleaguered people.
During the day, a Reuters reporter who had been copied on the emails wrote to me asking me for referrals to witnesses. I passed along her request to a few of the refugees who had texted me about Aneste's tragic death. I don't think this is the last we will hear of this. It is not just about one young man's death, as terrible and heartbreaking as that is. It reflects a pattern of policies and behaviors by UNHCR in Kenya which must be addressed to prevent further tragedies.
===