COVID ACTION PLATFORM; THE BLUEPRINT OF THE NEW WORLD ORDER EXPLAINED (VIDEO)
By Willem Felderhof - 03. April 2020
Sorry to share this one but the New World Order is not a conspiracy theory anymore, it has become a conspiracy fact and we are now living under the firm rule of it. Whether you like or agree with it or not. But as bad as it may look at this moment, the current conditions will be like paradise if you see what the plans for the coming future are.
It is now or never for humanity to step up to the plate, this is what we have been talking about for the last decades.
We, the people, must not let this ultimate crisis go to waste and act.
The World Economic Forum, acting as partner to the World Health Organization, is rolling out the New World Order agenda for total control over all aspects of human and animal life on this planet after the Corona reality reset.
While Agenda21/2030 paved the way, the Corona psyop is the real trigger to unleash this diabolical plan and the World Economic Forum has presented the COVID Action Platform in which it lays out in gross detail what the plans are.
And clearly this extensive blueprint was produced way before the so-called outbreak of the Corona virus in December 2019.
FEMA whistleblower Celeste Solum breaks down the COVID Action Platform for you, watch and share this shocking but important video:
Use the WEF link to check it for yourself while she breaks it down (see also below):
https://www.weforum.org/platforms/covid-action-platform
Author: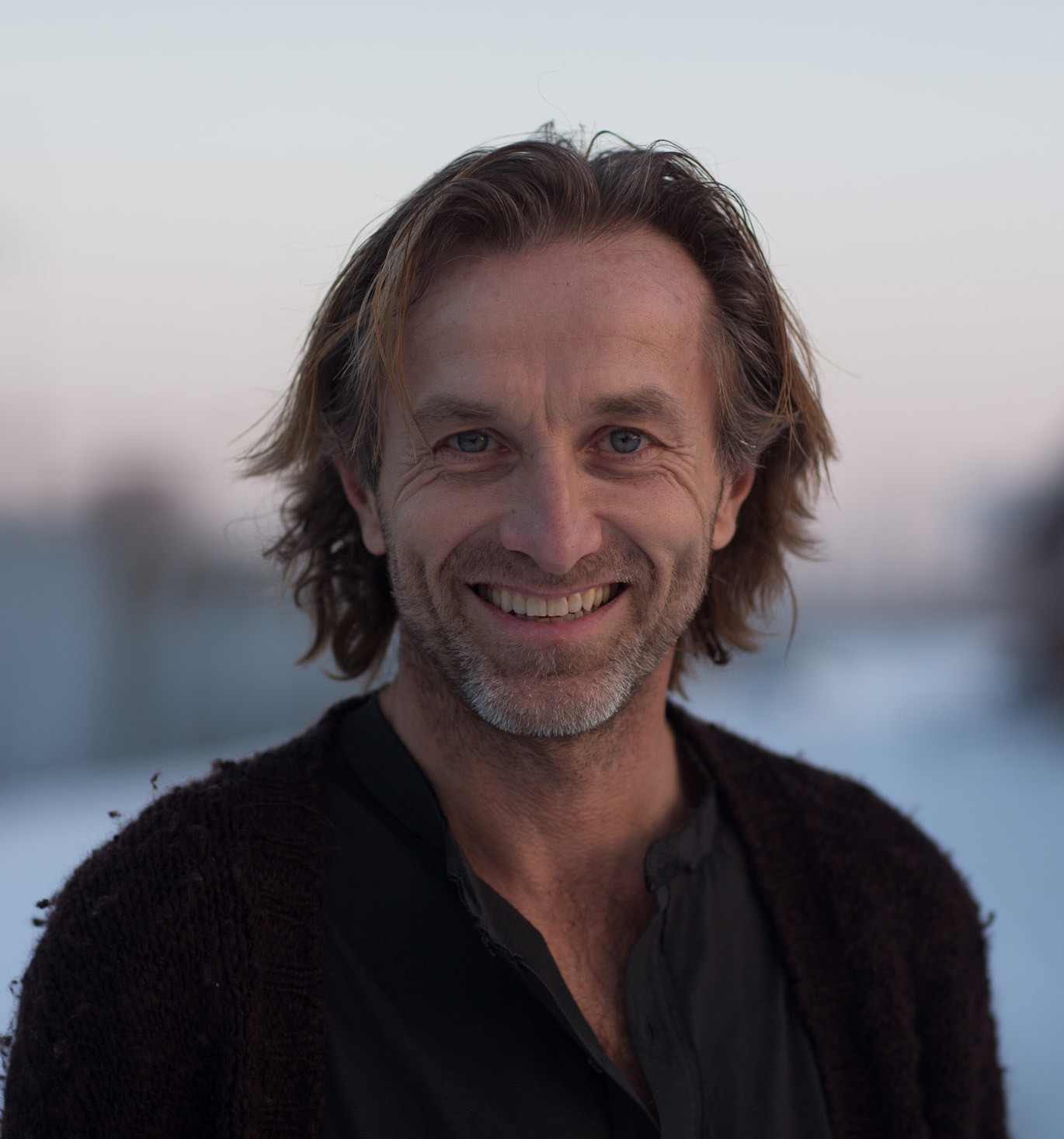 Willem Felderhof -- Dutch Anarchy - is a former commercial airline pilot, and whistleblower on the presence of toxic elements in aviation generally known as "the Aerotoxic syndrome". For more info click HERE. Willem is also the organizer of the Open Mind Conferences in the Netherlands. The core elements of Willem's website, Dutch Anarchy, are Mind Control, Judaism, Natural Law, Consciousness.
===
These Strange Things Are Happening Worldwide While You Are Quarantined.. 2020 PROPHETIC TIMES
•Apr 3, 2020
SHARE AND DOWNLOAD THIS VIDEO BEFORE IT GETS DELETED!
We have known for a long time that we were living in the end times for several reasons, but the things that are happening behind our backs at this moment and time, confirms it without a doubt!
A New World Order Is entering the stage, the warnings are all over the internet.
But we should not be surprised this is something the globalists have planned for centuries.
This will not be the typical video you are used to watch on this channel, but I feel that I need to share the information and warn you, it has come to my knowledge that there are some strange things going on right now while we are asked to stay at home.
And I can not simply watch from the sideline and do nothing about this.
I've been looking into this for a week now. Therefor I will use the power of this channel to spread this information. You can make whatever you want with the information, but please consider praying about it, if there is any truth to this then let the truth shine bright and overcome the darkness and lies.
Remember to not fear, remember who is coming on a white horse with all his saints to judge the world!
ALSO Don't take anybody's word for it, do your own research!
IMPORTANT LINKS:
EVENT 201 http://www.centerforhealthsecurity.or...
Corona Virus -FEMA and CDC Meeting at UPS https://www.youtube.com/watch?v=uedyZ...
AGENDA 21 Film https://www.youtube.com/watch?v=5TRso...
Coronavirus Caused By 5G? https://www.youtube.com/watch?v=zFN5L...
When Trauma Based Mind-Control Goes Global (The Scariest Movie Ever Channel) https://www.youtube.com/watch?v=TY4VB...
Madonna, Quavo - Eurovision Song Contest 2019 https://www.youtube.com/watch?v=VG3Wk...
What Bill Gates is afraid of https://www.youtube.com/watch?v=9AEMK...
The next outbreak? We're not ready | Bill Gates https://www.youtube.com/watch?v=6Af6b...
Event 201 Pandemic Exercise: Highlights Reel https://www.youtube.com/watch?v=AoLw-...
Fema Coffins on the way. https://www.youtube.com/watch?v=YdW5M...
Martial Law is Here!!! https://www.youtube.com/watch?v=MUAMO...
IT'S Happening!!! Martial Law 2020 (What the News is not telling you!)(Reloaded) ATTN:DESCRIPTION! https://www.youtube.com/watch?v=18tma...
===
COVID Action Platform
It all has been set up and planned - 200 layers deep!
Watch the overview
As the International Organization for Public-Private Cooperation, the World Economic Forum, acting as partner to the World Health Organization, is mobilizing all stakeholders to protect lives and livelihoods.
Context
The dramatic spread of COVID-19 has disrupted lives, livelihoods, communities and businesses worldwide. All stakeholders, especially global business, must urgently come together to minimize its impact on public health and limit its potential for further disruption to lives and economies around the world.
But the sum of many individual actions will not add up to a sufficient response. Only coordinated action by business, combined with global, multistakeholder cooperation – at exceptional scale and speed – can potentially mitigate the risk and impact of this unprecedented crisis.
Our contribution
The spread of COVID-19 demands global cooperation among governments, international organizations and the business community. This multistakeholder cooperation is at the centre of the World Economic Forum's mission as the International Organization for Public-Private Cooperation.
In this context, the new COVID Action Platform will focus on three priorities:


Galvanize the global business community for collective action


Protect people's livelihoods and facilitate business continuity


Mobilize cooperation and business support for the COVID-19 response
===
World Economic Forum Ramps Up "Known Traveller Digital Identity"
MARCH 31, 2020
By Edward Hasbrouck
On March 26, 2020, the World Economic Forum published specifications and launched a new website for a project it has christened "Known Traveller Digital Identity" (KTDI):
KTDI is a "surveillance-by-design" vision for tracking and control of travelers more dystopian than anything we have seen before.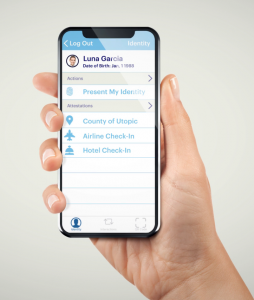 KTDI would use a blockchain-based distributed ledger to bind together, through an app on a traveler's mobile device, all of the following data:
Biometrics (initially facial images, possibly also fingerprints, etc.)
Government-issued ID credentials (passport number, etc.)
Travel history including logs of border crossings, hotel stays, and possibly also car rentals and/or other events
Purchase logs and possibly bank account information and/or other financial and transaction records
Pre-crime predictive "risk assessment" and profiling scores generated at each "intervention" point before and during each trip or transaction
Each hotel stay, purchase, or other transaction would become like a border crossing permanently stamped in your passport as part of a digital "trip pass" subject to inspection on demand by authorities at subsequent "intervention" points: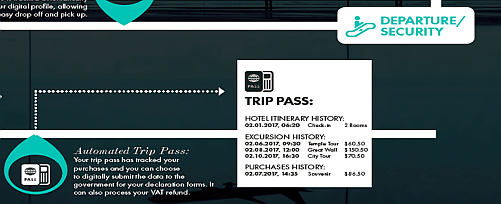 All of this data is intended to be used to discriminate between travelers whose ID-linked pre-crime profiles are scored as "high risk" or "low risk":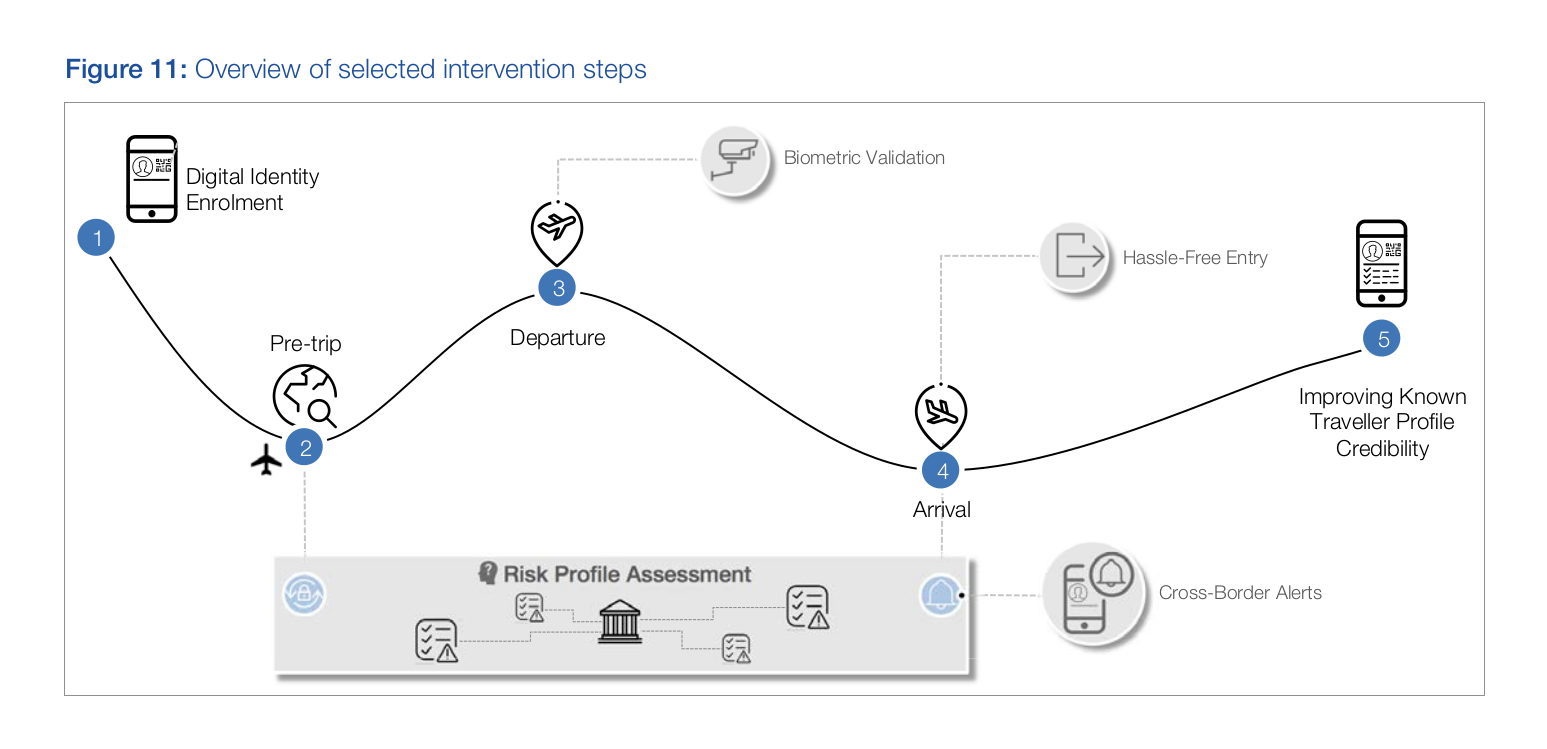 Access to more comprehensive travel history and transaction logs is a longstanding goal of government surveillance and travel-control agencies. In accordance with standards set by ICAO, space is reserved on the RFID chip is each e-passport for travel history data. But this was intended, so far as we can tell, solely for border crossing or entry/exit data, not for logs of hotel stays or other transactions. So far as we know, few countries have recorded any travel history data on passport RFID chips, probably because of the limited space reserved in the data structure and the complications of securely changing or adding to the the data on the chip once it is first written and digitally signed by the issuing government.
In a presentation at the Hotel Electronic Distribution Network Association (HEDNA) conference, representatives of Accenture (the prime contractor to the WEF for the KTDI project) and Marriott boasted of how, based on KTDI data, an individual could be picked out of a crowd for "blacklisting" using automated facial recognition, "without stopping or acknowledging the camera." So it can be used for surreptitious, non-consnsual mass surveillance.
Best known for its annual events in Davos, Switzerland (most recently in January 2020, where KTDI was among the topics discussed), the World Economic Forum describes itself as "the International Organization for Public-Private Cooperation."
Partners in the KTDI project include government agencies (DHS, ICAO, INTERPOL, etc.) and the airline and airline IT industries (IATA, Amadeus, etc.). But that's not all.
Other KTDI project partners include Google (Google acquired a computerized reservation system provider in 2010, but it's unclear in what capacity Google is participating in the KTDI project), the Marriott and Hilton (US-based) and Accor (France-based) hotel chains, and the Visa credit-card and payment processing company.
The first KTDI pilot project had been planned for use by selected passengers on Air Canada and/or KLM flights between Amsterdam Schiphol Airport (AMS), Toronto (YYZ), and Montreal (YUL). The pilot project was reportedly planned to being in "early 2020". So far as we can tell, that hasn't happened, although we wouldn't necessarily know since, "Passenger participation will be … by invitation only. "
It's puzzling why Canada and the Netherlands are the countries involved in the first planned tests. The agreement which would have allowed sharing of PNR data about airline passengers between Canada and the European Union wasinvalidated by the Court of Justice of the European Union in 2016. No new agreement has been approved, much less reviewed or upheld by the CJEU.
We suspect that the pilot project has been postponed due to the COVID-19 pandemic and cutbacks in air service. The release of the first public version of the KTDI specifications last week may have been intended as an alternate way to maintain the momentum of the project during this slow period in travel. This is a concept that isn't about to die.
Source: PapersPlease.org