PROLOGUE: "There's no such thing as a political offense in ordinary English law," the prosecution said - oh no, what about these purely political offenses "treason, sedition and espionage" all still on the statute books, some under the Official secrets Act, The last treason trial was that of William Joyce, "Lord Haw-Haw", who was executed by hanging in 1946. The prosecution are offering up some thin gruel, unless they get their act together they will be laughed out of court. Magistrate Vanessa Baraitser isn't applying the law correctly, and wilfully ignoring procedural precedent, to the extent that Julian Assange and his defence team are unable to conduct their defence as a team, while even the chief prosecutor is disagreeing with her on the matter. There could not be a more gross abuse of process.
The Assange Hearing Day 4
By Craig Murray -
Please try this experiment for me:
Try asking this question out loud, in a tone of intellectual interest and engagement: "Are you suggesting that the two have the same effect?".
Now try asking this question out loud, in a tone of hostility and incredulity bordering on sarcasm: "Are you suggesting that the two have the same effect?".
Firstly, congratulations on your acting skills; you take direction very well. Secondly, is it not fascinating how precisely the same words can convey the opposite meaning dependent on modulation of stress, pitch, and volume?
Yesterday the prosecution continued its argument that the provision in the 2007 UK/US Extradition Treaty that bars extradition for political offences is a dead letter, and that Julian Assange's objectives are not political in any event.
James Lewis QC for the prosecution spoke for about an hour, and Edward Fitzgerald QC replied for the defence for about the same time. During Lewis's presentation, he was interrupted by Judge Baraitser precisely once.
During Fitzgerald's reply, Baraitser interjected seventeen times.
In the transcript, those interruptions will not look unreasonable:
"Could you clarify that for me Mr Fitzgerald…"
"So how do you cope with Mr Lewis's point that…"
"But surely that's a circular argument…"
"But it's not incorporated, is it?…"
All these and the other dozen interruptions were designed to appear to show the judge attempting to clarify the defence's argument in a spirit of intellectual testing. But if you heard the tone of Baraitser's voice, saw her body language and facial expressions, it was anything but.
The false picture a transcript might give is exacerbated by the courtly Fitzgerald's continually replying to each obvious harassment with "Thank you Madam, that is very helpful", which again if you were there, plainly meant the opposite. But what a transcript will helpfully nevertheless show was the bully pulpit of Baraitser's tactic in interrupting Fitzgerald again and again and again, belittling his points and very deliberately indeed preventing him from getting into the flow of his argument. The contrast in every way with her treatment of Lewis could not be more pronounced.
So now to report the legal arguments themselves.
James Lewis for the prosecution, continuing his arguments from the day before, said that Parliament had not included a bar on extradition for political offences in the 2003 Act. It could therefore not be reintroduced into law by a treaty. "To introduce a Political Offences bar by the back door would be to subvert the intention of Parliament."
Lewis also argued that these were not political offences. The definition of a political offence was in the UK limited to behaviour intended "to overturn or change a government or induce it to change its policy." Furthermore the aim must be to change government or policy in the short term, not the indeterminate future.
Lewis stated that further the term "political offence" could only be applied to offences committed within the territory where it was attempted to make the change. So to be classified as political offences, Assange would have had to commit them within the territory of the USA, but he did not.
If Baraitser did decide the bar on political offences applied, the court would have to determine the meaning of "political offence" in the UK/US Extradition Treaty and construe the meaning of paragraphs 4.1 and 4.2 of the Treaty. To construe the terms of an international treaty was beyond the powers of the court.
Lewis perorated that the conduct of Julian Assange cannot possibly be classified as a political offence. "It is impossible to place Julian Assange in the position of a political refugee". The activity in which Wikileaks was engaged was not in its proper meaning political opposition to the US Administration or an attempt to overthrow that administration. Therefore the offence was not political.
For the defence Edward Fitzgerald replied that the 2003 Extradition Act was an enabling act under which treaties could operate. Parliament had been concerned to remove any threat of abuse of the political offence bar to cover terrorist acts of violence against innocent civilians. But there remained a clear protection, accepted worldwide, for peaceful political dissent. This was reflected in the Extradition Treaty on the basis of which the court was acting.
Baraitser interrupted that the UK/US Extradition Treaty was not incorporated into English Law.
Fitzgerald replied that the entire extradition request is on the basis of the treaty. It is an abuse of process for the authorities to rely on the treaty for the application but then to claim that its provisions do not apply.
"On the face of it, it is a very bizarre argument that a treaty which gives rise to the extradition, on which the extradition is founded, can be disregarded in its provisions. It is on the face of it absurd." Edward Fitzgerald QC for the Defence
Fitzgerald added that English Courts construe treaties all the time. He gave examples.
Fitzgerald went on that the defence did not accept that treason, espionage and sedition were not regarded as political offences in England. But even if one did accept Lewis's too narrow definition of political offence, Assange's behaviour still met the test. What on earth could be the motive of publishing evidence of government war crimes and corruption, other than to change the policy of the government? Indeed, the evidence would prove that Wikileaks had effectively changed the policy of the US government, particularly on Iraq.
Baraitser interjected that to expose government wrongdoing was not the same thing as to try to change government policy. Fitzgerald asked her, finally in some exasperation after umpteen interruptions, what other point could there be in exposing government wrongdoing other than to induce a change in government policy?
That concluded opening arguments for the prosecution and defence.
MY PERSONAL COMMENTARY
Let me put this as neutrally as possible. If you could fairly state that Lewis's argument was much more logical, rational and intuitive than Fitzgerald's, you could understand why Lewis did not need an interruption while Fitzgerald had to be continually interrupted for "clarification". But in fact it was Lewis who was making out the case that the provisions of the very treaty under which the extradition is being made, do not in fact apply, a logical step which I suggest the man on the Clapham omnibus might reason to need rather more testing than Fitzgerald's assertion to the contrary. Baraitser's comparative harassment of Fitzgerald when he had the prosecution on the ropes was straight out of the Stalin show trial playbook.
The defence did not mention it, and I do not know if it features in their written arguments, but I thought Lewis's point that these could not be political offences, because Julian Assange was not in the USA when he committed them, was breathtakingly dishonest. The USA claims universal jurisdiction. Assange is being charged with crimes of publishing committed while he was outside the USA. The USA claims the right to charge anyone of any nationality, anywhere in the world, who harms US interests. They also in addition here claim that as the materials could be seen on the internet in the USA, there was an offence in the USA. At the same time to claim this could not be a political offence as the crime was committed outside the USA is, as Edward Fitzgerald might say, on the face of it absurd. Which curiously Baraitser did not pick up on.
Lewis's argument that the Treaty does not have any standing in English law is not something he just made up. Nigel Farage did not materialise from nowhere. There is in truth a long tradition in English law that even a treaty signed and ratified with some bloody Johnny Foreigner country, can in no way bind an English court. Lewis could and did spout reams and reams of judgements from old beetroot faced judges holding forth to say exactly that in the House of Lords, before going off to shoot grouse and spank the footman's son. Lewis was especially fond of the Tin Council case.
There is of course a contrary and more enlightened tradition, and a number of judgements that say the exact opposite, mostly more recent. This is why there was so much repetitive argument as each side piled up more and more volumes of "authorities" on their side of the case.
The difficulty for Lewis – and for Baraitser – is that this case is not analogous to me buying a Mars bar and then going to court because an International Treaty on Mars Bars says mine is too small.
Rather the 2003 Extradition Act is an Enabling Act on which extradition treaties then depend. You can't thus extradite under the 2003 Act without the Treaty. So the Extradition Treaty of 2007 in a very real sense becomes an executive instrument legally required to authorise the extradition. For the executing authorities to breach the terms of the necessary executive instrument under which they are acting, simply has to be an abuse of process. So the Extradition Treaty owing to its type and its necessity for legal action, is in fact incorporated in English Law by the Extradition Act of 2003 on which it depends.
The Extradition Treaty is a necessary precondition of the extradition, whereas a Mars Bar Treaty is not a necessary precondition to buying the Mars Bar.
That is as plain as I can put it. I do hope that is comprehensible.
It is of course difficult for Lewis that on the same day the Court of Appeal was ruling against the construction of the Heathrow Third Runway, partly because of its incompatibility with the Paris Agreement of 2016, despite the latter not being fully incorporated into English law by the Climate Change Act of 2008.
VITAL PERSONAL EXPERIENCE
It is intensely embarrassing for the Foreign and Commonwealth Office (FCO) when an English court repudiates the application of a treaty the UK has ratified with one or more foreign states. For that reason, in the modern world, very serious procedures and precautions have been put into place to make certain that this cannot happen. Therefore the prosecution's argument that all the provisions of the UK/US Extradition Treaty of 2007 are not able to be implemented under the Extradition Act of 2003, ought to be impossible.
I need to explain I have myself negotiated and overseen the entry into force of treaties within the FCO. The last one in which I personally tied the ribbon and applied the sealing wax (literally) was the Anglo-Belgian Continental Shelf Treaty of 1991, but I was involved in negotiating others and the system I am going to describe was still in place when I left the FCO as an Ambassador in 2005, and I believe is unchanged today (and remember the Extradition Act was 2003 and the US/UK Extradition Treaty ratified 2007, so my knowledge is not outdated). Departmental nomenclatures change from time to time and so does structural organisation. But the offices and functions I will describe remain, even if names may be different.
All international treaties have a two stage process. First they are signed to show the government agrees to the treaty. Then, after a delay, they are ratified. This second stage takes place when the government has enabled the legislation and other required agency to implement the treaty. This is the answer to Lewis's observation about the roles of the executive and legislature. The ratification stage only takes place after any required legislative action. That is the whole point.
This is how it happens in the FCO. Officials negotiate the extradition treaty. It is signed for the UK. The signed treaty then gets returned to FCO Legal Advisers, Nationality and Treaty Department, Consular Department, North American Department and others and is sent on to Treasury/Cabinet Office Solicitors and to Home Office, Parliament and to any other Government Department whose area is impacted by the individual treaty.
The Treaty is extensively vetted to check that it can be fully implemented in all the jurisdictions of the UK. If it cannot, then amendments to the law have to be made so that it can. These amendments can be made by Act of Parliament or more generally by secondary legislation using powers conferred on the Secretary of State by an act. If there is already an Act of Parliament under which the Treaty can be implemented, then no enabling legislation needs to be passed. International Agreements are not all individually incorporated into English or Scottish laws by specific new legislation.
This is a very careful step by step process, carried out by lawyers and officials in the FCO, Treasury, Cabinet Office, Home Office, Parliament and elsewhere. Each will in parallel look at every clause of the Treaty and check that it can be applied. All changes needed to give effect to the treaty then have to be made – amending legislation, and necessary administrative steps. Only when all hurdles have been cleared, including legislation, and Parliamentary officials, Treasury, Cabinet Office, Home Office and FCO all certify that the Treaty is capable of having effect in the UK, will the FCO Legal Advisers give the go ahead for the Treaty to be ratified. You absolutely cannot ratify the treaty before FCO Legal Advisers have given this clearance.
This is a serious process. That is why the US/UK Extradition Treaty was signed in 2003 and ratified in 2007. That is not an abnormal delay.
So I know for certain that ALL the relevant British Government legal departments MUST have agreed that Article 4.1 of the UK/US Extradition Treaty was capable of being given effect under the 2003 Extradition Act. That certification has to have happened or the Treaty could never have been ratified.
It follows of necessity that the UK Government, in seeking to argue now that Article 4.1 is incompatible with the 2003 Act, is knowingly lying. There could not be a more gross abuse of process.
I have been keen for the hearing on this particular point to conclude so that I could give you the benefit of my experience.
The Armoured Glass Box is an Instrument of Torture
In Thursday's separate hearing on allowing Assange out of the armoured box to sit with his legal team, I witnessed directly that Baraitser's ruling against Assange was brought by her into court BEFORE she heard defence counsel put the arguments, and delivered by her entirely unchanged.
I might start by explaining to you my position in the public gallery vis a vis the judge. All week I deliberately sat in the front, right hand seat. The gallery looks out through an armoured glass window at a height of about seven feet above the courtroom. It runs down one side of the court, and the extreme right hand end of the public gallery is above the judge's bench, which sits below perpendicular to it. Remarkably therefore from the right hand seats of the public gallery you have an uninterrupted view of the top of the whole of the judge's bench, and can see all the judge's papers and computer screen.
Mark Summers QC outlined that in the case of Belousov vs Russia the European Court of Human Rights at Strasbourg ruled against the state of Russia because Belousov had been tried in a glass cage practically identical in construction and in position in court to that in which Assange now was. It hindered his participation in the trial and his free access to counsel, and deprived him of human dignity as a defendant.
Summers continued that it was normal practice for certain categories of unconvicted prisoners to be released from the dock to sit with their lawyers. The court had psychiatric reports on Assange's extreme clinical depression, and in fact the UK Department of Justice's best practice guide for courts stated that vulnerable people should be released to sit alongside their lawyers. Special treatment was not being requested for Assange – he was asking to be treated as any other vulnerable person.
The defence was impeded by their inability to communicate confidentially with their client during proceedings. In the next stage of trial, where witnesses were being examined, timely communication was essential. Furthermore they could only talk with him through the slit in the glass within the hearing of the private company security officers who were guarding him (it was clarified they were Serco, not Group 4 as Baraitser had said the previous day), and in the presence of microphones.
Baraitser became ill-tempered at this point and spoke with a real edge to her voice. "Who are those people behind you in the back row?" she asked Summers sarcastically – a question to which she very well knew the answer. Summers replied that they were part of the defence legal team. Baraitser said that Assange could contact them if he had a point to pass on. Summers replied that there was an aisle and a low wall between the glass box and their position, and all Assange could see over the wall was the top of the back of their heads. Baraitser said she had seen Assange call out. Summers said yelling across the courtroom was neither confidential nor satisfactory.
I have now been advised it is definitely an offence to publish the picture of Julian in his glass box, even though I didn't take it and it is absolutely all over the internet. Also worth noting that I am back home in my own country, Scotland, where my blog is based, and neither is within the jurisdiction of the English court. But I am anxious not to give them any excuse to ban me from the court hearing, so I have removed it but you can see it here.
This is the photo taken illegally (not by me) of Assange in the court. If you look carefully, you can see there is a passageway and a low wooden wall between him and the back row of lawyers. You can see one of the two SERCO prison officers guarding him inside the box.
Baraitser said Assange could pass notes, and she had witnessed notes being passed by him. Summers replied that the court officers had now banned the passing of notes. Baraitser said they could take this up with SERCO, it was a matter for the prison authorities.
Summers asserted that, contrary to Baraitser's statement the previous day, she did indeed have jurisdiction on the matter of releasing Assange from the dock. Baraitser intervened to say that she now accepted that. Summers then said that he had produced a number of authorities to show that Baraitser had also been wrong to say that to be in custody could only mean to be in the dock. You could be in custody anywhere within the precincts of the court, or indeed outside. Baraitser became very annoyed by this and stated she had only said that delivery to the custody of the court must equal delivery to the dock.
To which Summers replied memorably, now very cross "Well, that's wrong too, and has been wrong these last eight years."
Drawing argument to a close, Baraitser gave her judgement on this issue. Now the interesting thing is this, and I am a direct eyewitness. She read out her judgement, which was several pages long and handwritten. She had brought it with her into court in a bundle, and she made no amendments to it. She had written out her judgement before she heard Mark Summers speak at all.
Her key points were that Assange was able to communicate to his lawyers by shouting out from the box. She had seen him pass notes. She was willing to adjourn the court at any time for Assange to go down with his lawyers for discussions in the cells, and if that extended the length of the hearing from three to six weeks, it could take as long as required.
Baraitser stated that none of the psychiatric reports she had before her stated that it was necessary for Assange to leave the armoured dock. As none of the psychiarists had been asked that question – and very probably none knew anything about courtroom layout – that is scarcely surprising
I have been wondering why it is so essential to the British government to keep Assange in that box, unable to hear proceedings or instruct his lawyers in reaction to evidence, even when counsel for the US Government stated they had no objection to Assange sitting in the well of the court.
The answer lies in the psychiatric assessment of Assange given to the court by the extremely distinguished Professor Michael Kopelman (who is familiar to everyone who has read Murder in Samarkand):
"Mr Assange shows virtually all the risk factors which researchers from Oxford
have described in prisoners who either suicide or make lethal attempts. … I
am as confident as a psychiatrist can ever be that, if extradition to the United
States were to become imminent, Mr Assange would find a way of suiciding."
The fact that Kopelman does not, as Baraitser said, specifically state that the armoured glass box is bad for Assange reflects nothing other than the fact he was not asked that question. Any human being with the slightest decency would be able to draw the inference. Baraitser's narrow point that no psychiatrist had specifically stated he should be released from the armoured box is breathtakingly callous, dishonest and inhumane. Almost certainly no psychiatrist had conceived she would determine on enforcing such torture.
So why is Baraitser doing it?
I believe that the Hannibal Lecter style confinement of Assange, this intellectual computer geek, which has no rational basis at all, is a deliberate attempt to drive Julian to suicide. The maximum security anti-terrorist court is physically within the fortress compound that houses the maximum security prison. He is brought handcuffed and under heavy escort to and from his solitary cell to the armoured dock via an underground tunnel. In these circumstances, what possible need is there for him to be strip and cavity searched continually? Why is he not permitted to have his court papers? Most telling for me was the fact he is not permitted to shake hands or touch his lawyers through the slit in the armoured box.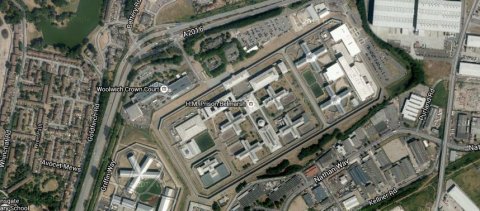 They are relentlessly enforcing the systematic denial of any basic human comfort, like the touch of a friend's fingertips or the blocking of the relief that he might get just from being alongside somebody friendly. They are ensuring the continuation of the extreme psychological effects from isolation of a year of virtual solitary confinement. A tiny bit of human comfort could do an enormous amount of good to his mental health and resilience. They are determined to stop this at all costs. They are attempting to make him kill himself – or create in him the condition where his throttling death might be explained away as suicide.
This is also the only explanation that I can think of for why they are risking the creation of such obvious mistrial conditions. Dead people cannot appeal.
I would remind you that Julian is a remand prisoner who has served his unprecedentedly long sentence for bail-jumping. His status is supposedly at present that of an innocent man facing charges. Those charges are for nothing except for publishing Chelsea Manning's revelations of war crimes.
That Baraitser is acting under instructions seems to me certain. She has been desperate throughout the trial to seize any chance to deny any responsibility for what is happening to Julian. She has stated that she has no jurisdiction over his treatment in prison, and even when both defence and prosecution combined to state it was normal practice for magistrates to pass directions or requests to the prison service, she refused to accept it was so.
Baraitser is plainly attempting psychologically to distance herself from any agency in what is being done. To this end she has made a stream of denials of jurisdiction or ability to influence events. She has said that she has no jurisdiction to interfere with the strip searching, handcuffing and removal of Assange's papers or with his being kept in solitary. She has said she has no jurisdiction to request that his defence lawyers have more access to their client in jail to prepare his defence. She has said she has no jurisdiction over his position in the courtroom. Se has suggested at various times it is up to SERCO to decide if he may pass notes to his lawyers and up to Group4 to decide if he can be released from the armoured dock. The moments when she looks most content listening to the evidence, are those when prosecution counsel James Lewis argues that she has no decision to make but to sign the extradition because it is in good form and that Article 4 of the Treaty has no legal standing.
A member of the Assange family remarked to me at the end of week one that she seems very lazy, and thus delighted to accept any arguments that reduce the amount she needs to do. I think it is different to that. I think there is a corner of the mind of this daughter of dissidents from apartheid that rejects her own role in the torture of Assange, and is continually urging "I had no choice, I had no agency". Those who succumb to do evil must find what internal comfort they may.
The Assange Hearing Day 3
By Craig Murray -
In yesterday's proceedings in court, the prosecution adopted arguments so stark and apparently unreasonable I have been fretting on how to write them up in a way that does not seem like caricature or unfair exaggeration on my part. What has been happening in this court has long moved beyond caricature. All I can do is give you my personal assurance that what I recount actually is what happened.
As usual, I shall deal with procedural matters and Julian's treatment first, before getting in to a clear account of the legal arguments made.
Vanessa Baraitser is under a clear instruction to mimic concern by asking, near the end of every session just before we break anyway, if Julian is feeling well and whether he would like a break. She then routinely ignores his response. Yesterday he replied at some length he could not hear properly in his glass box and could not communicate with his lawyers (at some point yesterday they had started preventing him passing notes to his counsel, which I learn was the background to the aggressive prevention of his shaking Garzon's hand goodbye).
Baraitser insisted he might only be heard through his counsel, which given he was prevented from instructing them was a bit rich. This being pointed out, we had a ten minute adjournment while Julian and his counsel were allowed to talk down in the cells – presumably where they could be more conveniently bugged yet again.
On return, Edward Fitzgerald made a formal application for Julian to be allowed to sit beside his lawyers in the court. Julian was "a gentle, intellectual man" and not a terrorist. Baraitser replied that releasing Assange from the dock into the body of the court would mean he was released from custody. To achieve that would require an application for bail.
Again, the prosecution counsel James Lewis intervened on the side of the defence to try to make Julian's treatment less extreme. He was not, he suggested diffidently, quite sure that it was correct that it required bail for Julian to be in the body of the court, or that being in the body of the court accompanied by security officers meant that a prisoner was no longer in custody. Prisoners, even the most dangerous of terrorists, gave evidence from the witness box in the body of the court nest to the lawyers and magistrate. In the High Court prisoners frequently sat with their lawyers in extradition hearings, in extreme cases of violent criminals handcuffed to a security officer.
Baraitser replied that Assange might pose a danger to the public. It was a question of health and safety. How did Fitzgerald and Lewis think that she had the ability to carry out the necessary risk assessment? It would have to be up to Group 4 to decide if this was possible.
Yes, she really did say that. Group 4 would have to decide. [Ed.: Group4 is the most infamous security company of the UK, used by the system to outsource security work and add another layer of irresponsibility. However, it was clarified the next day that the company is SERCO, not Group 4 as Baraitser had said.]
Baraitser started to throw out jargon like a Dalek when it spins out of control. "Risk assessment" and "health and safety" featured a lot. She started to resemble something worse than a Dalek, a particularly stupid local government officer of a very low grade. "No jurisdiction" – "Up to Group 4". Recovering slightly, she stated firmly that delivery to custody can only mean delivery to the dock of the court, nowhere else in the room. If the defence wanted him in the courtroom where he could hear proceedings better, they could only apply for bail and his release from custody in general. She then peered at both barristers in the hope this would have sat them down, but both were still on their feet.
In his diffident manner (which I confess is growing on me) Lewis said "the prosecution is neutral on this request, of course but, err, I really don't think that's right". He looked at her like a kindly uncle whose favourite niece has just started drinking tequila from the bottle at a family party.
Baraitser concluded the matter by stating that the Defence should submit written arguments by 10am tomorrow on this point, and she would then hold a separate hearing into the question of Julian's position in the court.
The day had begun with a very angry Magistrate Baraitser addressing the public gallery. Yesterday, she said, a photo had been taken inside the courtroom. It was a criminal offence to take or attempt to take photographs inside the courtroom. Vanessa Baraitser looked at this point very keen to lock someone up. She also seemed in her anger to be making the unfounded assumption that whoever took the photo from the public gallery on Tuesday was still there on Wednesday; I suspect not. Being angry at the public at random must be very stressful for her. I suspect she shouts a lot on trains.
"This photo broke my heart... Its my son Julian in the Belmarsh Prison Court... It was taken secretly... The magistrate has threatened to prosecute the photographer No wonder the UK Govt wont allow the public a video link to this shameful, unlawful, US Extradition show trial"
Ms Baraitser is not fond of photography – she appears to be the only public figure in Western Europe with no photo on the internet. Indeed the average proprietor of a rural car wash has left more evidence of their existence and life history on the internet than Vanessa Baraitser. Which is no crime on her part, but I suspect the expunging is not achieved without considerable effort. Somebody suggested to me she might be a hologram, but I think not. Holograms have more empathy.
I was amused by the criminal offence of attempting to take photos in the courtroom. How incompetent would you need to be to attempt to take a photo and fail to do so? And if no photo was taken, how do they prove you were attempting to take one, as opposed to texting your mum? I suppose "attempting to take a photo" is a crime that could catch somebody arriving with a large SLR, tripod and several mounted lighting boxes, but none of those appeared to have made it into the public gallery.
Baraitser did not state whether it was a criminal offence to publish a photograph taken in a courtroom (or indeed to attempt to publish a photograph taken in a courtroom). I suspect it is. Anyway Le Grand Soir has published a translation of my report yesterday, and there you can see a photo of Julian in his bulletproof glass anti-terrorist cage. Not, I hasten to add, taken by me.
We now come to the consideration of yesterday's legal arguments on the extradition request itself. Fortunately, these are basically fairly simple to summarise, because although we had five hours of legal disquisition, it largely consisted of both sides competing in citing scores of "authorities", e.g. dead judges, to endorse their point of view, and thus repeating the same points continually with little value from exegesis of the innumerable quotes.
As prefigured yesterday by magistrate Baraitser, the prosecution is arguing that Article 4.1 of the UK/US extradition treaty has no force in law.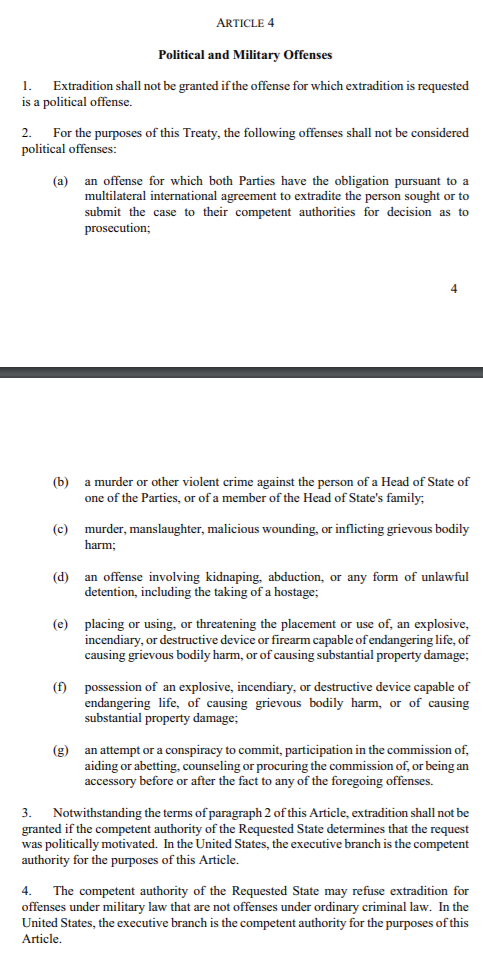 The UK and US Governments say that the court enforces domestic law, not international law, and therefore the treaty has no standing. This argument has been made to the court in written form to which I do not have access. But from discussion in court it was plain that the prosecution argue that the Extradition Act of 2003, under which the court is operating, makes no exception for political offences. All previous Extradition Acts had excluded extradition for political offences, so it must be the intention of the sovereign parliament that political offenders can now be extradited.
Opening his argument, Edward Fitzgerald QC argued that the Extradition Act of 2003 alone is not enough to make an actual extradition. The extradition requires two things in place; the general Extradition Act and the Extradition Treaty with the country or countries concerned. "No Treaty, No Extradition" was an unbreakable rule. The Treaty was the very basis of the request. So to say that the extradition was not governed by the terms of the very treaty under which it was made, was to create a legal absurdity and thus an abuse of process. He cited examples of judgements made by the House of Lords and Privy Council where treaty rights were deemed enforceable despite the lack of incorporation into domestic legislation, particularly in order to stop people being extradited to potential execution from British colonies.
Fitzgerald pointed out that while the Extradition Act of 2003 did not contain a bar on extraditions for political offences, it did not state there could not be such a bar in extradition treaties. And the extradition treaty of 2007 was ratified after the 2003 extradition act.
At this stage Baraitser interrupted that it was plain the intention of parliament was that there could be extradition for political offences. Otherwise they would not have removed the bar in previous legislation. Fitzgerald declined to agree, saying the Act did not say extradition for political offences could not be banned by the treaty enabling extradition.
Fitzgerald then continued to say that international jurisprudence had accepted for a century or more that you did not extradite political offenders. No political extradition was in the European Convention on Extradition, the Model United Nations Extradition Treaty and the Interpol Convention on Extradition. It was in every single one of the United States' extradition treaties with other countries, and had been for over a century, at the insistence of the United States. For both the UK and US Governments to say it did not apply was astonishing and would set a terrible precedent that would endanger dissidents and potential political prisoners from China, Russia and regimes all over the world who had escaped to third countries.
Fitzgerald stated that all major authorities agreed there were two types of political offence. The pure political offence and the relative political offence. A "pure" political offence was defined as treason, espionage or sedition. A "relative" political offence was an act which was normally criminal, like assault or vandalism, conducted with a political motive. Every one of the charges against Assange was a "pure" political offence. All but one were espionage charges, and the computer misuse charge had been compared by the prosecution to breach of the official secrets act to meet the dual criminality test. The overriding accusation that Assange was seeking to harm the political and military interests of the United States was in the very definition of a political offence in all the authorities.
In reply Lewis stated that a treaty could not be binding in English law unless specifically incorporated in English law by Parliament. This was a necessary democratic defence. Treaties were made by the executive which could not make law. This went to the sovereignty of Parliament. Lewis quoted many judgements stating that international treaties signed and ratified by the UK could not be enforced in British courts. "It may come as a surprise to other countries that their treaties with the British government can have no legal force" he joked.
Lewis said there was no abuse of process here and thus no rights were invoked under the European Convention. It was just the normal operation of the law that the treaty provision on no extradition for political offences had no legal standing.
Lewis said that the US government disputes that Assange's offences are political. In the UK/Australia/US there was a different definition of political offence to the rest of the world. We viewed the "pure" political offences of treason, espionage and sedition as not political offences. Only "relative" political offences – ordinary crimes committed with a political motive – were viewed as political offences in our tradition. In this tradition, the definition of "political" was also limited to supporting a contending political party in a state. Lewis will continue with this argument tomorrow.
That concludes my account of proceedings. I have some important commentary to make on this and will try to do another posting later today. Now rushing to court.
Craig Murray, former British Ambassador You can read Craig's full, detailed reports on his blog. He has requested they be shared as widely as possible.
This Suffragette-style dressed lady was identified by a Twitter user as possibly being "rat-bag" Vanessa Baraitser
Julian Assange, Political Offences and Legal Restraints: Day Three
By Binoy Kampmark - 26. February 2020
Wednesday, February 26, Woolwich Crown Court. Today, the focus shifted to the protagonist himself and the nature of the US-UK Extradition Treaty of 2003, a contentious document that shines all too favourably for US citizens.
Julian Assange, whose deteriorating condition has been noted for months by psychologists, doctors and UN Special Rapporteur on torture Nils Melzer, has been making a fist of it in the dock, despite being in Kafkaesque isolation. Exhaustion, however, is manifest.
Judge Vanessa Baraitser has been keeping an eye on Assange's demeanour, prodding his lawyers at one point to inspect him. His eyes had closed, his attention seemingly wavering. A point of permanent frustration for the WikiLeaks founder has been the din the hearings are causing and the distance, physical and symbolic, from his legal team.
"I am as much a participant in these proceedings I am at Wimbledon."
The structural impediments he has had to face have been profound, a point he was keen to make to the bench.
"I cannot meaningfully communicate with my lawyers. There are unnamed embassy officials in this court room. I cannot communicate with my lawyers to ask them for clarifications without the other side seeing."
The singular nature of Assange's case has not struck the judge as sufficient grounds to accept special measures. The defence team insists, not unreasonably, that legal advice given to him be kept privileged. This is a particularly sore point, given the surveillance efforts conducted by UC Global SC in Assange's place of abode for some seven years, London's Ecuadorean embassy.
This involved audio and film footage on lawyers visiting and discussing case matters with Assange relayed to servers accessible to the Central Intelligence Agency. "There has been enough spying on my lawyers already. The other side has about 100 times more contact with their lawyers per day. What is the point of asking if I can concentrate if I cannot participate?"
To these points the judge remained dismissive, annoyed at his intervention in the absence of testifying. "I can't make an exception in your case." A brief recess did follow, permitting Assange to leave the dock for a backroom consultation with his legal team. True to form in this entire charade, security officers were in their company.
The defence team then attempted to convince the bench to adjust future seating arrangements which would permit Assange to sit with them. This led to a technical lunacy: Did the request, pondered the judge, constitute a bail application in which Assange would technically be out of the court's custody? The legal team representing the United States did not object, as security officers would be present on either side of him.
"I'm not sure it's so technical as that," came the assessment from James Lewis QC. The judge, torn by convention and legal minutiae, was tart in response. "I'm not you're right Mr Lewis." An application will be heard to that effect on Thursday, though Lewis did make it clear that any bail application would be opposed.
As for the extradition treaty itself, Article 4 stipulates that, "Extradition shall not be granted if the offense for which the extradition is requested is a political offense."
The team representing the US government suggested that the judge have recourse to substantive UK domestic law, not the Treaty itself. Whether Assange was wanted for political reasons or not was irrelevant as he was "not entitled to derive any rights from the [US-UK Extradition] Treaty".
The prosecution effectively relied on a peculiarity of the Westminster system: the Treaty, ratified in 2007, had not been incorporated into UK domestic law. That domestic law can be found in the Extradition Act 2003, which does not feature political offenses as a bar to extradition. "There's no such thing as a political offense in ordinary English law", something that only arose in the context of extradition.
Assange's team took issue with the contention: the Extradition Treaty as ratified in the US in 2007, in not removing the political offense provision, was intended to have legal effect. "It is an essential protection," argued Edward Fitzgerald QC, "which the US puts in every single one of its extradition treaties."
It followed that, "Both governments must therefore have regarded Article 4 as a protection for the liberty of the individual whose necessity continues (at least in relations between the USA and the UK)."
While the 2003 Extradition Act did not include a political offence bar, "authority establishes that it is the duty of the court, not the executive, to ensure the legality of extradition under the terms of the Treaty."
This placed an onus on the judge, submitted Fitzgerald, to follow a practice set by over a century of extradition treaties which consider the political offence exemption.
Resort should also be had to the Magna Carta and Article 5 of the European Convention on Human Rights (the "right to liberty and security" provision) to reach a conclusion that extraditing an individual for a political offence would constitute an abuse of process.
The defence also turned to the issue of espionage itself, arguing that there was little doubt that it was political in nature, or, as Fitzgerald contended, "a pure political offence" within the meaning of the US-UK Extradition Treaty and relevant case law. The conspiracy to commit computer intrusion, the 18th charge being levelled at Assange, also suggested that it be treated as an espionage offence.
In fact, the entire case and effort against Assange had been political from the start, with US politicians, commentators and members of the media branding him "hostile" and "treasonous" despite not being a US citizen.
Fitzgerald also furthered the legal principle – "virtually universal", he contended – that non-violent individuals should not be extradited for political offences.
"If it is not a terrorist case, a violence offence, you should not be extradited for a political offence."
More in keeping with the work of non-governmental organisations, extraditing Assange would embolden other powers to consider this pathway to seek those responsible for "disclosures that are uncomfortable or threatening." Governments of all political hues will be taking heed from this.
Author:
Dr. Binoy Kampmark was a Commonwealth Scholar at Selwyn College, Cambridge. He lectures at RMIT University, Melbourne. Email:
===
WATCH: One of Best Orators Alive, UK Politician George Galloway, Electrifying Speech on Lynching of Assange
"This is an obscenity in a country that pretends to believe in the rule of law and justice, who cannot tremble with indignation when we learn!
If you cannot tremble with indignation ... You're not a human being. You have no pulse and you have no soul.
And that's the reality of the so-called fourth estate in this country. I spit upon them!"
Galloway is a brilliant orator. He tells the truth about the Assange travesty. Well worth a listen. If you are in a hurry, watch the last minute.
Transcript:
Thank you.
Honorable Craig Murray, my r.t colleague, Peter Lavelle. Honorable speakers, brothers and sisters, comrades and friends. This is a magnificent event attended by people, as Greg said, of different political stripes, but united in solidarity. With prisoner number A 9 3 7 9 A Y - the World Historic Figure: Julian Assange.
I just want to in parentheses make this point.
I said the Honorable Craig Murray. All of the speakers are honorable, but he is right, honorable.
You see, people like me had no choice but to take this path. We were born into it. We had no alternatives.
The struggle, this struggle, the struggle against imperialism was the only choice that we had. But Craig Murray had a glittering career in the British Foreign Office. Her Majesty's ambassador to Uzbekistan. And he threw it all away because he stood up for justice against torture, against disappearances, against political repression.
He threw it all away.
He could have kept his head down.
Been the ambassador for here and there and have a knighthood. Well, they may not give you a knighthood, but you'll always be Sir Craig Murray to me.
Ten years ago, exactly on this day, I was kidnapped by the thugs of the dictator Hosni Mubarak, who died today. I was kidnapped in the dead of night. I was taken by men without uniform who couldn't speak English, even if they had wanted to tell me who they were and where they were taking me. They drove me for many hours. I knew not where. And deposited me at the airport in Cairo, served me with the certificate, which I proudly hold the blue paper declaring me persona non grata and no longer welcome in Egypt.
And I have to tell you that the legal proceedings, as described here this evening and in the various blogs, because that's the only place you're going to read anything substantive about what's going on in blogs like Craig Murray's and many others.
These legal proceedings would have been more fitting in Hosni Mubarak's dictatorship in Egypt than in a country like Britain, which is supposed to be a Western democracy.
Who cannot tremble with indignation at what happened to Julian Assange just yesterday.
Never mind over the last decade. Just yesterday, this man who should be in Oslo getting the Nobel Peace Prize was being stripped and searched by goons.
Handcuffed, held in five different cells in one day, handcuffed, eleven times, handcuffed for what?
He was in a bullet proof box all day in the court.
What were they searching him up his backside for? Why did they take his legal papers away? Talk about an abuse of process.
This is an obscenity in a country that pretends to believe in the rule of law and justice, who cannot tremble with indignation when we learn, that every movement, literally Craig, every time we went to the toilet in the Ecuadorian embassy, the CIA were watching it on video.
I'm not exaggerating. There was a camera in the toilet.
Where Pamela Anderson, PD work, Craig Murray and me and others who have the honor to be friends of Julian Assange, but much more importantly than our movements, they spied on every legal meeting that Julian had with his representatives in absolute brazen defiance of the rules of justice and the lawyer client privilege - as Craig pointed out in any other [case]. if you were in court, because your dog had fouled the pavement, and this kind of abuse of process was unveiled by the defense, the case would be thrown out immediately. No trial can take place when it's been corrupted from the beginning.
In this way, who can not tremble with indignation at the idea that the....
I'm coming to that point.
Who cannot tremble with indignation at the idea that the man that blew the whistle on the war crimes is in Belmarsh and the war criminals are on the BBC and ITV and raking in millions and millions and millions and millions of pounds.
The criminals, the criminals have made it a crime to report on the crimes that they committed - point of that: that that's now the country that we are living in.
Who cannot tremble with indignation - well, ninety five percent.
These to Britain's journalists who didn't even show up today to hear the defense's argument.
Ninety five percent of Britain's broadcasters I'm not trembling with indignation.
If you cannot tremble with indignation, any injustice anywhere. You're not a human being. You have no pulse and you have no soul.
And that's the reality of the so-called fourth estate in this country. I spit upon them.
This church should be bulging with journalists because if they had any intention of actually doing their job. What is happening to Julian Assange is a mortal danger to them. It's a knife at their heart. It's a sword of Damocles hanging over their heads. If they ever intended to actually be journalists.
But of course, the truth is, most of them have sold whatever soul they had just for a ribbon to put on their coat, just for a shilling or two.
They have abandoned any claim of moral authority. These are the people that lecture us.
Especially election times. Speaking of which: on the principle that it's better late than never. I'm glad that Jeremy Corbyn and John McDonnell have finally found a voice to speak up in favour of Julian Assange.
And if they had done so earlier, we might have been farther down the road to getting Julian out of Belmarsh.
I only have time to make two more quick points.
And again, they relate to what the Honorable Craig Murray said.
You see, I was there when this extradition treaty was reached.
It was concluded behind the backs of parliament during the summer recess when no member of parliament could question the treaty, which David Blunkett, Tony Blair's home secretary, corruptly and secretly concluded with the United States, a one sided extradition treaty, the likes of which no free country would ever sign with any other country.
Well, they never have to send anybody to us whatever they've done, even if it's killing our young boy on a motorway because you're driving up the wrong side of the road.
You don't have to send anybody to us.
But we will send anybody to you without even just cause having to be produced. But when Parliament returned in the autumn, I bearded David Blunkett and the members lobby and told them all the things that I thought were wrong and dangerous with this extradition treaty. And he said to me, you're worrying unnecessarily because all of the points you're making are taken care of by article four point one of the treaty which precludes the extradition of people in Britain for political offenses to the United States. And now the judge is telling us that although that's on the face of the treaty, it does not apply.
What madness is this? And the second point.
Sorry.
Windrush. That's another meeting. I'll come back to that.
The last point then that I have time to make. Is this:
If we allow. If the British public allows, the British media allows, if the British political class allows and remember, this has to be rubber stamped, signed off by the current home secretary, Prety Patel.
So public opinion has a role here. He cannot be sent from this country without a politician. An elected politician, a member of an elected government signing the final extradition order.
If we allow Julian Assange to be sent, for the rest of his life. The rest of his life into the dungeons of the US injustice system, Journalism, Freedom, Freedom of Speech. Democracy itself will have been murdered in plain sight on our watch!
And that's why we are going to fight and fight and fight again to free Julian Assange!
Free Julian Assange! Free Julian Assange! Free Julian Assange!
===
JULIAN ASSANGE ::: london ::: taylor hudak (US) with rebecca vincent (UK)
•Mar 10, 2020
LONDON ::: 23.2.2020 ::: Taylor Hudak (actions4assange US) in an interview mit Rebecca Vincent (Reporters without Borders UK) one day before the start of the extradition hearing of Julian Assange in front of the Woolwich Crown Court at the high security prison HMP (Her Majesty's Prison) Belmarsh ::: with international delegation from ROG Reporter ohne Grenzen Germany, Christian Mihr ::: RSF Reporter sans Frontiere, France, Christophe Deloire, secrétaire général . video ::: Free Assange Committee Germany FACG
===
We Are About to See How Malleable UK Courts Are to US Bullying - the Assange Drama
The CIA and Pentagon are saying, in effect, "Trust Us." What could possibly go wrong? — aside from a publisher of accurate information spending the rest of his life in prison .
By Ray McGovern - 27, February 2020
We are about to see how malleable the British Court system is to diktat from Washington. Will the British embrace the flimsiest of circumstantial "evidence" from U.S. security services that have axes to grind?
Will British officials turn their back on 800 years of progress on the human rights wrested from King John at Runnymede? Are there today no "English Nobles" to thwart the obscene "legal" proceedings aimed at extraditing WikiLeaks publisher Julian Assange to a U.S. prison for publishing the truth about U.S. and UK war crimes?
At Monday's court hearing in London, James Lewis QC, argued the U.S. case using information the U.S. gave him from "secret sources" in Iraq and Afghanistan. Here's Mr. Lewis:
"The U.S. is aware of sources, whose unredacted names and other identifying information were contained in classified documents published by WikiLeaks, who subsequently disappeared, although the US can't prove at this point that their disappearance was the result of being outed by WikiLeaks."
With the CIA and Defense Department saying, in effect, "Trust Us", what could possibly go wrong? — aside from a publisher of accurate information spending the rest of his life in prison — and all future journalists running the same risk, should they run afoul of U.S. authorities.
Lewis: Offered no proof lives were endangered.
Unless the British Court system has become totally subservient to U.S. influence, James Lewis QC will have to do better in the coming weeks to plausibly pin a crime on Julian Assange.
Still, do not underestimate British "flexibility" in reaction to orders from Washington. Recall, for example, that just a short, but havoc-filled 17 years ago, UK Attorney General Lord Peter Henry QC (now Baron) Goldsmith was persuaded to abruptly reverse his opinion on the upcoming U.S./UK unprovoked attack on Iraq from "illegal" to "legal", for which he was awarded yet additional British honorifics.
Do President Donald Trump and Prime Minister Boris Johnson really wish to take their cue from the sorry pair of Bush and Blair? We never did learn very much about the "secret sources" that were said to be behind all the poppycock about those elusive Weapons of Mass Destruction in Iraq, did we?
Once Called 'Hearsay'
Speaking on behalf of U.S. officialdom, Lewis claimed that hundreds of people across the world had to be warned after the WikiLeaks disclosures. Some had to be relocated. Others later disappeared, he said. But wait. He was careful to indicate that the U.S. would not try to prove that these events resulted directly from the disclosures. (Is this not what was once called "hearsay"?)
As an ominous coda to his presentation, Lewis somberly added that some WikiLeaks information was found at Osama bin Laden's hideout in Pakistan. Aha!
Former CIA Director (and later Defense Secretary) Robert Gates.

'Significantly Overwrought'

After WikiLeaks published copious materials on the wars in Afghanistan and Iraq, and State Department cables, there was a hue and cry regarding the "inevitable" damage to U.S. assets and equities. On Nov. 30, 2010, then Secretary of Defense Robert Gates offered a more candid appraisal of risks and damage from the WikiLeaks disclosures.

Here's Gates at a formal Pentagon news briefing:
"Now, I've heard the impact of these releases on our foreign policy described as a meltdown, as a game-changer, and so on. I think — I think those descriptions are fairly significantly overwrought … We are still essentially, as has been said before, the indispensable nation. So other nations will continue to work with us. We will continue to share sensitive information with one another. [Emphasis added.]

Is this embarrassing? Yes. Is it awkward? Yes. Consequences for U.S. foreign policy? I think fairly modest."
Shortly after Gates's unusually frank correction, politicians and pundits adjusted their sights on Assange, to allegations that he was a "terrorist." Then Vice President Joe Biden said publicly that Assange was a "high-tech terrorist", and CNN invited a slew of talking heads to confirm the new meme: Yes indeed, Assange clearly was a terrorist.
Apparently, someone told CNN it might look a little better if they added another head for balance. I became the token head "for balance" — the patsy.
CNN's Don Lemon asked me on Dec. 12, 2010 to explain why many of my VIPS colleagues and I could conceivably think Assange was not a terrorist, but rather a journalist.
Lemon: "So, you don't like the way he's been labeled a terrorist or a hacker? You actually think that he's a journalist. I want to get that correct."
Lemon was right about one thing: "That will have to be the last word." Indeed, I have not been invited onto CNN since.
When I had a chance to review the show, I found it so transparent that I actually felt a bit sorry for Lemon who, after all, clearly had his instructions — and perhaps a family to feed. That turned out to be silly; he got promoted and now has his on show on CNN.
Collateral Murder
The gunsight video-cum-audio showing the cold-blooded killing of at least 12 Iraqi civilians, including two Reuters journalists, by gunners in a U.S. Apache helicopter on July 12, 2007 during the "surge" of U.S. forces into the Baghdad area needs to accompany any story on WikiLeaks' revelations; this whether or not it is given much play at the hearing in the days ahead. Watching this 18-minute video will provide some idea as to why Private Chelsea Manning was moved to give it to WikiLeaks.
Every American should watch this video to get some sense of the kind of war crimes WikiLeaks exposed — accurately, with original footage — and to understand why Establishment Washington got so angry at Assange and remains hell bent on making an example of him.
For broader perspective on events surrounding Manning's decision to give the video to WikiLeaks, there is no better source than the account given by video-maker Sonia Kennebeck, nee Mayr.
Her work "Shooters Walk Free, Whistleblower Jailed" appeared first on the German TV program Panorama; it is only 12 minutes long, but speaks volumes.
There was nothing like it at the time, so Panorama was persuaded to prepare a version, with Sonia's own voice-over, for English speakers. Strongly recommended. (Kennebeck later directed/produced the award winning documentary film about drone warfare, "National Bird" (2016).
Author:
Ray McGovern works with Tell the Word, a publishing arm of the ecumenical Church of the Saviour in Washington, DC. He was an Army/Infantry and CIA intelligence analyst for three decades, and personally conducted the early morning briefings of The President's Daily Brief from 1981 to 1985. He is co-founder of Veteran Intelligence Professionals for Sanity (VIPS).
Source: Consortium News
===
Assange Extradition: Proceedings so Far
This was originally an update to our discussion thread on Julian Assange's arrest and "trial", but as that post was two days old many readers seemed to miss the updated information. In light of that, we decided it was better suited to a separate article.
Some are calling it the "trial of the century" but, to this point, it seems more a piece of badly-staged political theatre. Day 3 of Assange's trial closes, and so far it's painting a grim picture of the British legal system.
Anybody interested in a detailed run-down of each day of the Julian Assange'strial, Craig Murray has been attending and writing up reports on a day-by-day basis. They make interesting reading.
Day 1 saw something perverse taking place, an acknowledgement that this is a piece of performance art as much as a trial:
James Lewis QC made the opening statement for the prosecution. It consisted of two parts, both equally extraordinary. The first and longest part was truly remarkable for containing no legal argument, and for being addressed not to the magistrate but to the media. It is not just that it was obvious that is where his remarks were aimed, he actually stated on two occasions during his opening statement that he was addressing the media, once repeating a sentence and saying specifically that he was repeating it again because it was important that the media got it.
Along with examples of the mainstream media totally failing in their public duty…again:
There was a separate media entrance and a media room with live transmission from the courtroom, and there were so many scores of media I thought I could relax and not worry as the basic facts would be widely reported. In fact, I could not have been more wrong. I followed the arguments very clearly every minute of the day, and not a single one of the most important facts and arguments today has been reported anywhere in the mainstream media.
Day 2 saw the defence protesting Assange's treatment in prison,
Day 2 proceedings had started with a statement from Edward Fitzgerald, Assange's QC, that shook us rudely into life. He stated that yesterday, on the first day of trial, Julian had twice been stripped naked and searched, eleven times been handcuffed, and five times been locked up in different holding cells. On top of this, all of his court documents had been taken from him by the prison authorities, including privileged communications between his lawyers and himself, and he had been left with no ability to prepare to participate in today's proceedings.
Which lead to a classic example Judicial bias when the defense asked the Magistrate Vanessa Baraitser to intercede with the prison on Assange's behalf:
Baraitser flat-out denied any knowledge of such a practice, and stated that Fitzgerald should present her with written arguments setting out the case law on jurisdiction over prison conditions. This was too much even for prosecution counsel James Lewis, who stood up to say the prosecution would also want Assange to have a fair hearing, and that he could confirm that what the defence were suggesting was normal practice. Even then, Baraitser still refused to intervene with the prison.
And another addition to the ever-growing pile of evidence that Assange doesn't stand a chance:
Then, to wrap up proceedings, Baraitser dropped a massive bombshell. She stated that although Article 4.1 of the US/UK Extradition Treaty forbade political extraditions, this was only in the Treaty. That exemption does not appear in the UK Extradition Act. On the face of it therefore political extradition is not illegal in the UK, as the Treaty has no legal force on the Court.
You can't help but agree when he concludes:
There were moments today when I got drawn into the court process and achieved the suspension of disbelief you might do in theatre, and began thinking "Wow, this case is going well for Assange". Then an event such as those recounted above kicks in, a coldness grips your heart, and you recall there is no jury here to be convinced. I simply do not believe that anything said or proved in the courtroom can have an impact on the final verdict of this court.
We would also recommend following Kevin Gosztola from Shadow of Proof, he has been live-tweeting updates (here's his thread summarising Day 3) and Christine Assange, Julian's mother.
In London, Julian Assange is in court to decide whether he will be extradited to the US to face espionage charges. The stakes could not be higher. Assange's liberty, even life, is on the line. Freedom of speech is also on trial – though you wouldn't know that from the mainstream media.
CrossTalking with Joe Lauria, Taylor Hudak, and Alexander Mercouris.
Podcast: https://soundcloud.com/rttv/sets/crosstalk-1
This afternoon Julian's Spanish lawyer, Baltasar Garzon, left court to return to Madrid. On the way out he naturally stopped to shake hands with his client, proffering his fingers through the narrow slit in the bulletproof glass cage. Assange half stood to take his lawyer's hand. The two security guards in the cage with Assange immediately sprang up, putting hands on Julian and forcing him to sit down, preventing the handshake.
That was not by any means the worst thing today, but it is a striking image of the senseless brute force continually used against a man accused of publishing documents. That a man cannot even shake his lawyer's hand goodbye is against the entire spirit in which the members of the legal system like to pretend the law is practised. I offer that startling moment as encapsulating yesterday's events in court.
Day 2 proceedings had started with a statement from Edward Fitzgerald, Assange's QC, that shook us rudely into life. He stated that yesterday, on the first day of trial, Julian had twice been stripped naked and searched, eleven times been handcuffed, and five times been locked up in different holding cells. On top of this, all of his court documents had been taken from him by the prison authorities, including privileged communications between his lawyers and himself, and he had been left with no ability to prepare to participate in today's proceedings.
Magistrate Baraitser looked at Fitzgerald and stated, in a voice laced with disdain, that he had raised such matters before and she had always replied that she had no jurisdiction over the prison estate. He should take it up with the prison authorities. Fitzgerald remained on his feet, which drew a very definite scowl from Baraitser, and replied that of course they would do that again, but this repeated behaviour by the prison authorities threatened the ability of the defence to prepare. He added that regardless of jurisdiction, in his experience it was common practice for magistrates and judges to pass on comments and requests to the prison service where the conduct of the trial was affected, and that jails normally listened to magistrates sympathetically.
Baraitser flat-out denied any knowledge of such a practice, and stated that Fitzgerald should present her with written arguments setting out the case law on jurisdiction over prison conditions. This was too much even for prosecution counsel James Lewis, who stood up to say the prosecution would also want Assange to have a fair hearing, and that he could confirm that what the defence were suggesting was normal practice. Even then, Baraitser still refused to intervene with the prison. She stated that if the prison conditions were so bad as to reach the very high bar of making a fair hearing impossible, the defence should bring a motion to dismiss the charges on those grounds. Otherwise they should drop it.
Both prosecution and defence seemed surprised by Baraitser's claim that she had not heard of what they both referred to as common practice. Lewis may have been genuinely concerned at the shocking description of Assange's prison treatment yesterday; or he may have just had warning klaxons going off in his head screaming "mistrial". But the net result is Baraitser will attempt to do nothing to prevent Julian's physical and mental abuse in jail nor to try to give him the ability to participate in his defence. The only realistic explanation that occurs to me is that Baraitser has been warned off, because this continual mistreatment and confiscation of documents is on senior government authority.
A last small incident for me to recount: having queued again from the early hours, I was at the final queue before the entrance to the public gallery, when the name was called out of Kristin Hrnafsson, editor of Wikileaks, with whom I was talking at the time. Kristin identified himself, and was told by the court official he was barred from the public gallery.
Now I was with Kristin throughout the entire proceedings the previous day, and he had done absolutely nothing amiss – he is rather a quiet gentleman. When he was called for, it was by name and by job description – they were specifically banning the editor of Wikileaks from the trial. Kristin asked why and was told it was a decision of the Court.
At this stage John Shipton, Julian's father, announced that in this case the family members would all leave too, and they did so, walking out of the building. They and others then started tweeting the news of the family walkout. This appeared to cause some consternation among court officials, and fifteen minutes later Kristin was re-admitted. We still have no idea what lay behind this. Later in the day journalists were being briefed by officials it was simply over queue-jumping, but that seems improbable as he was removed by staff who called him by name and title, rather than had spotted him as a queue-jumper.
None of the above goes to the official matter of the case. All of the above tells you more about the draconian nature of the political show-trial which is taking place than does the charade being enacted in the body of the court. There were moments today when I got drawn in to the court process and achieved the suspension of disbelief you might do in theatre, and began thinking "Wow, this case is going well for Assange". Then an event such as those recounted above kicks in, a coldness grips your heart, and you recall there is no jury here to be convinced. I simply do not believe that anything said or proved in the courtroom can have an impact on the final verdict of this court.
So to the actual proceedings in the case.
For the defence, Mark Summers QC stated that the USA charges were entirely dependent on three factual accusations of Assange behviour:
1) Assange helped Manning to decode a hash key to access classified material.
Summers stated this was a provably false allegation from the evidence of the Manning court-martial.
2) Assange solicited the material from Manning
Summers stated this was provably wrong from information available to the public
3) Assange knowingly put lives at risk
Summers stated this was provably wrong both from publicly available information and from specific involvement of the US government.
In summary, Summers stated the US government knew that the allegations being made were false as to fact, and they were demonstrably made in bad faith. This was therefore an abuse of process which should lead to dismissal of the extradition request. He described the above three counts as "rubbish, rubbish and rubbish".
Summers then walked through the facts of the case. He said the charges from the USA divide the materials leaked by Manning to Wikileaks into three categories:
a) Diplomatic Cables
b) Guantanamo detainee assessment briefs
c) Iraq War rules of engagement
d) Afghan and Iraqi war logs
Summers then methodically went through a), b), c) and d) relating each in turn to alleged behaviours 1), 2) and 3), making twelve counts of explanation and exposition in all. This comprehensive account took some four hours and I shall not attempt to capture it here. I will rather give highlights, but will relate occasionally to the alleged behaviour number and/or the alleged materials letter. I hope you follow that – it took me some time to do so!
On 1) Summers at great length demonstrated conclusively that Manning had access to each material a) b) c) d) provided to Wikileaks without needing any code from Assange, and had that access before ever contacting Assange. Nor had Manning needed a code to conceal her identity as the prosecution alleged – the database for intelligence analysts Manning could access – as could thousands of others – did not require a username or password to access it from a work military computer. Summers quoted testimony of several officers from Manning's court-martial to confirm this. Nor would breaking the systems admin code on the system give Manning access to any additional classified databases. Summers quoted evidence from the Manning court-martial, where this had been accepted, that the reason Manning wanted to get in to systems admin was to allow soldiers to put their video-games and movies on their government laptops, which in fact happened frequently.
Magistrate Baraitser twice made major interruptions. She observed that if Chelsea Manning did not know she could not be traced as the user who downloaded the databases, she might have sought Assange's assistance to crack a code to conceal her identity from ignorance she did not need to do that, and to assist would still be an offence by Assange.
Summers pointed out that Manning knew that she did not need a username and password, because she actually accessed all the materials without one. Baraitser replied that this did not constitute proof she knew she could not be traced. Summers said in logic it made no sense to argue that she was seeking a code to conceal her user ID and password, where there was no user ID and password. Baraitser replied again he could not prove that. At this point Summers became somewhat testy and short with Baraitser, and took her through the court martial evidence again. Of which more…
Baraitser also made the point that even if Assange were helping Manning to crack an admin code, even if it did not enable Manning to access any more databases, that still was unauthorised use and would constitute the crime of aiding and abetting computer misuse, even if for an innocent purpose.
After a brief break, Baraitser came back with a real zinger. She told Summers that he had presented the findings of the US court martial of Chelsea Manning as fact. But she did not agree that her court had to treat evidence at a US court martial, even agreed or uncontested evidence or prosecution evidence, as fact. Summers replied that agreed evidence or prosecution evidence at the US court martial clearly was agreed by the US government as fact, and what was at issue at the moment was whether the US government was charging contrary to the facts it knew. Baraitser said she would return to her point once witnesses were heard.
Baraitser was now making no attempt to conceal a hostility to the defence argument, and seemed irritated they had the temerity to make it. This burst out when discussing c), the Iraq war rules of engagement. Summers argued that these had not been solicited from Manning, but had rather been provided by Manning in an accompanying file along with the Collateral Murder video that showed the murder of Reuters journalists and children. Manning's purpose, as she stated at her court martial, was to show that the Collateral Murder actions breached the rules of engagement, even though the Department of Defense claimed otherwise. Summers stated that by not including this context, the US extradition request was deliberately misleading as it did not even mention the Collateral Murder video at all.
At this point Baraitser could not conceal her contempt. Try to imagine Lady Bracknell saying "A Handbag" or "the Brighton line", or if your education didn't run that way try to imagine Pritti Patel spotting a disabled immigrant. This is a literal quote:
"Are you suggesting, Mr Summers, that the authorities, the Government, should have to provide context for its charges?"
An unfazed Summers replied in the affirmative and then went on to show where the Supreme Court had said so in other extradition cases. Baraitser was showing utter confusion that anybody could claim a significant distinction between the Government and God.
The bulk of Summers' argument went to refuting behaviour 3), putting lives at risk. This was only claimed in relation to materials a) and d). Summers described at great length the efforts of Wikileaks with media partners over more than a year to set up a massive redaction campaign on the cables. He explained that the unredacted cables only became available after Luke Harding and David Leigh of the Guardian published the password to the cache as the heading to Chapter XI of their book Wikileaks, published in February 2011.
Nobody had put 2 and 2 together on this password until the German publication Der Freitag had done so and announced it had the unredacted cables in August 2011. Summers then gave the most powerful arguments of the day.
The US government had been actively participating in the redaction exercise on the cables. They therefore knew the allegations of reckless publication to be untrue.
Once Der Freitag announced they had the unredacted materials, Julian Assange and Sara Harrison instantly telephoned the White House, State Department and US Embassy to warn them named sources may be put at risk. Summers read from the transcripts of telephone conversations as Assange and Harrison attempted to convince US officials of the urgency of enabling source protection procedures – and expressed their bafflement as officials stonewalled them. This evidence utterly undermined the US government's case and proved bad faith in omitting extremely relevant fact. It was a very striking moment.
With relation to the same behaviour 3) on materials d), Summers showed that the Manning court martial had accepted these materials contained no endangered source names, but showed that Wikileaks had activated a redaction exercise anyway as a "belt and braces" approach.
There was much more from the defence. For the prosecution, James Lewis indicated he would reply in depth later in proceedings, but wished to state that the prosecution does not accept the court martial evidence as fact, and particularly does not accept any of the "self-serving" testimony of Chelsea Manning, whom he portrayed as a convicted criminal falsely claiming noble motives. The prosecution generally rejected any notion that this court should consider the truth or otherwise of any of the facts; those could only be decided at trial in the USA.
Then, to wrap up proceedings, Baraitser dropped a massive bombshell. She stated that although Article 4.1 of the US/UK Extradition Treaty forbade political extraditions, this was only in the Treaty. That exemption does not appear in the UK Extradition Act. On the face of it therefore political extradition is not illegal in the UK, as the Treaty has no legal force on the Court. She invited the defence to address this argument in the morning.
It is now 06.35am and I am late to start queuing…
Craig Murray, former British Ambassador You can read Craig's full, detailed reports on his blog. He has requested they be shared as widely as possible.
Woolwich Crown Court is designed to impose the power of the state. Normal courts in this country are public buildings, deliberately placed by our ancestors right in the centre of towns, almost always just up a few steps from a main street. The major purpose of their positioning and of their architecture was to facilitate public access in the belief that it is vital that justice can be seen by the public.
Woolwich Crown Court, which hosts Belmarsh Magistrates Court, is built on totally the opposite principle. It is designed with no other purpose than to exclude the public. Attached to a prison on a windswept marsh far from any normal social centre, an island accessible only through navigating a maze of dual carriageways, the entire location and architecture of the building is predicated on preventing public access. It is surrounded by a continuation of the same extremely heavy duty steel paling barrier that surrounds the prison. It is the most extraordinary thing, a courthouse which is a part of the prison system itself, a place where you are already considered guilty and in jail on arrival. Woolwich Crown Court is nothing but the physical negation of the presumption of innocence, the very incarnation of injustice in unyielding steel, concrete and armoured glass. It has precisely the same relationship to the administration of justice as Guantanamo Bay or the Lubyanka. It is in truth just the sentencing wing of Belmarsh prison.
When enquiring about facilities for the public to attend the hearing, an Assange activist was told by a member of court staff that we should realise that Woolwich is a "counter-terrorism court". That is true de facto, but in truth a "counter-terrorism court" is an institution unknown to the UK constitution. Indeed, if a single day at Woolwich Crown Court does not convince you the existence of liberal democracy is now a lie, then your mind must be very closed indeed.
Extradition hearings are not held at Belmarsh Magistrates Court inside Woolwich Crown Court. They are always held at Westminster Magistrates Court as the application is deemed to be delivered to the government at Westminster. Now get your head around this. This hearing is at Westminster Magistrates Court. It is being held by the Westminster magistrates and Westminster court staff, but located at Belmarsh Magistrates Court inside Woolwich Crown Court. All of which weird convolution is precisely so they can use the "counter-terrorist court" to limit public access and to impose the fear of the power of the state.
One consequence is that, in the courtroom itself, Julian Assange is confined at the back of the court behind a bulletproof glass screen. He made the point several times during proceedings that this makes it very difficult for him to see and hear the proceedings. The magistrate, Vanessa Baraitser, chose to interpret this with studied dishonesty as a problem caused by the very faint noise of demonstrators outside, as opposed to a problem caused by Assange being locked away from the court in a massive bulletproof glass box.
Now there is no reason at all for Assange to be in that box, designed to restrain extremely physically violent terrorists. He could sit, as a defendant at a hearing normally would, in the body of the court with his lawyers. But the cowardly and vicious Baraitser has refused repeated and persistent requests from the defence for Assange to be allowed to sit with his lawyers. Baraitser of course is but a puppet, being supervised by Chief Magistrate Lady Arbuthnot, a woman so enmeshed in the defence and security service establishment I can conceive of no way in which her involvement in this case could be more corrupt.
It does not matter to Baraitser or Arbuthnot if there is any genuine need for Assange to be incarcerated in a bulletproof box, or whether it stops him from following proceedings in court. Baraitser's intention is to humiliate Assange, and to instill in the rest of us horror at the vast crushing power of the state. The inexorable strength of the sentencing wing of the nightmarish Belmarsh Prison must be maintained. If you are here, you are guilty.
It's the Lubyanka. You may only be a remand prisoner. This may only be a hearing not a trial. You may have no history of violence and not be accused of any violence. You may have three of the country's most eminent psychiatrists submitting reports of your history of severe clinical depression and warning of suicide. But I, Vanessa Baraitser, am still going to lock you up in a box designed for the most violent of terrorists. To show what we can do to dissidents. And if you can't then follow court proceedings, all the better.
You will perhaps better accept what I say about the Court when I tell you that, for a hearing being followed all round the world, they have brought it to a courtroom which had a total number of sixteen seats available to members of the public. 16. To make sure I got one of those 16 and could be your man in the gallery, I was outside that great locked iron fence queuing in the cold, wet and wind from 6am. At 8am the gate was unlocked, and I was able to walk inside the fence to another queue before the doors of the courtroom, where despite the fact notices clearly state the court opens to the public at 8am, I had to queue outside the building again for another hour and forty minutes. Then I was processed through armoured airlock doors, through airport type security, and had to queue behind two further locked doors, before finally getting to my seat just as the court started at 10am. By which stage the intention was we should have been thoroughly cowed and intimidated, not to mention drenched and potentially hypothermic.
There was a separate media entrance and a media room with live transmission from the courtroom, and there were so many scores of media I thought I could relax and not worry as the basic facts would be widely reported. In fact, I could not have been more wrong. I followed the arguments very clearly every minute of the day, and not a single one of the most important facts and arguments today has been reported anywhere in the mainstream media. That is a bold claim, but I fear it is perfectly true. So I have much work to do to let the world know what actually happened. The mere act of being an honest witness is suddenly extremely important, when the entire media has abandoned that role.
James Lewis QC made the opening statement for the prosecution. It consisted of two parts, both equally extraordinary. The first and longest part was truly remarkable for containing no legal argument, and for being addressed not to the magistrate but to the media. It is not just that it was obvious that is where his remarks were aimed, he actually stated on two occasions during his opening statement that he was addressing the media, once repeating a sentence and saying specifically that he was repeating it again because it was important that the media got it.
I am frankly astonished that Baraitser allowed this. It is completely out of order for a counsel to address remarks not to the court but to the media, and there simply could not be any clearer evidence that this is a political show trial and that Baraitser is complicit in that. I have not the slightest doubt that the defence would have been pulled up extremely quickly had they started addressing remarks to the media. Baraitser makes zero pretence of being anything other than in thrall to the Crown, and by extension to the US Government.
The points which Lewis wished the media to know were these: it is not true that mainstream outlets like the Guardian and New York Times are also threatened by the charges against Assange, because Assange was not charged with publishing the cables but only with publishing the names of informants, and with cultivating Manning and assisting him to attempt computer hacking. Only Assange had done these things, not mainstream outlets.
Lewis then proceeded to read out a series of articles from the mainstream media attacking Assange, as evidence that the media and Assange were not in the same boat. The entire opening hour consisted of the prosecution addressing the media, attempting to drive a clear wedge between the media and Wikileaks and thus aimed at reducing media support for Assange. It was a political address, not remotely a legal submission. At the same time, the prosecution had prepared reams of copies of this section of Lewis' address, which were handed out to the media and given them electronically so they could cut and paste.
Following an adjournment, magistrate Baraitser questioned the prosecution on the veracity of some of these claims. In particular, the claim that newspapers were not in the same position because Assange was charged not with publication, but with "aiding and abetting" Chelsea Manning in getting the material, did not seem consistent with Lewis' reading of the 1989 Official Secrets Act, which said that merely obtaining and publishing any government secret was an offence. Surely, Baraitser suggested, that meant that newspapers just publishing the Manning leaks would be guilty of an offence?
This appeared to catch Lewis entirely off guard. The last thing he had expected was any perspicacity from Baraitser, whose job was just to do what he said. Lewis hummed and hawed, put his glasses on and off several times, adjusted his microphone repeatedly and picked up a succession of pieces of paper from his brief, each of which appeared to surprise him by its contents, as he waved them haplessly in the air and said he really should have cited the Shayler case but couldn't find it. It was liking watching Columbo with none of the charm and without the killer question at the end of the process.
Suddenly Lewis appeared to come to a decision. Yes, he said much more firmly. The 1989 Official Secrets Act had been introduced by the Thatcher Government after the Ponting Case, specifically to remove the public interest defence and to make unauthorised possession of an official secret a crime of strict liability – meaning no matter how you got it, publishing and even possessing made you guilty. Therefore, under the principle of dual criminality, Assange was liable for extradition whether or not he had aided and abetted Manning. Lewis then went on to add that any journalist and any publication that printed the official secret would therefore also be committing an offence, no matter how they had obtained it, and no matter if it did or did not name informants.
Lewis had thus just flat out contradicted his entire opening statement to the media stating that they need not worry as the Assange charges could never be applied to them. And he did so straight after the adjournment, immediately after his team had handed out copies of the argument he had now just completely contradicted. I cannot think it has often happened in court that a senior lawyer has proven himself so absolutely and so immediately to be an unmitigated and ill-motivated liar. This was undoubtedly the most breathtaking moment in today's court hearing.
Yet remarkably I cannot find any mention anywhere in the mainstream media that this happened at all. What I can find, everywhere, is the mainstream media reporting, via cut and paste, Lewis's first part of his statement on why the prosecution of Assange is not a threat to press freedom; but nobody seems to have reported that he totally abandoned his own argument five minutes later. Were the journalists too stupid to understand the exchanges?
The explanation is very simple. The clarification coming from a question Baraitser asked Lewis, there is no printed or electronic record of Lewis' reply. His original statement was provided in cut and paste format to the media. His contradiction of it would require a journalist to listen to what was said in court, understand it and write it down. There is no significant percentage of mainstream media journalists who command that elementary ability nowadays. "Journalism" consists of cut and paste of approved sources only. Lewis could have stabbed Assange to death in the courtroom, and it would not be reported unless contained in a government press release.
I was left uncertain of Baraitser's purpose in this. Plainly she discomfited Lewis very badly on this point, and appeared rather to enjoy doing so. On the other hand the point she made is not necessarily helpful to the defence. What she was saying was essentially that Julian could be extradited under dual criminality, from the UK point of view, just for publishing, whether or not he conspired with Chelsea Manning, and that all the journalists who published could be charged too. But surely this is a point so extreme that it would be bound to be invalid under the Human Rights Act? Was she pushing Lewis to articulate a position so extreme as to be untenable – giving him enough rope to hang himself – or was she slavering at the prospect of not just extraditing Assange, but of mass prosecutions of journalists?
The reaction of one group was very interesting. The four US government lawyers seated immediately behind Lewis had the grace to look very uncomfortable indeed as Lewis baldly declared that any journalist and any newspaper or broadcast media publishing or even possessing any government secret was committing a serious offence. Their entire strategy had been to pretend not to be saying that.
Lewis then moved on to conclude the prosecution's arguments. The court had no decision to make, he stated. Assange must be extradited. The offence met the test of dual criminality as it was an offence both in the USA and UK. UK extradition law specifically barred the court from testing whether there was any evidence to back up the charges. If there had been, as the defence argued, abuse of process, the court must still extradite and then the court must pursue the abuse of process as a separate matter against the abusers. (This is a particularly specious argument as it is not possible for the court to take action against the US government due to sovereign immunity, as Lewis well knows). Finally, Lewis stated that the Human Rights Act and freedom of speech were completely irrelevant in extradition proceedings.
Edward Fitzgerald then arose to make the opening statement for the defence. He started by stating that the motive for the prosecution was entirely political, and that political offences were specifically excluded under article 4.1 of the UK/US extradition treaty. He pointed out that at the time of the Chelsea Manning Trial and again in 2013 the Obama administration had taken specific decisions not to prosecute Assange for the Manning leaks. This had been reversed by the Trump administration for reasons that were entirely political.
On abuse of process, Fitzgerald referred to evidence presented to the Spanish criminal courts that the CIA had commissioned a Spanish security company to spy on Julian Assange in the Embassy, and that this spying specifically included surveillance of Assange's privileged meetings with his lawyers to discuss extradition. For the state trying to extradite to spy on the defendant's client-lawyer consultations is in itself grounds to dismiss the case. (This point is undoubtedly true. Any decent judge would throw the case out summarily for the outrageous spying on the defence lawyers).
Fitzgerald went on to say the defence would produce evidence the CIA not only spied on Assange and his lawyers, but actively considered kidnapping or poisoning him, and that this showed there was no commitment to proper rule of law in this case.
Fitzgerald said that the prosecution's framing of the case contained deliberate misrepresentation of the facts that also amounted to abuse of process. It was not true that there was any evidence of harm to informants, and the US government had confirmed this in other fora, eg in Chelsea Manning's trial. There had been no conspiracy to hack computers, and Chelsea Manning had been acquitted on that charge at court martial. Lastly it was untrue that Wikileaks had initiated publication of unredacted names of informants, as other media organisations had been responsible for this first.
Again, so far as I can see, while the US allegation of harm to informants is widely reported, the defence's total refutation on the facts and claim that the fabrication of facts amounts to abuse of process is not much reported at all. Fitzgerald finally referred to US prison conditions, the impossibility of a fair trial in the US, and the fact the Trump Administration has stated foreign nationals will not receive First Amendment protections, as reasons that extradition must be barred. You can read the whole defence statement, but in my view the strongest passage was on why this is a political prosecution, and thus precluded from extradition.
For the purposes of section 81(a), I next have to deal with the question of how
this politically motivated prosecution satisfies the test of being directed against
Julian Assange because of his political opinions. The essence of his political
opinions which have provoked this prosecution are summarised in the reports
of Professor Feldstein [tab 18], Professor Rogers [tab 40], Professor Noam
Chomsky [tab 39] and Professor Kopelman:-
i. He is a leading proponent of an open society and of freedom of expression.
ii. He is anti-war and anti-imperialism.
iii. He is a world-renowned champion of political transparency and of the
public's right to access information on issues of importance – issues such
as political corruption, war crimes, torture and the mistreatment of
Guantanamo detainees.
5.4.Those beliefs and those actions inevitably bring him into conflict with powerful
states including the current US administration, for political reasons. Which
explains why he has been denounced as a terrorist and why President Trump
has in the past called for the death penalty.
5.5.But I should add his revelations are far from confined to the wrongdoings of
the US. He has exposed surveillance by Russia; and published exposes of Mr
Assad in Syria; and it is said that WikiLeaks revelations about corruption in
Tunisia and torture in Egypt were the catalyst for the Arab Spring itself.
5.6.The US say he is no journalist. But you will see a full record of his work in
Bundle M. He has been a member of the Australian journalists union since
2009, he is a member of the NUJ and the European Federation of Journalists.
He has won numerous media awards including being honoured with the
highest award for Australian journalists. His work has been recognised by the
Economist, Amnesty International and the Council of Europe. He is the winner
of the Martha Gelhorn prize and has been repeatedly nominated for the Nobel
Peace Prize, including both last year and this year. You can see from the
materials that he has written books, articles and documentaries. He has had
articles published in the Guardian, the New York Times, the Washington Post
and the New Statesman, just to name a few. Some of the very publications for
which his extradition is being sought have been refereed to and relied upon in
Courts throughout the world, including the UK Supreme Court and the
European Court of Human Rights. In short, he has championed the cause of
transparency and freedom of information throughout the world.
5.7.Professor Noam Chomsky puts it like this: – 'in courageously upholding
political beliefs that most of profess to share he has performed an
enormous service to all those in the world who treasure the values of
freedom and democracy and who therefore demand the right to know
what their elected representatives are doing' [see tab 39, paragraph 14].
So Julian Assange's positive impact on the world is undeniable. The hostility
it has provoked from the Trump administration is equally undeniable.
The legal test for 'political opinions'
5.8.I am sure you are aware of the legal authorities on this issue: namely whether
a request is made because of the defendant's political opinions. A broad
approach has to be adopted when applying the test. In support of this we rely
on the case of Re Asliturk [2002] EWHC 2326 (abuse authorities, tab 11, at
paras 25 – 26) which clearly establishes that such a wide approach should be
adopted to the concept of political opinions. And that will clearly cover Julian
Assange's ideological positions. Moreover, we also rely on cases such as
Emilia Gomez v SSHD [2000] INLR 549 at tab 43 of the political offence
authorities bundle. These show that the concept of "political opinions" extends
to the political opinions imputed to the individual citizen by the state which
prosecutes him. For that reason the characterisation of Julian Assange and
WikiLeaks as a "non-state hostile intelligence agency" by Mr Pompeo makes
clear that he has been targeted for his imputed political opinions. All the
experts whose reports you have show that Julian Assange has been targeted
because of the political position imputed to him by the Trump administration –
as an enemy of America who must be brought down.
Tomorrow the defence continue. I am genuinely uncertain what will happen as I feel at the moment far too exhausted to be there at 6am to queue to get in. But I hope somehow I will contrive another report tomorrow evening.
Craig Murray, former British Ambassador. You can read Craig's full, detailed reports on his blog. He has requested they be shared as widely as possible.
With grateful thanks to those who donated or subscribed to make this reporting possible.
This article is entirely free to reproduce and publish, including in translation, and I very much hope people will do so actively. Truth shall set us free.
Seth Rich, Julian Assange and Dana Rohrabacher - Will We Ever Know the Truth About the Stolen DNC Files?
Seth Rich, Julian Assange and Dana Rohrabacher. Credit: Public domain/ Gage Skidmore/ Flickr)
By PHILIP GIRALDI - 29. FEBRUARY 2020
The media is doing its best to make the Seth Rich story go away, but it seems to have a life of its own, possibly due to the fact that the accepted narrative about how Rich died makes no sense. In its Iatest manifestation, it provides an alternative explanation for just how the information from the Democratic National Committee (DNC) computer somehow made its way to Wikileaks. If you believe that Jeffrey Epstein committed suicide and that he was just a nasty pedophile rather than an Israeli intelligence agent, read no farther because you will not be interested in Rich. But if you appreciate that it was unlikely that the Russians were behind the stealing of the DNC information you will begin to understand that other interested players must have been at work.
For those who are not familiar with it, the backstory to the murder of apparently disgruntled Democratic National Committee staffer Seth Rich, who some days before may have been the leaker of that organization's confidential emails to Wikileaks, suggests that a possibly motiveless crime might have been anything but. The Washington D.C. police investigated what they believed to be an attempted robbery gone bad but that theory fails to explain why Rich's money, credit cards, cell phone and watch were not taken. Wikileaks has never confirmed that Rich was their source in the theft of the proprietary emails that had hitherto been blamed on Russia but it subsequently offered a $20,000 reward for information leading to resolution of the case and Julian Assange, perhaps tellingly, has never publicly clarified whether Rich was or was not one of his contacts, though there is at least one report that he confirmed the relationship during a private meeting.
Answers to the question who exactly stole the files from the DNC server and the emails from John Podesta have led to what has been called Russiagate, a tale that has been embroidered upon and which continues to resonate in American politics. At this point, all that is clearly known is that in the Summer of 2016 files and emails pertaining to the election were copied and then made their way to WikiLeaks, which published some of them at a time that was damaging to the Clinton campaign. Those who are blaming Russia believe that there was a hack of the Democratic National Committee (DNC) server and also of John Podesta's emails that was carried out by a Russian surrogate or directly by Moscow's military intelligence arm. They base their conclusion on a statement issued by the Department of Homeland Security on October 7, 2016, and on a longer assessment prepared by the Office of the Director of National Intelligence on January 6, 2017. Both government appraisals implied that there was a U.S. government intelligence agency consensus that there was a Russian hack, though they provided little in the way of actual evidence that that was the case and, in particular, failed to demonstrate how the information was obtained and what the chain of custody was as it moved from that point to the office of WikiLeaks. The January report was particularly criticized as unconvincing, rightly so, because the most important one of its three key contributors, the National Security Agency, had only moderate confidence in its conclusions, suggesting that whatever evidence existed was far from solid.
An alternative view that has been circulating for several years suggests that it was not a hack at all, that it was a deliberate whistleblower-style leak of information carried out by an as yet unknown party, possibly Rich, that may have been provided to WikiLeaks for possible political reasons, i.e. to express disgust with the DNC manipulation of the nominating process to damage Bernie Sanders and favor Hillary Clinton.
There are, of course, still other equally non-mainstream explanations for how the bundle of information got from point A to point B, including that the intrusion into the DNC server was carried out by the CIA which then made it look like it had been the Russians as perpetrators. And then there is the hybrid point of view, which is essentially that the Russians or a surrogate did indeed intrude into the DNC computers but it was all part of normal intelligence agency probing and did not lead to anything. Meanwhile and independently, someone else who had access to the server was downloading the information, which in some fashion made its way from there to WikiLeaks.
Both the hack vs. leak viewpoints have marshaled considerable technical analysis in the media to bolster their arguments, but the analysis suffers from the decidedly strange fact that the FBI never even examined the DNC servers that may have been involved. The hack school of thought has stressed that Russia had both the ability and motive to interfere in the election by exposing the stolen material while the leakers have recently asserted that the sheer volume of material downloaded indicates that something like a higher speed thumb drive was used, meaning that it had to be done by someone with actual physical direct access to the DNC system. Someone like Seth Rich.
What the many commentators on the DNC server issue choose to conclude is frequently shaped by their own broader political views, producing a result that favors one approach over another depending on how one feels about Trump or Clinton. Or the Russians. Perhaps it would be clarifying to regard the information obtained and transferred as a theft rather than either a hack or a leak since the two expressions have taken on a political meaning of their own in the Russiagate context. With all the posturing going on, the bottom line is that the American people and government have no idea who actually stole the material in question, though the Obama Administration was extraordinarily careless in its investigation and Russian President Vladimir Putin has generally speaking been blamed for what took place.
The currently bouncing around the media concerns an offer allegedly made in 2017 by former Republican Congressman Dana Rohrabacher to imprisoned WikiLeaks founder Julian Assange. According to Assange's lawyers, Rohrabacher offered a pardon from President Trump if Assange were to provide information that would attribute the theft or hack of the Democratic National Committee emails to someone other than the Russians. He was presumably referring to Seth Rich.
Assange did not accept the offer, but it should be noted that he has repeatedly stated in any event that he did not obtain the material from a Russian or Russian-linked source. In reality, he might not know the original source of the information. Since Rohrabacher's original statement, both he and Trump have denied any suggestion that there was a firm offer with a quid pro quo for Assange. Trump claims to hardly know Rohrabacher and also asserts that he has never had a one-on-one meeting with him.
The U.S. media's coverage of the story has emphasized that Assange's cooperation would have helped to absolve Russia from the charge of having interfered decisively in the U.S. election, but the possible motive for doing so remains unclear. Russian-American relations are at their lowest point since the Cold War and that has largely been due to policies embraced by Donald Trump, to include the cancellation of START and medium range missile agreements. Trump has also approved NATO military maneuvers and exercises right up to the Russian border and has provided lethal weapons to Ukraine, something that his predecessor Barack Obama balked at. He has also openly confronted the Russians in Syria.
Given all of that back story, it would be odd to find Trump making an offer that focuses only on one issue and does not actually refute the broader claims of Russian interference, which are based on a number of pieces of admittedly often dubious evidence, not just the Clinton and Podesta emails. Which brings the tale back to Seth Rich. If Rich was indeed responsible for the theft of the information and was possibly killed for his treachery, it most materially impacts on the Democratic Party as it reminds everyone of what the Clintons and their allies are capable of. It will also serve as a warning of what might be coming at the Democratic National Convention in Milwaukee in July as the party establishment uses fair means or foul to stop Bernie Sanders. How this will all play out is anyone's guess, but many of those who pause to observe the process will be thinking of Seth Rich.
Author:
Philip M. Giraldi is a former CIA counter-terrorism specialist and military intelligence officer who served nineteen years overseas in Turkey, Italy, Germany, and Spain. He was the CIA Chief of Base for the Barcelona Olympics in 1992 and was one of the first Americans to enter Afghanistan in December 2001. Phil is Executive Director of the Council for the National Interest, a Washington-based advocacy group that seeks to encourage and promote a U.S. foreign policy in the Middle East that is consistent with American values and interests.
===
Assange Extradition Hearing Opens with Scathing Condemnation by Mainstream Media
Supporters hold placards and banners during a protest against the extradition of Wikileaks founder Julian Assange outside Belmarsh Magistrates Court in London, Feb. 24, 2020. Matt Dunham | AP
The extradition trial of Julian Assange began with the prosecution reading out a damning statement from five leading mainstream media organizations that once partnered with Wikileaks.
The extradition trial of Wikileaks co-founder Julian Assange got underway at Woolwich Crown Court in London today. Assange, 48, is wanted by the U.S. government on 18 charges of hacking and breaches of the Espionage Act, specifically for the publication of evidence leaked by Pvt. Chelsea Manning that detailed evidence of American war crimes in the Middle East. If found guilty he faces up to 175 years in prison.
The prosecution, led by James Lewis, Q.C., began by reading out a damning statement from five leading media organizations, The Guardian, The New York Times, El País, Der Spiegel and Le Monde, all of whom had partnered with Wikileaks, gratefully publishing the group's revelations but now condemned them, helping his prosecution.
"We deplore the decision of WikiLeaks to publish the unredacted state department cables, which may put sources at risk," they said.
The prosecution is alleging that Assange recklessly published a huge trove of documents containing the names of American agents and informants, putting their lives in danger, and that he solicited information from Manning, encouraging her to break the law. That neither were in the United States when this took place, Lewis said, was irrelevant, as Manning was still a member of the U.S. armed forces. Therefore, he told the court, the case was one of "straightforward criminality."
Many mainstream outlets like the BBC and The Guardian also framed Assange as having "put lives at risk" – echoing the attack from the prosecution in their headlines. Media were also strongly supportive of his arrest from the Ecuadorian embassy last year, celebrating that the "delusional, childish narcissist" poisoning America with his "vile spite" was finally about to "face justice." Former Newsweek journalist Tareq Haddad noted that the press room was packed for the U.S. government prosecution team's statements but was half empty by the time the defense began.
A crowd of supporters gathered outside the court, with only a few of those who showed up able to attend the events in person. Assange's father, John Shipton, told those assembled that, "all of the bases for the prosecution's accusations fail on accuracy and fact" and that sending his son to the United States would be a "death sentence."
The crowd kept up a constant stream of noise and chants were audible in the courtroom throughout the day. Eventually, the defense, including Assange himself, asked for them to keep quiet as it was interfering with proceedings.
The prosecution finished much earlier than expected and by the afternoon the defense was presenting its case. Assange's lawyer, Edward Fitzgerald, Q.C., stated that "This is not about criminal justice, it's about making an example" of his client, adding that the charges were "grossly inflated."
Kristinn Hrafnsson, Icelandic investigative journalist and current editor-in-chief of Wikileaks, demanded to know "why aren't we here talking in court about the war crimes, the assassination of innocent civilians?"
The defense also argued that the defendant suffers from long term mental health problems, including clinical depression, which would no doubt be exacerbated by extradition. They noted that in 2013, U.K courts denied an American extradition request for British-Finnish hacker Lauri Love on mental health grounds.
The defense also revealed that they intend to call American linguist and political activist Professor Noam Chomsky as an expert witness and confirmed the story circulating that the Trump administration offered Assange a full pardon in exchange for a statement that Russia was not involved in hacking related to the 2016 elections. They did not accept the offer from former congressman Dana Rohrbacher as they felt it amounted to political extortion. Rohrbacherdenies certain parts of the story.
Assange had been granted political asylum by the progressive Ecuadorian administration of Rafael Caldera, but could not leave the country's embassy in London for almost seven years. However, after Caldera was replaced by the right-wing, pro-U.S. Lenin Moreno, his welcome ran out and he was dragged out the building last year.
Since then, he has been held at Belmarsh Prison, London. The most infamous leak Wikileaks revealed was the "Collateral Murder" video, that showed American forces massacring civilians, including Reuters journalists, in cold blood.
The extradition hearing has been condemned by many international groups, including theCouncil of Europe and theUnited Nations. On Friday, Amnesty International's Deputy Europe Director Massimo Morattisaid:
The US government's unrelenting pursuit of Julian Assange for having published disclosed documents that included possible war crimes committed by the US military is nothing short of a full-scale assault on the right to freedom of expression…The potential chilling effect on journalists and others who expose official wrongdoing by publishing information disclosed to them by credible sources could have a profound impact on the public's right to know what their government is up to. All charges against Assange for such activities must be dropped."
The court finished at around 4 p.m. local time and will resume at 10 a.m. tomorrow. The hearing is expected to last several weeks.
Author:
Alan MacLeod is a Staff Writer for MintPress News. After completing his PhD in 2017 he published two books: Bad News From Venezuela: Twenty Years of Fake News and Misreporting and Propaganda in the Information Age: Still Manufacturing Consent. He has also contributed to Fairness and Accuracy in Reporting, The Guardian, Salon, The Grayzone, Jacobin Magazine, Common Dreams the American Herald Tribune and The Canary.