Worldwide Solidarity with Indigenous Uprising in Canada
By Defenders Consortium - 16. February 2020
Blockades have caused over 60 shipping vessels to be stalled on the coast of so called British Columbia.

New Rail Blockades being held with mass numbers started today in Vancouver and Toronto.

Marc Miller, current Minister of Indigenous Services is on location and beginning talks in Tyendinaga Mohawk Territory, pursuant to the Haudenousanee Silver Covenant Chain.

As people hold it down in the streets Wet'suwet'en on the front line are holding healing ceremony today traveling to each camp that was raided by the RCMP.

The Wet'suwet'en Hereditary Chiefs have reaffirmed their commitment to enforce the eviction of Coastal Gas Link, and the pressure for the RCMP to leave Wet'suwet'en territories is only building as protests and rail blockades proliferate across the country.
#BREAKING -- Land Defenders Block Macmillan Yard in Vaughan North of Toronto | Blockades Stall International Shipping Vessels with Goods sent Worldwide
[Feb 15th] Supporters of Wet'suwet'en have blocked trains leaving in and out of Macmillan Yard in Vaughan, the second most important CP train yard, just north of Toronto in solidarity with Wet'suwet'en Land Defenders this hour.
Meanwhile, Marc Miller, current Minister of Indigenous Services is on location and beginning talks in Tyendinaga Mohawk Territory, pursuant to the Haudenousanee Silver Covenant Chain.
Blockades continue across the country causing more than 60 shipping vessels to be stalled off the coast of so-called British Columbia, unceded Coast Salish territories.
At this hour, support is being called for the following actions:
RAIL BLOCKADES:
- TYENDINAGA: Mohawk warriors/land defenders hold out TWO blockades on the territory at this hour, always welcoming support from nearby community members.
- MAGNETAWAN: Anishinaabe Land Defenders have set up camp next to the rail line that crosses in Magnetawan First Nation on highway 529 (past the band office) a few kilometres from Sudbury. CALLS FOR PEOPLE needed on the front lines!
- VAUGHAN: Supporters of Wet'suwet'en have blocked trains leaving in and out of Macmillan Yard in Vaughan, the second most important CP train yard, just north of Toronto in solidarity with Wet'suwet'en Land Defenders this hour. Trains going west to Hamilton, London, New York and Michigan were blocked as of 10 a.m. Saturday, Feb 15th and is going at this hour.
- NEW HAZELTON: Gitxsan land defenders had blocked all rail traffic between Prince Rupert and Prince George on unceded Gitxsan territory, which has now been lifted amisdt promise of talks with the BC government. More to follow...
- COQUITLAM: Land Defenders had blocked the most important CP train yard in unceded Kwikwetlem territory (aka Metro Vancouver in support of the Wet'suwet'en. Blockade was lifted on Friday Feb 14th.
OCCUPATIONS/
- VICTORIA: Land Denders and indigenous youth continue to hold the steps of the British Columbia parliament buildings continuing indefinetely in support of Wet'suwet'en demands
TORONTO: Land defenders and supporters blocked the inersection of Yonge and Dundas yesterday in support of the Wet'suwet'en demands. Traffic resumed last night.
*We will update the list once we have more info.
**Send us your info on support for Wet'suwet'en to post and share!
ALL EYES ON WET'SUWET'EN!
OIL & GAS OUT OF WET'SUWET'EN LAND!
AMULEPE TAIÑ WEICHAN!
#ShutDownCanada
#WetsuwetenStrong
#RCMPOut
WCCToronto
DONATE to
New video from Sub.Media: "When all else fails.... Wet'suwet'en Supporters Block the Rails"
Hundreds of people holding down a rail blockade in Toronto!

Ongoing Currently

"Supporters are stopping westbound trains from the Brampton Intermodal Terminal in solidarity with the Wet'suwet'en. Bring friends, dress warmly, and join them at the back parking lot of the TTC Pioneer Village Stataion Parking Lot (2800 Steeles Ave - walk towards the tracks that run north of the parking lot). ❤️"

Ongoing Rail Action in Vancouver at Renfew St North of Grandview Avenue!

Come out to Renfew and Grandview if you can!

According to Natalie Knight, Yurok and Navajo organizer: "We also choose this site in solidarity with and recognition of displaced and migrant communities. We want to recognize the shared history of violence experienced by Indigenous people, and Punjabi and Chinese communities in so-called BC. Both Punjabi and Chinese people were displaced from their own lands due to the violence of British colonialism and the parallels between this colonial violence and the violence experienced by Indigenous people here is clear and ongoing."
Important Interview with Jen Whickam on the ongoing fight in Wet'suwet'en Territories
Video from Mohawk Meeting with Indigenous Services Minister Marc Miller today
Toronto Rail Action
Love and Rage,
Unist'ot'en Solidarity Brigade
The Wet'suwet'en, Aboriginal Title, and the Rule of Law: An Explainer
By Kate Gunn & Bruce McIvor - 13. February 2020
The RCMP's enforcement of the Coastal GasLink injunction against the Wet'suwet'en has ignited a national debate about the law and the rights of Indigenous people.
Unfortunately, misconceptions and conflicting information threaten to derail this important conversation. Below, we attempt to provide clear, straightforward answers to address some of these fundamental misunderstandings.
What about support for the project from the Wet'suwet'en elected Chiefs and Councils?
Media outlets across the country have repeatedly reported that First Nations along the pipeline route, including the Wet'suwet'en, have signed agreements in support of the project.
Underlying this statement are several key issues that require clarification.
First, the Wet'suwet'en, like many Indigenous groups in Canada, are governed by both a traditional governance system and elected Chiefs and Councils.
The Chief and Council system exists under the Indian Act, a piece of federal legislation. It was introduced by the federal government in the 19th century as part of Canada's attempts to systematically oppress and displace Indigenous law and governance.
The Wet'suwet'en hereditary governance system predates colonization and continues to exist today. The Wet'suwet'en and Gitxsan Hereditary Chiefs, not the Indian Act Chiefs and Councils, were the plaintiffs in the landmark Delgamuukw-Gisday'way Aboriginal title case. They provided the court with exhaustive and detailed evidence of the Wet'suwet'en and Gitxsan governance system and the legal authority of Hereditary Chiefs.
Unless otherwise authorized by the Indigenous Nation members, the authority of elected Chiefs and Councils is limited to the powers set out under the Indian Act. The Indian Act does not provide authority for a Chief and Council to make decisions about lands beyond the boundaries of the First Nation's reserves.
By contrast, the Hereditary Chiefs are responsible under Wet'suwet'en law and governance for making decisions relating to their ancestral lands. It is these lands that the Hereditary Chiefs are seeking to protect from the impacts of the pipeline project, not Indian Act reserve lands.
Second, Indigenous peoples hold rights to lands in Canada which extend far beyond the boundaries of Indian Act reserves, including Aboriginal title and rights to the lands they used and occupied prior to the arrival of Europeans and the assertion of Crown sovereignty. Aboriginal title and rights are protected under the Constitution Act, 1982 – the highest law in Canada's legal system.
Third, the fact that First Nations have signed agreements with Coastal GasLink does not, in itself, mean that its members support the project without qualification.
Across the country, Indian Act band councils are forced to make difficult choices about how to provide for their members – a situation which exists in large part due to the process of colonization, chronic underfunding for reserve infrastructure and refusal on the part of the Crown to meaningfully recognize Indigenous rights and jurisdiction.
The fact that elected Wet'suwet'en Chiefs and Councils have entered into benefit agreements with Coastal GasLink should not be taken as unconditional support for the project.
Finally, similar to how Canada functions as a confederation with separate provinces with their own authority, First Nation decisions on major projects are not simply a matter of majority rules.
The Quebec provincial government made it clear that it was opposed to and would not sanction the proposed Energy East pipeline. The federal government and other provincial governments respected Quebec's right to make this decision. Similarly, First Nations often disagree about major projects. One cannot speak for another and the majority cannot simply overrule the minority or individual First Nations.
But aren't the Indian Act Chiefs and Councils democratically elected?
Chiefs and Councils under the Indian Act may be elected, but they do not necessarily speak for the Nation as a whole.
Most Chiefs and Councils are elected by status 'Indians' whose names are on an Indian Act band list. The federal government decides who is entitled to be registered as a status Indian through the registration provisions of the Indian Act. The registration provisions are restrictive and have been subject to numerous legal challenges.
Some Indian Act bands have adopted custom election codes that allow non-status 'Indians' to vote. However, in general if an individual does not meet the criteria for 'Indian' status under the Indian Act, they will not be able to vote in band elections.
Critically, the fact that an Indigenous person is not registered under the Indian Act does not mean that they do not hold Aboriginal title and rights. Aboriginal title and rights are held collectively and are not restricted to status Indians registered under the Indian Act.
But what about the 'rule of law'?
Land law in Canada is much more complicated and uncertain than most non-Indigenous Canadians appreciate.
When European colonizers arrived, numerous Indigenous Nations existed throughout the land we now call Canada. Each Indigenous Nation, including the Wet'suwet'en, had their own unique and specific set of land laws. Canadian courts continue to recognize that Indigenous laws form part of Canada's legal system, including as a basis for Aboriginal title. The "rule of law" therefore includes both Canadian and Indigenous law. Read this Colonial NaziEugenicist Act yourself
Under international and British law at the time of colonization, unless Indigenous people were conquered or treaties were made with them, the Indigenous interest in their land was to be respected by the law of the European colonizing nation. The British Crown never conquered or made a treaty with the Wet'suwet'en.
In the early days of the colonization of what is now British Columbia, the British government was well aware that based on its own laws it was highly questionable that it had any right to occupy Indigenous lands or assign rights in those lands to individuals or companies.
Nonetheless, beginning in the 1860s the colony of British Columbia began passing its own land laws and giving out property interests in Indigenous land without any established legal right to do so.
The source of the Province's authority over Indigenous lands remains unresolved in Canadian law today.
In 2004 the Supreme Court of Canada referred to the historical and current situation as British Columbia's de facto control of Indigenous lands and resources.
In other words, the Supreme Court recognized that the Province's authority to issue permits for Indigenous lands, including the type of permits issued for the Coastal GasLink pipeline, is not based on established legal authority. It is based on the fact that the Province has proceeded, for over 150 years, to make unilateral decisions about Indigenous lands.
The fact that the Province has acted since the 1860s as though it has full authority to decide how Indigenous peoples' lands are used does not make doing so legal or just.
Photo by Mike Graeme
Isn't this Crown Land?
Under Canadian law, the Crown, as represented by the various provincial governments, has what is referred to as the underlying interest in all land within provincial boundaries. This is based on the discredited and internationally repudiated 'doctrine of discovery'. Courts in Canada have concluded that regardless of the doctrine of discovery having been rejected around the world, they are unable to question its legitimacy.
Importantly, even if one accepts that provincial governments hold the underlying interest in 'Crown land', that interest is subject to strict limits. It does not mean that the provincial governments have a legal right to occupy Indigenous lands or to grant rights to those lands to individuals or companies. Nor does it give provincial governments the right to sell Indigenous land, assign interests to people or companies or forcibly remove Indigenous people from their territories.
The right to benefit from the land, decide how the land should be used and exclude other people from entering on or using the land is separate from the Crown's underlying interest in the land.
The right to benefit from the land and exclude others from using the land is part of what Canadian courts have described as Aboriginal title. Aboriginal title, including Wet'suwet'en Aboriginal title, takes precedence over the Crown's underlying interest in the land.
While Canadian courts have held that provincial governments may be able to infringe Aboriginal title, the requirements to justify infringement are very onerous. The provincial government has not attempted to justify its infringement of Wet'suwet'en Aboriginal title.
But what about the Wet'suwet'en not having proven their Aboriginal title in court?
As with other Indigenous Nations, Wet'suwet'en Aboriginal title exists as a matter of law. It predates the colony of British Columbia and British Columbia's entry into confederation in 1871.
Its existence was not created by section 35 of the Constitution Act, nor does it depend on recognition by Canadian courts.
Canadian courts can recognize Wet'suwet'en Aboriginal title, but they cannot create it. A court declaration of Aboriginal title would merely confirm its existence under Canadian law.
In the Delgamuukw-Gisday'way case, the courts heard extensive evidence about Wet'suwet'en title and rights. Ultimately, the Supreme Court refused to issue a declaration in favour of the Wet'suwet'en because of a technicality in the pleadings. The parties were left to either negotiate a resolution or begin a new trial.
Regardless of whether there is a court declaration, it is open to the Province to recognize and respect the existence of Wet'suwet'en title at any time.
Instead of recognizing the existence of Aboriginal title, the current provincial government continues to adhere to a policy of denial. This is the same policy endorsed by every provincial government since British Columbia became a part of Canada.
As long as it maintains this policy, the Province avoids the implications of having to recognize Wet'suwet'en title and fulfil its corresponding obligations under Canadian law.
By its continued denial of Wet'suwet'en title, the Province avoids the hard work of reconciling its longstanding failure to respect Indigenous land rights with the continued existence and resurgence of Wet'suwet'en law and governance.
Photo by Lauren Sortome
First Peoples Law Corporation is legal counsel for Unist'ot'en. The statements here are made on our own behalf and reflect our views on this issue, not those of our client.

Kate Gunn is a lawyer at First Peoples Law Corporation. Kate completed her Master's of Law at the University of British Columbia. Her most recent academic essay, "Agreeing to Share: Treaty 3, History & the Courts," was published in the UBC Law Review. - Contact Kate - Follow Kate on LinkedIn and Twitter
Bruce McIvor, lawyer and historian, is principal of First Peoples Law Corporation. He is also an Adjunct Professor at the University of British Columbia's Allard School of Law where he teaches the constitutional law of Aboriginal and Treaty rights. Bruce is a proud Métis from the Red River in Manitoba. He holds a Ph.D. in Aboriginal and environmental history and is a Fulbright Scholar. A member of the bar in British Columbia and Ontario, Bruce is recognized nationally and internationally as a leading practitioner of Aboriginal law in Canada. - Download Bruce's bio. - Contact Bruce - Follow Bruce on LinkedIn and Twitter
===
MUST WATCH:
The Wet'suwet'en Fight Against New Pipeline Spreads Across Canada with Blockades & Occupations
Feb 13, 2020
A major anti-pipeline struggle continues in Canada, where protests have broken out across the country in solidarity with Wet'suwet'en land defenders whose sovereign land in northern British Columbia was raided last week and over the weekend by Canadian police. Dozens were arrested in the days-long raid of unceded indigenous territories, where hereditary chiefs have been in a protracted battle to protect their land from the construction of TransCanada's 400-mile, $4.7 billion Coastal GasLink pipeline.
The raids took place about 700 miles north of Vancouver and sparked outrage across the country.
In Ontario, a Mohawk solidarity protest has shut down the Canadian National Railway for days, halting travel for tens of thousands of passengers. Canadian Prime Minister Justin Trudeau called for a quick resolution to the protests on Wednesday. In New York, protesters on Wednesday gathered for a sit-in outside the United Nations headquarters in solidarity with Wet'suwet'en land defenders.
For more, we go to Wet'suwet'en territory, where we're joined by land defender and matriarch Molly Wickham. Her clan, the Gidimt'en Clan, was raided last week by 60 heavily militarized officers with assault rifles and dogs.
And in Toronto, we're joined by Pamela Palmater, Mi'kmaq lawyer and member of the Eel River Bar First Nation in New Brunswick. She is the chair in indigenous governance at Ryerson University. #DemocracyNow
===
'RCMP off Wet'suwet'en land':
Solidarity grows for land defenders
Protests spread across Canada to support Wet'suwet'en hereditary chiefs who say they were not consulted on a pipeline.
By Jillian Kestler-D'Amours - 14. February 2020
Montreal, Canada - Canada is facing a national crisis.
That was how Sophia Sidarous, a young Indigenous organiser and member of Metepenagiag First Nation in New Brunswick, described the feeling this week, as people across Canada came out to support members of the Wet'suwet'en Nation who were forced off their traditional lands.
Sidarous was among about two dozen people who occupied the Ottawa office of Canada's minister of justice and attorney general, David Lametti, on Monday in solidarity with Wet'suwet'en land defenders opposed to a pipeline project on their territory in northern British Columbia (BC).
"We just wanted to remind him ... that he has certain obligations to fulfil," Sidarous told Al Jazeera in a phone interview, "including upholding human rights ... [and] upholding a nation-to-nation relationship, which does not mean you have to bulldoze people over in order to get a project in."
Federal police (RCMP) officers earlier this month evicted members of the Wet'suwet'en Nation from their traditional territories, where they had set up camps to try to stop construction on the Coastal GasLink project.
Supporters of the Wet'suwet'en nation, who oppose the construction of the Coastal GasLink pipeline, protest outside the provincial headquarters of the RCMP in Surrey, BC [Jesse Winter/Reuters]
The Wet'suwet'en hereditary chiefs, who hold authority over 22,000sq kilometres (8,494sq miles) of land, said they never consented to the 670km (416-mile) pipeline, which will cut across that area to transport natural gas from northeast BC to a terminal near the town of Kitimat.
The BC Supreme Court in December granted Coastal GasLink an injunction to continue building the pipeline and the company said it has reached agreements with 20 First Nations band councils along the route. The province also says the project has the necessary permits to move forward. "This project is proceeding and the rule of law needs to prevail in BC," Premier John Horgan said last month.
The hereditary chiefs argue that the band councils only hold limited authority over what happens on reserves, the First Nations communities established under Canada's Indian Act, while they hold decision-making power over the nation's traditional territory. The Supreme Court of Canada ruled in 1997 that the Wet'suwet'en hereditary chiefs never ceded authority over their lands.
What you do to one Indigenous person or one Indigenous nation affects all Indigenous peoples across Canada, across Turtle Island [North America] and across the world.

Sophia Sidarous, member of Metepenagiag First Nation
More than two dozen Wet'suwet'en land defenders and their supporters were arrested, APTN reported, in separate RCMP raids on a forestry road where camps and blockades had been erected to impede construction on the pipeline.
"When we see elders being disrespected by foreign entities like pipeline companies and when we see the Canadian government not respecting Indigenous peoples' rights, well that doesn't really fly with us," said Sidarous. "What you do to one Indigenous person or one Indigenous nation affects all Indigenous peoples across Canada, across Turtle Island [North America] and across the world."
Solidarity actions
Sidarous is one of many Indigenous people across Canada who have organised actions in solidarity with the Wet'suwet'en hereditary chiefs and land defenders.
Rallies, sit-ins and blockades have been organised in provinces from coast to coast to demand that RCMP officers leave Wet'suwet'en territory and that both the federal and BC provincial governments respect Indigenous sovereignty and rights.
In BC, people blocked access to the Port of Vancouver late last week and police arrested 43 people on Monday when they refused to clear the area. Traffic has also been temporarily halted in downtown Vancouver and on a bridge leading into the city, while Indigenous peoples and their supporters also blocked access into the provincial legislature in Victoria on Tuesday.
Natalie Knight, a Yurok and Navajo organiser based in Vancouver, was among dozens of people who occupied the office of BC Attorney General David Eby on Thursday morning.
Knight told Al Jazeera in a telephone interview from the sit-in that people were calling on Eby to respect Wet'suwet'en law and uphold the principles of the United Nations Declaration on the Rights of Indigenous Peoples (UNDRIP), among other demands.
Supporters of the Wet'suwet'en nation protest by blocking a road outside the provincial headquarters of the RCMP in Surrey, BC [Jesse Winter/Reuters]
Passed into law in BC in November 2019, UNDRIP states that Indigenous peoples should have "free, prior and informed consent" on matters that affect their rights, including resource development projects like the Coastal GasLink.
"This moment is a moment to take action and express our dissent," said Knight.
She said many people have rallied around the Wet'suwet'en because their struggle touches on deeper issues such as Indigenous land rights and sovereignty, and continuing colonialism in Canada. "People are really coming together, and community is being built in an incredible way on the streets," she added.
Railways blocked
Major railways have been blocked in solidarity with the Wet'suwet'en, as well.
On Thursday afternoon, Via Rail Canada - the country's passenger rail company - announced it was cancelling service along its network "effective immediately and until further notice". Via Rail operates more than 500 trains per week across 12,500km (7,767 miles), the company says.
Service had been suspended along the popular Toronto-Montreal line as a result of a blockade in Tyendinaga Mohawk Territory in Ontario. More than 250 trains and over 42,000 passengers had been affected, CBC News reported earlier this week, while industry experts said millions of dollars have been lost due to the stoppage.
Similar blockades also were erected in northern BC and in Manitoba, a province in central Canada.
The Gidimt'en Access Point, a blockade and camp erected by members of the Wet'suwet'en Nation's Gidimt'en clan, welcomed the news of the Via Rail shutdown on Thursday. "Canada is officially shutting down! We are so grateful for all the actions of solidarity," the group wrote on Facebook. "Keep up the pressure! We want the RCMP and CGL off our yintah [land]! We will not stop until they are."
South of Montreal in the province of Quebec, a Canadian Pacific Railway line has also been forced to stop operating after people from the Kahnawake Mohawk First Nation set up a blockade on their territory in solidarity with the Wet'suwet'en hereditary chiefs and land defenders.
On Thursday morning, four people huddled around a fire next to the Kahnawake blockade. A plastic chair sat atop a large pile of snow set on the train tracks behind them. "RCMP OFF Wet'suwet'en LAND" read a cardboard sign leaning up against a snowbank next to the bright red flag of the Mohawk Warrior Society. "NO PIPELINE!" read another.
Signs from Kahnawake, a Mohawk First Nation, where people have set up a blockade [Jillian Kestler D'Amours/Al Jazeera]
People at the blockade did not answer Al Jazeera's requests for comment. "We're fighting so they can live in a country with free people and clean water. We're fighting for life," James Nolan, who was at the site this week, told The Montreal Gazette newspaper.
In the nearby town of Delson, Quebec, a railway station on the affected line was empty on Thursday. "Service interrupted due to a protest near the train tracks," read a message in French displayed on a screen on the train platform.
"It's incredibly inspiring and powerful to watch because this is the greatest display of sovereignty since Standing Rock," said Catie Galbraith, 19, referring to the Indigenous-led movement in opposition to the Dakota Access Pipeline project in the United States.
"It feels as though we have reached a turning point, that Indigenous peoples are more powerful than we've ever been and we're fighting back in a way that's more effective than it's ever been. It just feels like we're on the verge of a real shift."
Galbraith, a member of the Chickasaw Nation of Oklahoma and co-chair of the Indigenous Student Alliance at McGill University in Montreal, helped organise a sit-in last Friday and a demonstration on Monday at Canadian Prime Minister Justin Trudeau's constituency office in the city.
About 30 people participated in the sit-in, she said, while a few hundred people took part in the demonstration. "There was just kind of a feeling of having to do something," Galbraith told Al Jazeera.
People were especially moved to act because a member of the Indigenous community at McGill was arrested at one of the Wet'suwet'en camps. "It hit very close to home," she added.
'Not standing down'
On Wednesday, Horgan, the BC premier, criticised the recent Wet'suwet'en solidarity rally in Victoria. "It was unacceptable to me and I know it's unacceptable to a vast majority of British Columbians," said Horgan about the participants who blocked staff from entering the provincial legislature.
"Peaceful demonstration is fundamental to our success as a democracy, but to have a group of people say to others, 'You are not legitimate. You are not allowed in here. You are somehow a sell-out to the values of Canadians,' is just plain wrong," he said.
Late on Thursday, the BC Supreme Court issued an injunction giving the authorities the power to arrest anyone impeding the work of the legislature or blocking access to the buildings. People will be picketing BC government offices on Friday to show continued support for the Wet'suwet'en.
Supporters of the Wet'suwet'en nation protest outside the provincial headquarters of the RCMP in Surrey, BC [Jesse Winter/Reuters]
Trudeau addressed the demonstrations this week, saying that while he respected peoples' right to protest peacefully, Canada "is also a country of the rule of law".
"We need to make sure those laws are respected. That is why I am encouraging all parties to dialogue to resolve this as quickly as possible," the prime minister, who had promised to make reconciliation with Indigenous peoples a top priority, told reporters.
Meanwhile, federal Indigenous Services Minister Marc Miller on Thursday offered to meet some of the protest leaders if they promised to discontinue their railway blockades.
But Knight said she and others were undeterred as their demands had not been met. "In the same spirit of the [Wet'suwet'en] hereditary chiefs not standing down, not being bullied by the RCMP … we will do the same in the streets here in Vancouver. We are not standing down."
SOURCE: Al Jazeera News
===
Canada: protests go mainstream as support for Wet'suwet'en pipeline fight widens
Protesters have blocked railways and barricaded ports in wave of dissent – and the pressure on Justin Trudeau has increased
By Amber Bracken at Unist'ot'en Camp and Leyland Cecco in Toronto - 14.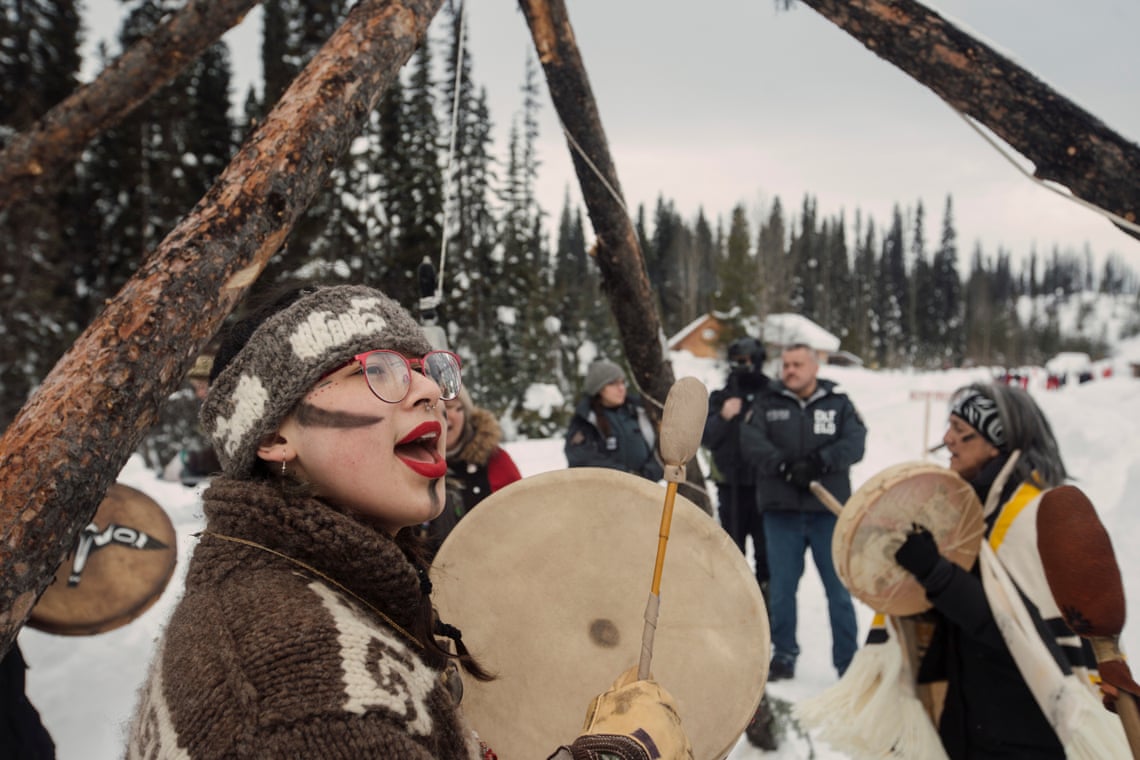 People stand in ceremony as police arrive to enforce Coastal GasLink's injunction at Unist'ot'en Healing Centre near Houston, British Columbia, on Monday. Photograph: Amber Bracken
As armed Canadian police officers advanced through snow towards their camp, the group of Indigenous women was absorbed in a drumming ceremony to honour the spirits of missing and murdered Indigenous women across the country.
Rows of red dresses hung from a fishing line slung across the road, and from pine and spruce trees in the surrounding forest – each one a memorial to the thousands of Indigenous women killed or disappeared in recent years.
A pair of helicopters buzzed overhead, but on the ground, the women's voices and drums drowned out the officers as they warned them to leave or face arrest.
"We remained in ceremony – even as the tactical officers surrounded us and began pick off individuals," said one of the women, Dr Karla Tait.
Set amid dense evergreen forests near the bank of the Wedzin Kwah, or Morice River, the remote cabins at Unist'ot'en camp have become a place of healing for Indigenous youth, who take lessons on trapping and traditional medicines.
But the camp in north-western British Columbia is also the last line of defence in the Wet'suwet'en nation's fight against a controversial natural gas pipeline.
The long-simmering conflict came to a head this week, as Canada's national police force deployed helicopters, armed officers and dogs to enforce a court injunction and clear Indigenous activists who had been blocking work crews from the route of the C$6.6bn (US$5bn) Coastal GasLink project.
Twenty-eight people were arrested by the Royal Canadian Mounted Police, including three Wet'suwet'en matriarchs – Tait, Freda Huson and Brenda Michell.
"I felt overwhelmed with sadness, and pain over the fact that we were being removed from our territory," said Tait, remembering the moment she was escorted past the fluttering red dresses towards a police vehicle. She made sure to touch each dress as she left.
But she and the other "land defenders" remain defiant. Wet'suwet'en hereditary chiefs, who oversee 22,000 sq km of territory, have stubbornly opposed the project and remain locked in a battle with the courts, the pipeline company – and the government of Justin Trudeau.
And in recent days, their fight has been taken up by other groups across the country.
For more than a week, members of the Tyendinaga Mohawk have blocked freight and commuter rail traffic in Ontario, in support of the Wet'suwet'en. Elsewhere, protestors have blocked roads, barricaded access to shipping ports and occupied the offices of elected officials in a wave of dissent.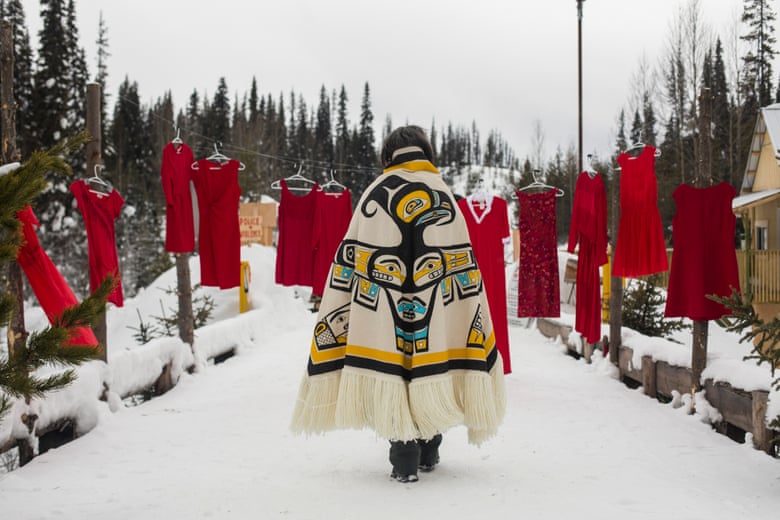 Freda Huson wears her blanket, a nighthawk, as she waits for police to enforce Coastal GasLink's injunction at Unist'ot'en Healing Centre near Houston. Photograph: Amber Bracken
Late on Thursday, Canadian National Railway, the country's largest freight operator, said it was shutting down its operations in the east of the country due to the continuing blockade, and warned of temporary layoffs. Soon after, Via Rail, which operates much of Canada's passenger rail service, said its entire service would be suspended until further notice.
Climate action groups have also taken up the cause of the Wet'suwet'en, seeing their fight as part of a broader one against resource extraction projects in the country.
The demonstrations have piled pressure on Canada's prime minister, who has vaunted his commitment to diversity and tackling the deep-rooted inequities facing Indigenous peoples.
"Trudeau has gone to the United Nations to shed tears about the history of Canada's relationship with indigenous people," said Tait. "And on the other hand, he's essentially authorizing the use of force against our unarmed people for upholding our rights."
This week, Trudeau has expressed his support for peaceful protest – but also criticised the rail blockades.
Amid pleas from business leaders for a swift end to the crisis, other politicians have been even more outspoken in their condemnation.
In Alberta – a province whose economy relies on oil and gas – the conservative premier, Jason Kenney, has warned that the current unrest is a "dress rehearsal" for future opposition to fossil-fuel based projects.
"This is not about Indigenous people. It's not about carbon emissions. It's about a hard-left ideology that is, frankly, opposed to the entire modern industrial economy," said Kenney. "It's about time that our police services demonstrated that this is a country that respects the rule of law."
And after protesters barricaded the entrance to British Columbia's legislative assembly, the province's premier, John Horgan, called the demonstrations a "shift from traditional protest – to something quite different".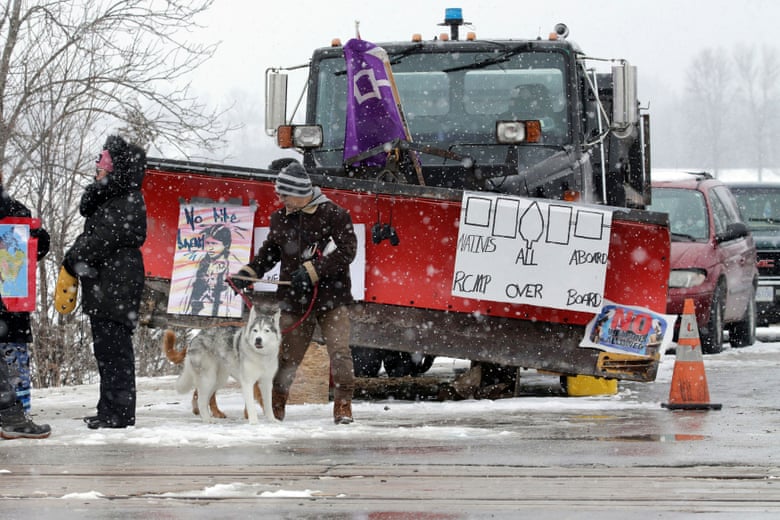 A man walks dogs across train tracks as members of the Tyendinaga Mohawk territory block the route servicing Via Rail, as part of a protest against British Columbia's Coastal GasLink pipeline, in Tyendinaga, Ontario, on Thursday. Photograph: Chris Helgren/Reuters
Molly Wickham, a spokesperson for the Wet'suwet'en who also has the hereditary name Sleydo', agreed. "Indigenous people see what's happening to us and see what's happening to our territory and our pristine waters – and to our people on the ground, having semiautomatic weapons aimed at us," she said. "People are responding to that in appropriate ways."
More than just a row over a pipeline, the Wet'suwet'en protests also reflect Canada's often fraught relationship with First Nations.
"Ever since colonization, the aim has been to dispossess our people from our lands. To impoverish us. To assimilate us. To eliminate us," said Tait. "We know that our self-determination, our sovereignty, our very identity, is based on us having control over our lands."
In November, British Columbia became the first province in Canada to pass legislation promising to uphold the United Nations declaration on the rights of Indigenous peoples. But such promises seem empty in the wake of recent police actions, said Wickham.
"There were tactical teams walking around with semi-automatic weapons in my territory. Industry was allowed to come and go freely. White settlers were allowed to come and go freely," she said. "But if you were a Wet'suwet'en person, you are not permitted on your own territory.
Controversy around the Coastal GasLink project has been compounded by questions over who has the right to speak for the Wet'suwet'en.
Coastal GasLink has signed benefit agreements with the 20 elected First Nations councils along the route, including five of the six elected band councils in the Wet'suwet'en nation. But Wet'suwet'en chiefs say the authority of these groups only applies to reservations – not traditional territory where the pipeline is proposed.
Unlike in much of Canada – where relationships between First Nations and the state are governed by treaties – few aboriginal nations in British Columbia ever signed deals with colonial authorities, meaning the federal government still operates in a vacuum of authority on their lands.
In 1997, the Wet'suwet'en and Gitxsan nations won a landmark case in which the supreme court ruled that their aboriginal title had not been extinguished when Canada became a country. But the case did not establish the boundaries of that title and the court suggested subsequent cases would be needed to settle the issue.
"Aboriginal title claims of the Wet'suwet'en people have yet to be resolved either by negotiation or litigation," wrote the justice Marguerite Church in her decision to grant Coastal GasLink the injunction. "While Wet'suwet'en customary laws clearly exist on their own independent footing, they are not recognized as being an effectual part of Canadian law."
Legal experts believe the Wet'suwet'en would probably have a strong case to establish title to the land in the courts, enabling them to better fight the project. But such cases can take decades to adjudicate and cost millions of dollars, a prospect Tait called "insufficient" given the pipeline's imminent construction.
For those on the front lines of the fight, the nationwide support is a vindication that the long-simmering frustrations over land claims and a fraught Indigenous relationship with the state are facing a long-overdue reckoning.
"This is far from over," said Wickham. "We've had day after day of invasion and we're still here. We're still not giving up."
===
The Wet'suwet'en are more united than pipeline backers want you to think
Amber Bracken: The difference between Wet'suwet'en hereditary chiefs and elected chiefs is rooted in Aboriginal title, an issue that the Government of Canada continues to leave unresolved
By Amber Bracken - 14. February 2020
Ahead of the impending RCMP enforcement of Coastal GasLink (CGL) pipeline's temporary injunction in late 2018, the Wet'suwet'en held an important feast, to decide what to do next.
The bahlat, or potlatch in English, is the seat of their ancient government. That it exists today is a credit to the Wet'suwet'en resisters who were jailed for protecting it during the potlatch ban that lasted from 1884 to 1951, even as their regalia was burned in front of them.
Bahlats are open to everyone from the nation. The proceedings that day took hours of protocol and discussion before the hereditary chiefs announced the decision, on behalf of the five clans—they would not leave quietly, they said. They would block pipeline workers.
Decisions made like this have underpinned the Wet'suwet'en's hereditary chiefs decade-long stand against all pipelines—in their remaining culturally viable land. It's only a portion of their total unceded territory equalling roughly the size of New Jersey.
Conversely, of the five Wet'suwet'en elected band chiefs, only the Hagwilget Village Council declined to sign benefits agreements with the LNG pipeline, citing that it was not their place to make decisions about the territory.
The opposing positions of the two sets of chiefs has been represented by B.C. Premier John Horgan and in the media, as a fight within the nation between the equal actors of hereditary chiefs, who defend the land, and the band chiefs, who seek escape from poverty. Premier Horgan told the CBC he doesn't think "a handful of people can stop progress and success for people who have been waiting for a break like this for many, many years."
But this simplification obscures the fact that both sets of chiefs are on the side of their people, working against a colonial system that seeks economic certainty and the surrender of Indigenous land.
The Wet'suwet'en are not a nation divided, they are a nation with differing opinions on the best route to a better future after history of oppression. The band councils have sought opportunity, and funding, where they can find it. But based on Wet'suwet'en and Canadian law, it's ultimately the hereditary chiefs who have jurisdiction to the territory, and they have been clear about their aim—to assert self-governance over their land and demand a nation-to-nation relationship with Canada. It's a move that would benefit all Wet'suwet'en.
Each set of leaders has unique jurisdiction, in the same way that municipal and provincial governments do. The band chiefs, who were imposed by the Indian Act, govern their reserves, while hereditary chiefs predate Canada, and govern the entire Wet'suwet'en territory. It's worth noting that they are not anti-industry and have long held logging agreements.
Divide and conquer is a classic strategy that's been used effectively to rule Indigenous lands throughout Canadian history. In the 1870s, Cree people were intentionally scattered across multiple reserves to prevent them from organizing. In the contemporary politic, just the appearance of fracture can undermine public support for grassroots movements.
By lumping Indigenous people together and by funding pro-pipeline factions within the Wet'suwet'en nation, B.C.'s government and gas industry have caused confusion about who has say. Well-meaning Canadians don't want to infringe on Indigenous rights. But when the determination of whether pipeline work should continue has been represented as a democratic exercise, "majority rules" becomes an easy conclusion.
A key point that project proponents emphasize, is that 20 elected band councils signed benefits agreements, a phrasing that relies on Canadians' social conditioning—one that assumes democratic systems are fundamentally more fair.
While talking about benefits agreements, duress is inherent in the process—First Nations can't actually say no to any project in Canada. In addition, most councils are cash-strapped, and some reported that they were told the project would go ahead with or without their consent—they might as well get on board for a payout. Leaked examples of Coastal GasLink agreements show evidence of large provincial subsidies to get First Nations on board, attempts to muzzle pipeline dissent, and to limit Aboriginal rights.
While there are communities who are excited for LNG development, like the Haisla of Kitamaat Village, there is no pan-Indigenous monolith; each independent nation has rights that need to be respected. It's messy and difficult, but important.
This is not an equation where Haisla rights, plus band chiefs, minus an implementation strategy for the United Nations Declaration on the Rights of Indigenous Peoples, justifies the trampling of the Wet'suwet'en hereditary chiefs. Their voice is the one that counts for the 190 kms of pipeline proposed for their territory.
Their position has been supported by their system of bahlat as well as a survey that was reported to me by Chief Knedebeas (Warner William), as well as Chief Howihkat (Freda Huson), who was on the council of Witset (the largest Wet'suwet'en community) while the survey was being completed. It was conducted by CopperMoon Communications, a company that doesn't seem to exist anymore. The surveyed stated that 83 per cent of Witset members (its population is 2,000 among the greater Wet'suwet'en population of 5,000) were against the pipeline.
The Wet'suwet'en Matrilineal Coalition (WMC) was formed in 2015 by Gloria George, Darlene Glaim and Theresa Tait-Day, with $60,000 each in funding from LNG Canada, Coastal Gaslink, and the Provincial Ministry of Reconciliation and Relations. WMC was formed expressly to sign a benefits agreement on behalf of the clans, after the hereditary chiefs would not, according to Glaim's resignation letter two years later. At the time, Glaim held a hereditary title but notes in the letter that she would consider renewed involvement, if her clan wanted her to, saying that "clan organization with the current resources has not worked thus far."
The coalition never brokered an agreement, but have petitioned for the project and bolstered the public image of collaboration between Wet'suwet'en and the Coastal GasLink pipeline.
Public support matters, because it creates social license in the current climate of reconciliation, where Indigenous rights are often discussed. Premier Horgan recently said reconciliation discussions with the hereditary chiefs are ongoing, but Wet'suwet'en opposed to the pipeline say reconciliation is dead. This national outcry follows the arrests of 28 people from Wet'suwet'en camps.
Chief Howihkat was dressed in her regalia, conducting ceremony with six family and supporters when RCMP came to remove them from her home, just like when police came for her ancestors.
The reverberations of public opinion have been felt across the country. The hashtags #reconciliationisdead, #shutdowncanada and #wetsuwetenstrong have been trending on social media, while the Gitxsan, Mohawk, other Indigenous and non-Indigenous protestors occupy bridges, ports, railways, offices, radio stations, and the B.C. Legislature in support of the Wet'suwet'en. More than 50 protestors have been arrested so far, and business leaders are alarmed about their inability to move commodities by rail or sea—along with the potential harm to the Canadian economy.
In response, Coastal GasLink announced that work would resume in the area this week, also highlighting the benefits and the "return to work of many members of the Wet'suwet'en community," who the CBC reported numbered approximately two dozen. CGL's official Twitter feed has been posting pro-pipeline Wet'suwet'en voices, including a hereditary chief, and an employee who's been used extensively in their marketing, to drive the point home.
Jody Wilson-Raybould recently wrote in the Globe that "reconciliation requires transitioning from the colonial system of government imposed on First Nations through the Indian Act, to systems of Indigenous governance," and that it's up to each nation to clarify the roles of the two systems.
The Wet'suwet'en people have already put forward their hereditary chiefs to speak for the territory, during the 1997 case Delgamuukw v The Queen. They were also recognized by the Supreme Court of Canada as the representative of the collective land rights holders in that decision, the first comprehensive account of Aboriginal title in the country.
But after over a decade and millions spent in court, even though their law is older than Canadian law, that case fell short of establishing the boundaries of where their title applies. So it's business as usual with government, RCMP and gas industry until they go back to court.
If Aboriginal title is established, the Wet'suwet'en nation will gain a critical new power. Developments in their territory will require their consent rather than the murkily defined consultation that's required now. Band councils work hard to make the most of limited resources, and the pipeline has been framed as a salvation for an impoverished nation.
In contrast, Aboriginal title would empower the Wet'suwet'en to retain culturally significant territory or to negotiate projects in their territory, as true equals, rather than brokering from desperation created by the Indian Act. The power to say no could change everything.
Author:
Amber Bracken is an award-winning photojournalist based in Edmonton. Much of her reporting focuses on issues affecting Indigenous people. She's spent months, over multiple trips, covering the interpretation of Aboriginal title rights inside Wet'suwet'en territory.