Indigenous Freedom Activist, Kelly Fraser, Inuit singer-songwriter, dies aged 26
Kelly Fraser, from the Inuit people, gained international attention for Inuit-language cover of Rihanna's Diamonds and advocacy for indigenous culture
By VF/fPcN/Agencies -
Kelly Amaujaq Fraser, a Canadian Indigenous rights activist and famous singer, who gained international attention for an Inuit-language cover of Rihanna's Diamonds, part of her advocacy efforts for her indigenous culture, died on Christmas Eve in her current home city of Winnipeg, Manitoba-Canada. She was 26.
Fraser grew up in Sanikiluaq, Nunavut, Canada, and was living in Winnipeg, Manitoba.
Thor Simonsen, Fraser's friend and producer, said he was told the day after Christmas by the singer-songwriter's family that she had died. The family declined to release details, including the cause of death, Simonsen said.
"[Fraser] was extremely passionate about trying to improve conditions for Inuit people," Simonsen said.
"Kelly was a ball of energy and passion," Simonsen told the media. "She loved her people more than anything else and her entire being was centred around trying to improve living conditions for Inuit and First Nations. She was such a giving person."
When Fraser wrote or translated songs into Inuktitut, an Inuit language, a key aim was to "use pop music as a platform to strengthen her language", Simonsen said. She also wanted to make the music as accessible to as many people as possible, he said, so she mixed English and Inuktitut in her recordings and blended traditional Inuit sounds and themes with contemporary pop.
She released Isuma, her debut album, in 2014.
ISUMA - Kelly Fraser - June 6, 2014
This song was written by Kelly Fraser and George Arragutainaq Kelly Fraser translated it into Inuktitut. The video was made with the help of grade 9 students, theyre awesome, filming done by Sharon Meeko, drummer Charlie Kudluarok and produced by Chris Coleman. Guitar by Andrew Morrison, piano by Paul White and the percussions done also by Juan Manzo.
Her sophomore album, Sedna, came out in 2017 and was nominated for best indigenous music album of the year at Canada's prestigious Juno music awards. She received the Indspire Award in 2019 for "using modern pop music to strengthen Inuit culture and language and to promote the Inuit way of life to young people across Canada."
- see lyrics of SEDNA down below.
A video of her version of Diamonds was widely viewed online.
Fraser was "extremely passionate about trying to improve conditions for Inuit people" and wanted to help young people understand the history that contributed to their difficulties, Simonsen said.
She said that she wanted to increase cultural pride among youth in her community - and that is what she did.
On 06. May 2016 Kelly Fraser released the most inspiring song for the Nunavut Land Referendum: Fight for your Rights.
In a 2017 statement that accompanied the release of Sedna, Fraser said the album's goal was to heal those suffering from the results of colonisation, including the "damaging effects of residential school and forced relocation".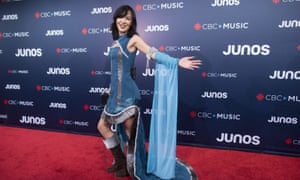 "There is a great need for Inuit artists to directly speak to those affected from the past," Kelly Fraser stated at the time.
She was working on a third album, Decolonize, at the time of her death, Simonsen said.
"She had such a love of Inuit drum dancing, throat singing, and traditional songs … She wanted to express the stories and share the struggles that Inuit go through, making it palatable for an international audience."
Kelly Fraser on the red carpet at an awards ceremony. Photograph: Darryl Dyck/AP
Since bursting onto the scene with her Inuktitut versions of Top 40 pop songs, Nunavut's Kelly Fraser has helped put Canada's Northern music scene on the map.
Havana In Inuktitut by Kelly Fraser
- see lyrics of Havana in Intuit down below.
She has since become a vocal advocate for Inuit rights and recently dropped her second album. In the latest episode of DD Xposed, Kelly talks about embracing her culture and shares the story behind her new song, 'Nallinimi.'
Xposed: Kelly Fraser
Xposed - 07. June 2017
Kelly Fraser often had to face a barrage of slur from non-native adversaries for bringing Inuit culture to the fore and to the world, for criticizing the Trudeau settler-government of Canada and standing up for Inuit rights so successfully.
In a statement on Twitter, family members stated that they don't want to talk about "what happened to Kelly," and they asked people to respect their privacy, reported The Globe and Mail.
Fraser's friends said that supporters can donate via GoFundMe page to help her family cover funeral costs.
Kelly Fraser, the Inuk (formerly known as eskimo) pop singer asked to help create and market her upcoming album Decolonize. Her plans were to vigorously writing and recording the album from January to May 2020 as well as releasing singles throughout the process in Toronto, Ontario in Canada.
She said in November 2020 during her fundraiser: "The reason that I need to make this album is to showcase my talents, to further strengthen my Inuit culture and language and to educate others about the trials and tribulations that happened on this land.
I care about making music to uplift my people and everyone around the world. I have been told my music has touched people and saved people and I want to keep that going. The songs from "Decolonize" will touch on; the history of colonialism among me and my fellow Inuit people, forced relocations, slaughtering of sled dogs, the relationship Canada has with Indigenous people and will try to curate and promote healing through music and gatherings. By us all coming together to fund this project as Indigenous and non-Indigenous people we are doing our part for reconciliation in Canada.
Decolonize will incorporate traditional Inuit music like throat singing and traditional Inuit drumming mixed with state of the art modern recording techniques and genres such as rock and electronic music to ensure they're successful on the market."
DECOLONIZE was set to be produced by Isaac Wapachee Features Silla and Rise, PIQSIQ and Metis/Cree and Gitxan artists Mob Bounce and Blackfoot and Jamaican artists Mamarudegyal MTHC.
Still just before Christmas she was full of live and celebrated internationally during Indie Week that did a great thing by creating a special showcase for Indigenous artists. This really was a special night.
"Kelly - we will greatly miss you" - fPcN-interCultural
- and to all Indigenous warriors at difficult crossroads we call out: Reach out and contact us via
or for sensitive e-mails create a www.protonmail.com account and send to
SEDNA
Kelly Fraser
Lyrics and translation:
Sedna ᓄᓕᐊᔫᒃ Nuliajuk
I am Nuliajuk, I am here ᓄᓕᐊᔫᕗᖓ, ᑕᒫᓂᐳᖓ Nuliajuuvunga,
tamaanipunga I want you to come down to the sea ᖃᐃᖁᔨᕙᒋᑦ ᑕᓴᒪᓂ ᑕᕆᐅᒥ Qaiqujivagit tasamani tariumi
I want to dance, I want to see ᑕᓂᓯᕈᒪᕗᖓ, ᑕᑯᕈᒪᕗᖓ Taanisirumavunga, takurumavunga
I want to run on new land ᐊᖅᐸᓪᓗᖓ ᓄᑖᒥ ᓄᓇᒥᑦ Aqpallungaa nutaami nunamit
I am still alive ᐃᓅᖏᓈᐳᖓ Inuunginappunga
Sujunirqsauqsunga ᓱᔫᓂᕐᓴᐅᓱᖓ
I will not stop ᓄᕐᕐᑲᓂᐊᔭᖏᓚᖓ Nuqqaniajangilanga
Something you find delicious ᒪᒪᕆᔭᓂᐅᕕᑦ Mamarianiuvi
Something you want, I have it ᐱᔪᒪᔭᓂᐅᕕᑦ, ᐱᑕᖃᐳᖓ Piumajaniuvi, pitaqapunga
If you just go down ᑕᓴᒧᖓᑐᐃᓇᓗᑎ Tasamunagtuinaluti
I spent my whole life in the ocean, safe in the sea ᐃᓅᓯᓕᒫ ᓯᔾᔭᒥᐅᕈᕗᖓ Inuusilimaa sijjamaurivunga
Now I wanna show the whole world my devotion to you and me ᑕᑰᑏᕈᒪᕗᖓ ᓄᓇᕐᔪᐊᓕᒫᒥ ᐱᑦᔪᑎᕆᖃᕋᒪ ᐃᓪᓕᓄᑦ ᐅᕙᓄᓘ Takuutiirumavunga nunarjualimaami pitjatiriqarama illinut avunuluu
Come with me ᖃᐃᓚᐅᕇᑦ Qailauriit
I got what you want, I got what you need ᐱᑕᖃᖅᐳᖓ ᕈᒪᔭᓂᐅᕕᑦ ᐱᒋᐊᖃᑕᓂᐅᕕᑦ Pitaqapunga rumajaniuvut pigiaqataniuvit
All you gotta do is pray for me ᑐᑦᓯᐊᑐᐃᓇᓗᑎᑦ Tutsiatuinalutit
Tell me I'm beautiful ᐅᖃᐅᑎᓚᐅᖓ ᐱᐅᔫᒐᒪ Uqautilaunga piujuugama
Tell me I'm powerful ᐅᖃᐅᑎᓚᐅᖓ ᓴᖏᔫᕋ Uqautilaunga sangijuurama
All you gotta do is say to me ᐅᖃᑐᐃᓇᓗᑎᑦ ᐅᕙᓄᑦ Uqatuinalutit uvanut
That you wanna spend your whole life in the ocean ᐃᓅᓯᓕᒫᑦ ᓯᔭᒥᐅᒍᕈᒪᒐᕕ Inuusilimaat sijamiugurumagavi
Safe in the sea ᐱᐅᔪᒥ ᓯᔭᒥ Piujumi sijami
If you wanna show me your devotion ᑕᑯᑏᕈᒪᕈᕕ ᐱᑦᔪᑎᕆᔭᓂᐅᕕᑦ ᐅᕙᓄᑦ Takutiirumaruvi pitjutirijaniuvit uvanit
Come with me ᖃᐃᓚᐅᕇᑦ Qailauriit
---
Havana In Inuktitut
Kelly Fraser
Translating Havana in Inuktitut original song by Camila Cabello Lyrics
Havana ooh nana
Ummatiga havanamitu ooh nana
East atlantamuutauniqqunga ooh nana
Umatilimaga havanamitu
Sujuakia Taina piusirilaurtanga
Havana ooh nana
pissulaungitu latsuni qanuituapiuvi (uh)
(qaitsuni tamaunga)
uqappu amisui arnait runama (uh)
(kisiani qajangi illini)
Taavungalimapunga sautiritsunga (hey)
(Aujakku unnu Junimiit)
Papa uqattu maloliguu iluani
tatsimakaijuuvani ima
oooh ooh ooh ooh
qaujimanniqqunga takuruutsuru
(qimaapilaurtara)
tatsmiukaijuima oohh oohoohooh
ooh, uqautiigiaqanialirrakku`
anigiaqarama oh nanananana havana ooh nana (ay ay)
Havana ooh nana
Ummatiga havanamitu ooh nana
East atlantamuutauniqqunga ooh nana
Umatilimaga havanamitu
Ummatiga havanamitu
havvana oo nana (uh)
Jefferey illisaqvimi pijariotsimaju
Silatusavimunialirtuu
Taavunga
Tasamungalimasuu
Dansilituarumi Uqasuu
Ima Qailauru
Takuniaraku
Qainiaravi
Ima qainiaqquti
Dansiniaranu
Qaitsiniaravi
Sivaniutiniuvi
Takulangavagi unu nanikia uh huh uh huh
Havana ooh nana
Ummatiga havanamitu ooh nana
East atlantamuutauniqqunga ooh nana
Umatilimaga havanamitu
umatiga havanamitu
Havana ooh nanaOoh nanana
Utirtilaunga launga launga aa
Ooh nanana
Utirtilaunga launga launga aa
Ooh nanana
Utirtilaunga launga launga aa
Ooh nanana
Utirtilaunga launga launga aa
Ooh ooh ooh ooh oh ooh ooh oooh
UTIRTILAUNGA!
Havana ooh nana
Ummatiga havanamitu ooh nana
East atlantamuutauniqqunga ooh nana
Umatilimaga havanamitu
Umatiga havanamitu
Havana ohh nana
Utirtilaunga launga launga aa
Ooh nanana
Utirtilaunga launga launga aa
Ooh nanana
Utirtilaunga launga launga aa
Ooh nanana
Utirtilaunga launga launga aa
Havana ooh nana
Kelly Fraser at Rifflandia 2018: Fight for the Rights
Oct 20, 2018 - Kelly Fraser performs 'Fight for the Rights' live in concert on Day 2 of Rifflandia 2018 at Royal Athletic Park in Victoria, BC on Friday, September 14th, 2018. Event presented by Atomique Productions.
For more of Kelly Fraser: https://www.kellyfrasermusic.com/ and https://www.facebook.com/kellyamaujaq...
UPDATE:
By Kandace Keithley – Cherokee Bird Clan Messenger -
We are so deeply saddened at the Christmas time walk into the Spirit World that of one of our young bright stars chose to take.
Kelly Fraser, a gifted young Inuit musician was a rising star in the Indigenous music community. Her star was truly rising, but rather than celebration and support, Kelly received a great deal of hatred based in jealousy not only from the internet troll world – but from those she loved, the ones who should have been her support system.
I had not heard of Kelly or her music until I saw the terrible news stories about her death on December 26, and my first thought was, "oh no – we've lost another baby to this horrific curse of inter-generational trauma."
It was heartbreaking to learn a few days later that Kelly had chosen to leave Earth because of the deep wounds she was continuing to receive through the abuse of bullies.
One of the greatest dangers to people of all ages, but particularly our young ones, is this ability to communicate online with complete strangers – often under the veil of anonymity – and to write horrific things we would never say to that person's face.
To share perverted, disrespectful articles and memes in social media groups.
To completely strip ourselves of our dignity and humanity in the online community – which of course, bleeds into our collective consciousness and demonstrates itself in terrible behaviors and attitudes in real life.
It is the perpetuation of trauma on the most insidious, intellectual and spiritual levels.
It is easy to see how a young woman, (a survivor of cultural genocide and inter-generational trauma and therefore very vulnerable), could be sent into such a place of despair and pain from these kinds of attacks that she would choose to take her beauty and her gifts and leave this planet in hopes that her story might be a lesson for those she has left behind. This is the work of a Spirit Bird.
The Mohawk and people of many other Indigenous Peoples believe that we each write our stories before we come here to Earth and live them out in physical form. We write our first chapter and our last, and include all the characters from our star families who we live with in Spirit for many eternities.
It is these souls that we incarnate with to walk with one another and teach each other lessons – both good and bad. And, because Earth is an upside down place, the ones who love us the most in the Spirit world hurt us the most in this life. They also have the ability to bring us the most joy.
Robbie Robertson tells this story in his song and video, "Stomp Dance."
In the song, "Rebound Girl," Kelly tells the story of her people, the terrible effects on marriage relationships and families, on women's friendships with one another – that loss of community and connection.
This destruction is the result of generations of genocide against the Native People of Turtle Island, and even though we are still fighting many battles against governments and corporations, it is now more important than ever that we get serious about our Medicine Walks and begin – or continue – to do the hard work to heal ourselves.
Because it is only through healing ourselves that we learn how to walk in beauty, and that will help the others around us heal. The very survival of our families and communities depend on this.
The Ancestors and our great Prophets have told us over and over that our healing will only come when we return to the Old Ways, when we remember who we are.
Although our Native relatives across Canada and around the world are suffering, we must never forget that we are essential to the survival of our Mother Earth. For Thunderbird has shown us that it is the Native people, the Indigenous people, the Original People of this little Blue Rock who are closest to the Ancestors, our Sky Relatives, and Creator.We are the ones who know the medicine and secrets of our Mother and all her bird, animal, insect, swimmer, crawler, plant, rock . . .creatures.
The Ancestors, our great Prophets, our Visionaries and Medicine Men and Women have told us over and over that our healing will only come when we return to the Old Ways, when we remember who we are.Without the wisdom of our Elders and Prophets and Medicine People, the earth will surely perish.
This is why the great evil is trying to exterminate us and has offered great rewards for the murder of our Chiefs and their families, our Medicine men and women, and all the ones who hold the wisdom of this land.
But, the time of the 8th Fire has come, and it is now time for us all to rise up and support one another – but most importantly to stand with our Native relatives in whatever way they need.
We have seen the disasters of "do-gooders," churches, governments and social justice warriors who come to "help" our people but end up leaving messes of the land and of our systems.
The time has come for each of us to shed that "victim" mentality that makes it so easy for us to strike out in jealousy and anger, to spew hatred against our partners and complete strangers in cyberspace.
The time has come for us to walk the walk.
The time has come for us to find ways to bring money to our reserves and communities through our work and initiative, through using our money to support our brothers and sisters small businesses, through teaching the Old Ways to the young ones. To make our communities and our land abundant, healing, and productive.
The Mohawk teaching about how we write our stories before we come here also shows us that, once we are aligned with our true selves, we will remember our mission – our purpose for coming here in the first place.
Kelly Fraser, like so many other Spirit Birds of our people, came here to show us what could be possible for each of us. And the consequences of our hateful actions.
This is a powerful legacy. Powerful medicine.
May the Spirit of this fine young woman fly free and true. All honour and respect to Kelly's family and loved ones. We encourage you to make a contribution to the family to help with expenses during this sad time. Please go here.
It is my honour to be your messenger.
A'ho
It is my honour to receive and share these teachings from my guides and the Ancestors. These are messages received and written to the best of my understanding. If I have made mistakes, I would be grateful for your input. If these messages don't resonate with you, that's okay. I wish you well. And if these messages do resonate with you – welcome to the family.
— kandace keithley, namadaki aandeg miimiiwe gekek kwe (woman who sits with crows & dances with hawks) ~ Tsa-La-Gi
More information about the 7th Fire and 8th Prophecies are here.
Whether you have input and comments for Bird Clan Messenger or are interested in learning how you can share your gifts and talents with the New Earth through
Mockingbird Media, please Contact us here.
If you or someone you know is in crisis and needs help, resources are available. In case of an emergency, please call 911 for immediate help.Y
ou can also call the Nunavut Kamatsiaqtut Helpline toll-free at 1-867-979-3333.
The Canadian Association for Suicide Prevention, Depression Hurts and Kids Help Phone 1-800-668-6868 all offer ways of getting help if you, or someone you know, may be suffering.
Xavier Rudd - Spirit Bird
Joseph White Eagle is a Cree spiritual leader and teacher of traditional Native wisdom medicine who grew up in Saskatchewan and now lives in British Colombia with his wife and family.
More information about the 7th Fire and 8th Prophecies are here.