UPDATE 31. August 2020: Devastating Lawsuit Targets Bank of America, Credit Suisse, and Bayer Board Members and Executives Over Disastrous Monsanto Acquisition
UPDATE 06. March 2020: Shareholder Files Suit Against Bayer AG Over 'Disastrous' Monsanto Acquisition - Ultimately responsible is Bayer AG CEO Werner Baumann - see underneath.
Monsanto pays out $10mn as it admits spraying BANNED toxic pesticide on Hawaii crops
By RT - 22. November 2019
Embattled biotech company Monsanto will pay a hefty fine for stockpiling over 72kg of highly dangerous pesticide and spraying it on "research crops," even after it was banned by the US government.
Monsanto acknowledged that it used methyl parathion, the active ingredient in Penncap-M, on corn seed and other crops on the Hawaii island of Maui back in 2014, knowing that it was prohibited by the Environmental Protection Agency (EPA) the previous year.
The US Justice Department, which investigated the case, said that over 72kg (160lbs) of the chemical – fatal if inhaled and hazardous if swallowed – was illegally stored at a company facility, endangering "the environment, surrounding communities and Monsanto workers."
The controversial company told their employees to go back into the sprayed fields seven days after the toxic Pennicap-M was used, whereas the area should have been closed off for 31 days.
Now, the biotech giant has agreed to pay $10 million, which includes a $6 million criminal fine and $4 million in community service payments. The payoff is part of a deal by which federal prosecutors will dismiss felony charges against Monsanto in two years if it abides by the law.
The news comes as Monsanto faces a flurry of lawsuits over the potential hazards of its products. Just yesterday, Canadian lawyers launched a $500 million lawsuit against Monsanto and its owner, Bayer of Germany. It says Canadian plaintiffs affected by weed killer Roundup have been diagnosed with different forms of cancer, including brain and lung cancer.
Last month, a suit pitched up by Maui residents blamed birth defects on chemicals from Monsanto corn fields. The plaintiffs believe that multiple toxins were heavily sprayed to test the seeds on Monsanto fields near their homes, local media reported.
===
Ultimatly responsible is the CEO of German chemicals giant BAYER AG, Werner Baumann
Canada launches major class-action lawsuit against Monsanto's Roundup & owner BAYER
By RT - 21 Nov, 2019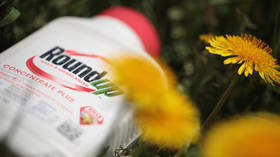 A Canadian law firm has filed a $500 million class-action lawsuit against Monsanto and its owner Bayer. It says they've been acting with reckless disregard for the safety of Canadians by selling weed killer Roundup.
According to the firm Diamond & Diamond, there are currently more than 60 individuals named as plaintiffs, but it says that thousands may have been affected.
The plaintiffs involved in this class-action lawsuit are looking not only for financial compensation, but also for "behavior modification" so that the same thing doesn't happen again in the future with other products in Canada.
"If there's not these lawsuits that force companies like Monsanto to write these big cheques, they have no incentive to change the way they do business," Darryl Singer, the head of commercial and civil litigation at Diamond & Diamond, told CBC News.
He explained the plaintiffs have been diagnosed with different forms of cancer, including brain and lung cancer. Some of the clients are acting on behalf of an estate.
"These are not minor injuries," Singer said, adding that some of the plaintiffs "are not likely to see the end of this lawsuit because they will pass away before that."
Bayer Canada said it will "vigorously defend" its products. "While we have great sympathy for the plaintiffs, glyphosate-based herbicides are not the cause of their illnesses," the company said in a statement.
"Glyphosate has been extensively studied globally by scientists and regulators, and results from this research confirm it is not carcinogenic. We firmly stand behind the safety of glyphosate-based products and as a company devoted to life sciences, assure Canadians that their health and the environment are our top priority."
The lawsuit is the first class action in Canada and follows class-action lawsuits filed against Bayer and Monsanto in the United States. Lawsuits against Roundup manufacturers have been also filed this year in British Columbia, Quebec, Saskatchewan and Manitoba.
Monsanto pleads guilty to illegal pesticide use in Hawaii
By Audrey McAvoy - AP - 21.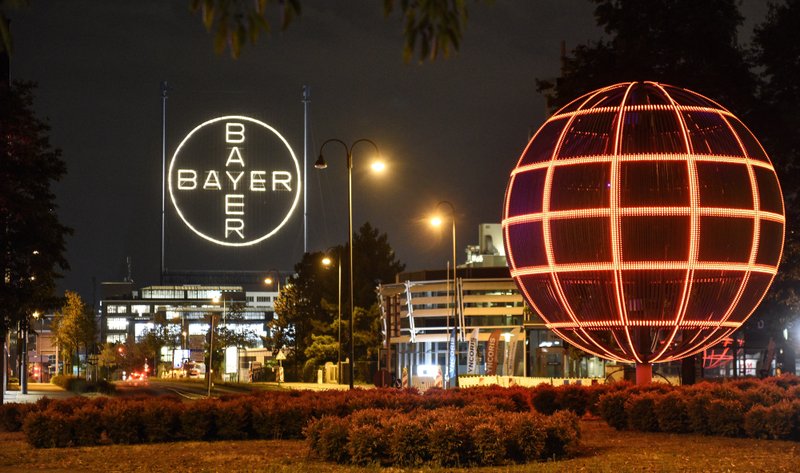 This Aug. 9, 2019 file photo shows the Bayer logo at the main chemical plant of German BAYER AG in Leverkusen, Germany. BAYER subsidiary Monsanto has pleaded guilty to spraying a banned pesticide on research crops on the Hawaii island of Maui in 2014, prosecutors said. Photo: Martin Meissner, AP
HONOLULU (AP) — Agrochemicals company Monsanto on Thursday pleaded guilty to spraying a banned pesticide on research crops on the Hawaii island of Maui in 2014, prosecutors said.
Monsanto, now owned by the pharmaceutical company Bayer of Germany, has also agreed to pay $10 million for charges it unlawfully stored the pesticide, which was classified an acute hazardous waste. The money includes a $6 million criminal fine and $4 million in community service payments.
Prosecutors have agreed not to prosecute Monsanto if it abides by the agreement, which requires the company comply with U.S. environmental laws.
U.S. attorneys in Los Angeles handled the case after their counterparts in Honolulu were recused.
Bayer said in a statement that it didn't live up to its own standards or applicable laws.
"As stewards of the land, it is our responsibility to use agriculture products safely and to manage our waste correctly. We take this very seriously and accept full responsibility for our actions," said Darren Wallis, Bayer's vice president of communications in North America.
The banned pesticide was methyl parathion, the active ingredient in Penncap-M, which the company used on corn seed and research crops in Kihei.
Monsanto admitted it sprayed Penncap-M even though the company knew the U.S. Environmental Protection Agency prohibited its use after 2013.
The company also admitted it told employees to re-enter the fields seven days after the spraying, even though Monsanto knew that workers should have been prohibited from entering the area for 31 days.
===
UPDATES:
Devastating Lawsuit Targets Bank of America, Credit Suisse, and Bayer Board Members and Executives Over Disastrous Monsanto Acquisition
By Yves Smith - 31. August 2020
A series of blockbuster cases against some of the very biggest names in European business haven't gotten the attention they warrant, in part due to Covid-19 throwing a lot of sand into the judicial machinery. Deutsche Bank, UBS, Credit Suisse and Volkswagen are part of this legal march to the sea. But we'll focus on the case filed first, Haussmann v. Baumann, a derivative lawsuit over Bayer's disastrous acquisition of Monsanto. The original filing was in early March; we've attached the new amended complaint below. We'll use it to discuss the legal approach all these suits take. We'll then turn to the lurid facts of the Bayer-Monsanto deal, which even to connoisseurs of corporate governance train wrecks, is quite the spectacle.
Each suit targets an epic level of value destruction, but they are not shareholder suits. They are derivative lawsuits, in which a shareholder steps in to act on behalf of a company that has been done wrong, typically by key members of its management and board. Important advisers may also be targets.
The Novel Legal Angle: Using New York Courts for Derivative Cases Against Major European Companies
The novel feature in these cases is suing in New York state court but using the parent company's governing law, which for Bayer is the German Stock Corporation Act as the basis for asserting causes of action.1 The abstract from a 2015 article by Gerhard Wagner, Officers' and Directors' Liability Under German Law: A Potemkin Village:
The liability regime for officers and directors of German companies combines strict and lenient elements. Officers and directors are liable for simple negligence, they bear the burden of proof for establishing diligent conduct, and they are liable for unlimited damages. These elements are worrisome for the reason that managers are confronted with the full downside risk of the enterprise even though they do not internalize the benefits of the corporate venture. This overly strict regime is balanced by other features of the regime, namely comprehensive insurance and systematic under-enforcement. Even though the authority to enforce claims against the management is divided between three different actors – the supervisory board, the shareholders assembly, and individual shareholders – enforcement has remained the exception. Furthermore, under the current system of Directors' and Officers' (D&O) liability insurance, board members do not feel the bite of liability as they are protected by an insurance cover that is contracted and paid for by the corporation. Thus, the current German system may combine the worst of two worlds, i.e., the threat of personal liability for excessively high amounts of damages in exceptional cases, and the practical irrelevance of the liability regime in run-of-the-mill cases.
Notice here the low bar for misconduct: simple negligence, plus the managers and board members bear the burden of proof that they behaved well! So the linchpin of these cases is getting a non-captured court to measure corporate conduct against these standards.
Also observe another key feature: extremely generous D&O policies. That is serving as one of the deep pockets for this litigation. From the filing:
Large D&O insurance policies customarily include what is called an "insured versus insured" exclusion, intended to exclude from the insurance coverage claims by one insured, i.e., the corporation, against another insured, i.e., a corporate Supervisor or Manager or employee. Thus, were the company, an insured under such a policy, to bring the claims asserted herein, the insurer will deny coverage based on the exclusion. Purchasing this type of insurance where the premiums measure in the millions of dollars and are paid by the company is in itself a breach of the Supervisors and Manager's duties of due care and prudence as policies without those exclusions are available and could have been purchased. The presence of an "insured versus insured" exclusion in the D&O policies means this derivative lawsuit — which does not fall within any such exclusion — is the legal vehicle best available to realize on this corporate asset for the benefit of the corporation, which after all paid 100% of the premiums.
The other deep pockets are the investment banks, Bank of America and Credit Suisse. As the suit explains, they too have duties defined under German law, yet they failed abjectly in acting as independent advisers because they were hopelessly conflicted. In addition to acting as merger advisers, they were also providing financing, since Bayer, to avoid needing to get shareholder approval, did an "all cash" deal. That in turn led to Bayer engaging in over a dozen financings, including pricey bridge loans. That meant the banks had huge incentives to see the deal close, which resulted in them not looking at the Monsanto garbage barge very hard.
The pleading describes how Bank of America, whose investment banking operations were flagging, was particularly desperate to book the income from the Bayer-Monsanto deal. The suit seeks a clawback of what it asserts are hundreds of millions of dollars in fees, plus punitive damages.
The Bayer suit has an additional hurdle that looks feasible to surmount, in that its shareholders' agreement requires shareholder suits be brought in its home town of Leverkusen, Germany, where anyone adverse to Bayer has zero chance of getting a favorable hearing However, the shareholders' agreement enumerates three types of action that must be brought to court in Leverkusen, and the grounds for litigation here fall well outside them.
Bayer's Desperate, Disastrous Monsanto Deal
Even if you have been paying attention to the business press, it is hard to appreciate how appallingly bad the Monsanto deal has been for Bayer, not just in conception but also in execution. Please skim the vividly-written suit; it's not possible in this post to convey fully how ugly the picture is.
It isn't simply that Bayer-Monsanto has replaced AOL-Time Warner in most press reckonings as "the worst deal of all time". Yes, nearly every penny of the $66 billion that Bayer paid for Monsanto has gone poof. Yes, Bayer is the first time in German corporate history that a public company got majority vote of no confidence from its shareholders. Yes, Bayer is at risk of bleeding out over seemingly endless Monsanto-related liability claims (Roundup has so taken the center stage that what would ordinarily be a big-deal litigation drain, Dicamba, is treated as an afterthought). Unlike any other company ever facing similar litigation, Bayer has neither taken Roundup off the market, nor reformulated it, nor put a cancer warning on it. It looks like Bayer will eventually declare bankruptcy.
It is that unlike AOL-Time Warner, initially hailed as a brilliant tie-up but quickly went a cropper when the dot-com mania ended, virtually all major analysts and shareholders hated the idea of the deal from the date it was announced, and the business press was just as critical. Monsanto was already recognized as being dependent on Roundup when more and more consumers and experts were concerned about glyphosate risks.
And most important, the deal went ahead for the worst possible reason: Bayer management wanted to bulk up so as not to be acquired. The real motive was to keep current management in place to preserve their lofty pay and high status.
Monsanto was the only major candidate left standing, for the obvious reasons. Both the chemical and the pharma industries had seen decades of consolidation, and Bayer was a tempting target by having little debt and not having kept up with the agglomeration game. When Pfizer's bid for Allergan fell apart due to an adverse tax ruling,2 long-standing and highly regarded CEO Marijn Dekkers, who had long opposed the idea of Monsanto deal, suddenly retired. The "two Werners," Chairman Werner Wenning and the surprise new CEO, Werner Baumann, both of whom had long pushed to buy Monsanto, were in charge and moved forward rapidly with their plan.
Except they couldn't, save tying an anchor to Bayer in the form of a $2 billion breakup fee. Bayer could do only limited due diligence on Monsanto due to the fact that they were competitors and the acquisition was subject to anti-trust review in the US and Germany. Those assessments usually take months; this one took 24.
In the meantime, Bayer out of obstinancy or ignorance chose to ignore signs that the evidence of glyphosate's cancer risks were becoming solid enough to kick off a tidal wave of suits. Recall that the transaction closed in June 2018. From the filing:
After the WHO concluded in March 2015 that Glyphosate was "probably carcinogenic to humans" (especially to those exposed to spraying) in September 2015, the EPA of California — a huge agricultural state and market for Roundup — issued a Notice of Intent to list Glyphosate as a chemical "known to cause cancer." The California EPA formally classified Glyphosate as "a known carcinogen" in July 2017. Individuals alleging personal injury due to Roundup exposure now had a greatly enhanced ability to sue, as such findings provided support for the causation element necessary for the Roundup cancer suits to succeed.
Do not forget that the surfacatnts in Roundup increased its cancer risk. Oh, and as part of the anti-trust review, Bayer had to sell its non-glyphosate herbicide, Liberty, making it dependent on Roundup.
The litigation has gone as badly for Bayer as it possibly could have. Rather than try to settle cases, Monsanto allowed them to go to trial and Bayer did not attempt a last-ditch volte-face. The first case delivered an enormous verdict, a $289 million judgment, with $250 million of that punitive damages. Bayer fared just as badly in appellate court:
To make matters worse — if that was possible, in July 2020 Bayer then lost its appeal in the key first case of the Roundup litigation war — a devastating decision that rejected all the legal/scientific arguments Bayer's executives promised would defeat and stop the suits. The opinion upheld the factual findings and a punitive damages award based on Monsanto's conduct vis a- vis Roundup, i.e., "malice and oppression." On July 20, 2020 Law 360 reported:

Monsanto Loses Cancer Liability Fight in 1st Roundup Appeal:

A California appellate court on Monday affirmed a jury's finding that Monsanto Co. is liable for a former school groundskeeper's cancer in the first case to go to trial over Roundup's alleged links to cancer…

A unanimous three-judge Court of Appeal panel rejected arguments by Bayer … that plaintiff DeWayne "Lee" Johnson failed to prove liability and causation, and that Johnson's failure-to-warn claims are preempted by federal law. … Monsanto challenged the trial court's findings on a number of legal fronts…

"None of these arguments are persuasive," the opinion said.
As the filing explains in much more detail, Bayer's efforts to reach a global settlement have simply resulted in the company paying $13 billion but not stopping all of the current cases, let alone future ones. Remember, Bayer is continuing to sell the same dangerous Roundup, with no change in formulation and no cancer warning. That's a prescription for yet more suits, particularly when facts like this are already part of the record:
The trials also made public internal documents in which Monsanto admitted Glyphosate is "geno-toxic" (i.e., causes cancer) and that Monsanto had provided strict warnings to their own employees to wear chemical goggles, boots and other safety protection when exposed to Roundup, and an internal study in which its scientists recommended people wear gloves and boots when using the company's lawn and garden concentrate.
Finally, you might ask, who is behind this campaign? The lead attorney is Clifford Roberts of Roberts & Roberts, a boutique New York firm specializing in complex corporate litigation. Famed criminal defense lawyer Benjamin Branfman is also part of the team, which seems an odd choice. Michelle Lerach's firm Bottinni & Bottinni rounds out the roster. The similarity of the writing style of this filing to the Kentucky Retirement System case Mayberry v. KKR (more informal, more narrative, and much more factual backup than the norm) says the Lerachs are providing a lot of the muscle.
So pass the popcorn. If this case gets past the jousting over using New York courts to get at German companies, it will expose even more ugly, self-serving behavior.
_____
1 A May 2020 motion and order in a derivative suit filed in New York court, In Re Renren Inc., is a very helpful precedent for this litigation strategy, see below.
2 In 2002, there were rumors that Pfizer was considering a bid for Bayer.
===
Shareholder Files Suit Against Bayer Over 'Disastrous' Monsanto Acquisition
The CEO of German chemicals giant Bayer, Werner Baumann, speaks during the company's annual news conference in Leverkusen, western Germany, on Feb. 27. INA FASSBENDER / AFP / Getty Images
By Carey Gillam - 06. March 2020
A California shareholder of Bayer AG on Friday filed a lawsuit against the companies' top executives claiming they breached their duty of "prudence" and "loyalty" to the company and investors by buying Monsanto Co. in 2018, an acquisition the suit claims has "inflicted billions of dollars of damages" on the company.
Plaintiff Rebecca R. Haussmann, trustee of the Konstantin S. Haussmann Trust, is the sole named plaintiff in the suit, which was filed in New York County Supreme Court. The named defendants include Bayer CEO Werner Baumann, who orchestrated the $63 billion Monsanto purchase, and Bayer Chairman Werner Wenning, who announced last month he was stepping down from the company earlier than planned. The suit claims that Wenning's decision came after Bayer improperly obtained a copy of the then-draft shareholder lawsuit "through corporate espionage."
The lawsuit also claims that Bayer's recent announcement of an audit of its acquisition actions is "bogus" and "part of the ongoing cover-up and intended to create a legal barrier to this case to protect Defendants from their accountability…"
The action is a shareholder derivative complaint, meaning it is brought on behalf of the company against company insiders. It seeks compensatory damages for shareholders and disgorgement of "all compensation paid to the Bayer Managers and Supervisors who participated in bringing about this Acquisition…" The suit also seeks return of funds paid to banks and law firms involved in the acquisition.
The defendants include not only Baumann and Wenning, but also some present and former Bayer directors and top managers, as well as BOFA Securities, Inc., Bank of America, Credit Suisse Group AG and the law firms of Sullivan & Cromwell LLP and Linklaters LLP.
A Bayer spokesman did not respond to a request for comment.
The lawsuit comes a little more than a month before Bayer's April 28 annual shareholders' meeting in Bonn, Germany. At last year's annual meeting, 55 percent of shareholders registered their unhappiness with Baumann and other managers over the Monsanto deal and the subsequent loss of roughly $40 billion in market value.
Bayer's purchase of Monsanto has been clouded by tens of thousands of lawsuits alleging Monsanto's glyphosate-based herbicides cause non-Hodgkin lymphoma and that the company deceived customers about the risks. Bayer proceeded with the acquisition even after the International Agency for Research on Cancer in 2015 classified glyphosate as a probable human carcinogen with a positive association to non-Hodgkin lymphoma, and despite knowledge of the spreading legal claims.
Bayer then completed the Monsanto purchase just two months before the first Roundup cancer trial ended with a $289 million verdict against the company. Since that time two more trials have ended in similar findings against the company with verdicts totaling more than $2 billion, though the trial judges in each case have lowered the verdicts. All are now on appeal.
Bayer has said there are more than 45,000 plaintiffs currently making similar claims. The company has been working to settle the lawsuits for a figure widely reported to be around $10 billion but has thus far not been successful in putting an end to the litigation.
The lawsuit claims that during 2017 and 2018, as the filing of new Roundup cancer lawsuits was escalating, the ability of Bayer management to conduct due diligence into Monsanto and the litigation risks was "severely restricted." As a result, "Bayer could not conduct the kind of intrusive and thorough due diligence into Monsanto's business and legal affairs called for under the circumstances."
The suit claims that Monsanto did not disclose a material risk from Roundup and failed to quantify any potential financial impact. Monsanto's executives "had every incentive to minimize the Roundup risk in order to get Bayer to close the deal," the lawsuit states.
The shareholder lawsuit claims that "these types of mass-tort cases… can destroy a company."
The lawsuit points to the fact that Monsanto's glyphosate herbicides are now being restricted and/or banned in many parts of the world, including in Germany.
"The Monsanto Acquisition is a disaster. Roundup is doomed as a commercial product," the lawsuit states.
Reposted with permission from U.S. Right to Know.
READ MORE:
Bayer faces huge upsurge in cancer-linked lawsuits, as number of claims double over Monsanto's weed killer Roundup
Brazilian farmers lose battle to Monsanto but pledge to fight its 'abusive' royalty system