Julian Assange: Sweden drops rape investigation
By VF/BBC/TG/DW/JS et al. - 19. November 2019
Prosecutors in Sweden have dropped an investigation into a rape allegation made against Wikileaks co-founder Julian Assange in 2010 - for a third time - after a review of the evidence.
Kristinn Hrafnsson, the WikiLeaks editor-in-chief, said: "Sweden has dropped its preliminary investigation into Mr Assange for the third time, after reopening it without any new evidence or information."
Assange, who denies the accusation, has avoided extradition to Sweden for seven years after seeking refuge at the Ecuadorean embassy in London in 2012.
The 48-year-old Australian was evicted in April 2019 from the embassy of Ecuador, under the country's new right-wing president Lenin Moreno, and sentenced to 50 weeks in jail for breaching bail conditions.
He is currently being held in isolation at "Her Majesty's Prison Service" - the notorious, high-security Belmarsh prison in London - means Queen Elizabeth II. can just release him and safe her own face.
The Swedish investigation had been shelved in 2017 but was re-opened earlier this year following his eviction from the embassy.
The deputy chief prosecutor, Eva-Marie Persson, said the complainant's evidence was deemed credible and reliable, but that after nearly a decade, witnesses' memories had faded.
"After conducting a comprehensive assessment of what has emerged during the course of the preliminary investigation I then make the assessment that the evidence is not strong enough to form the basis for filing an indictment," Persson said. An appeal against the decision could be made to the office of Sweden's attorney general, she added.
Separately, the USA is seeking Assange's extradition from the UK over his alleged role in the release of classified military and diplomatic material by Wikileaks in 2010.
Sweden dropped Assange's rape investigation
That means it was B.S. all along. Here's the method: When you don't have a legitimate cause to arrest someone you want arrested, just make up a story so wherever he is, he gets arrested and once you have him extradited say OOPS, oh, we were wrong, he was innocent and then claim to have let him go while he rots in a hole somewhere.
Since Assange is now out of the picture, and obviously either adequately destroyed or (psychologically) dead, there's no reason for Sweden to keep "investigating" anything, the job of getting rid of him was completed by someone else.
Sweden's recent decision proves Assange was innocent all along, and should never have been trapped in an embassy. If he'd have gotten to Mexico where there's a lot more respect for whistle blowers, he'd have been fine and still able to go for a nice long drive.
High time the public gets to know these alleged "7 witnesses" and a counter-investigation especially into the key figures of this charade - Anna Ardin and Sofia Wilen - as well as their handlers (NSA, CIA, (SIS)/MI6, AIO, DI, MUST, Säpo - you name them) must be launched and concluded. Due to the involvement and implications of various states an Indpendent International Tribunal is warranted.
So far the move by the Swedish prosecutor only plays into the hands of those who still want that Julian Assange gets swiftly extradited into the dungeons of those, who want to retaliate for the exposure of war-crimes committed by the USA - the rogue USA themselves. What happened so far to Julian Assange in the UK is nothing but an extended CIA-torture programme and, though it was also exposed by the UN Special Rapporteurs as such, the toothless UN and colluding state governments do nothing to stop it. See also: USA Descended Into Torture, Lies, and Denial
The release of the "Collateral Murder" footage (no sign-in restriction and more explanation HERE or short HERE) by ex-army private Chelsea Manning and its publication by WikiLeaks - then lead by Julian Assange as publisher - showed American forces in Iraq firing on, killing and laughing about the civilian casualties, including the two Reuters Journalists Namir Noor-Eldeen and his driver Saeed Chmagh (dubbed Saaed and Namir in the videos) - both clearly visible with cameras. If worldwide the MSM-journalists proved to have little sympathy for Julian Assange, their gross neglect of the killing of their own colleagues by out-of-bounds U.S. heli-troopers and their commanding officers only shows how rotten the solidarity is among the presstitutes. Those professional journalists, who recently found renewed common ground for media freedom and stood up, must now also accompany the final stretch of the UK nightmare imposed on Julian Assange and provide support as well as the necessary public and political outrage to get him and Chelsea Manning free.
That Donald Trump doesn't have the guts nor power to intervene seems obvious - otherwise he would have set Chelsea Manning free already and would declare also Julian Assange free of any of those bogus charges brought to the extradition hearings by his administration. But Trump pardons murderers like Clint Lorance, who was prosecuted to 20 years prison for murder in 2013 when he ordered his unit to kill unarmed civilians in Afghanistan.
The war-crimes of the helicopter shootings (involved: 'Kyle' - 'CrazyHorse18' - 'Bushmaster6' - 'Bushmaster7' - 'Bushmaster26' - 'Bushmaster 36' - ' Bushmaster40' - 'Hotel26' - 'Hotel27' et al.) made public by WikiLeaks have not even been properly investigated and prosecuted. Julian Assange, Chelsea Manning and Wikileaks did provide the proof of this war-crime and until otherwise proven innocent the USA as entity remains what it is: A War Criminal that must be shunned and isolated by the world community for the sake of humanity.
Swedens Deputy Director of Public Prosecution Eva-Marie Persson took the decision to "discontinue the investigation regarding Julian Assange", the Swedish Prosecution Authority said.
What did the prosecutors say?
Persson said in May that the circumstances allowed for an extradition to Swedenfrom Britain, and that an interview should be conducted with Assange.
Persson said the investigators had collected additional documentary evidence since reopening the inquiry and that further interviews had been conducted with five witnesses who had already spoken to officials.
Two people who had not been interviewed had also been spoken to, while one interview took place in Denmark following a request for international judicial assistance involving that country.
However, after additional investigations over the summer and autumn it was clear that the oral testimony given in support of the woman had weakened, Persson said on Tuesday. This was primarily because a long time had passed and memories had faded for natural reasons, she added.
Tuesday's decision follows a ruling in June by a Swedish court that Assange, who denies the accusation, should not be detained.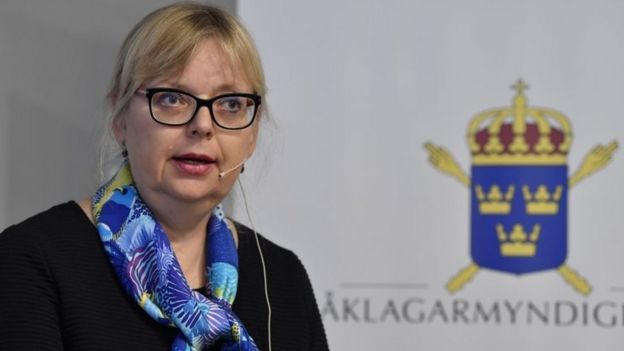 Ms Persson said: "I would like to emphasise that the injured party has submitted a credible and reliable version of events.
"Her statements have been coherent, extensive and detailed; however, my overall assessment is that the evidential situation has been weakened to such an extent that that there is no longer any reason to continue the investigation."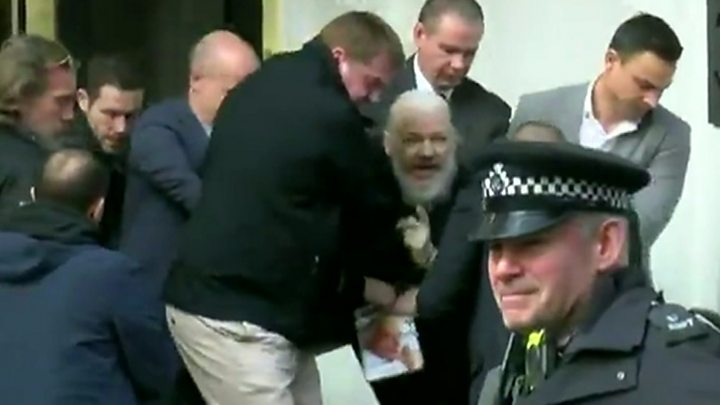 Prosecutors told reporters the decision to drop the inquiry had been taken after interviews with seven witnesses in the case.

One chapter over, another barely begun
Caroline Hawley, BBC diplomatic correspondent
With the end of Julian Assange's legal troubles in Sweden, one long chapter in the saga is over. But another one, in the United States, has barely begun.
The Wikileaks founder always argued that his fear of being extradited from Sweden to the US was why he had taken refuge in the Ecuadorean embassy in London. That political refuge ended unceremoniously in April, when he was dragged out by British police.
Now Assange faces 18 criminal charges in the US, including conspiring to hack government computers and violating espionage laws. If convicted, he could face decades in jail.
From behind bars in Belmarsh jail, Assange is trying to prepare for the case. The decision by Swedish prosecutors today means there'll now be no competing extradition request to the one from the US.

What was the Swedish investigation about?
Assange was accused of rape by a woman and sexual assault by another one following a Wikileaks conference in Stockholm in 2010. He has always denied the allegations, saying the sex was consensual.
He also faced investigations for molestation and unlawful coercion, but these cases were dropped in 2015 because time had run out.
What has the reaction been?
There was no immediate comment from Assange but Wikileaks welcomed the Swedish move to drop the investigation.
Wikileaks editor-in-chief Kristinn Hrafnsson said: "Let us now focus on the threat Mr Assange has been warning about for years: the belligerent prosecution of the United States and the threat it poses to the First Amendment."
What charges does Assange face in the US?
Australian-born Assange faces a charge of conspiracy to commit computer intrusion in the US.
He is accused of participating in one of the largest ever leaks of government secrets, which could result in a prison term of up to five years.
In June, the then UK Home Secretary, Sajid Javid, formally approved an extradition request from the US.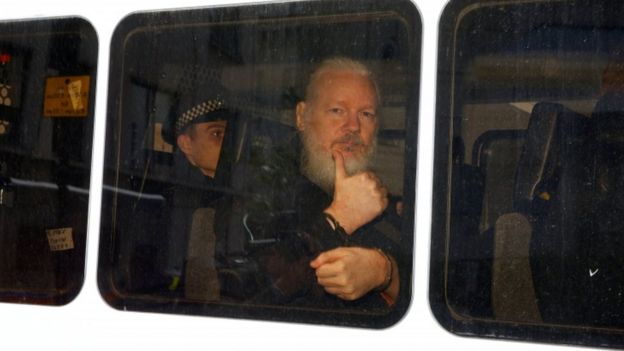 Assange was due to be released from HMP Belmarsh in September after serving the custody period of his jail term.
But a judge ruled that Assange should remain in jail until his extradition hearing because of his "history of absconding".
Last month, a judge rejected Assange's attempt to delay the full extradition hearing, which is scheduled to take place at Westminster Magistrate's Court in London in February.
Sweden drops Assange rape investigation
Swedish prosecutors have said that though the accusations are "credible," there is not enough evidence to indict the Wikileaks founder. Assange's main concern now is fighting extradition to the United States.
By DW - 19. November 2019
Swedish prosecutors announced on Tuesday that they were dropping a probe against Wikileaks founder Julian Assange, who had been accused by two women of assaulting them in Stockholm in 2010.
Although officials said they believed the women's claims to be "credible," they have now said that there does not appear to be enough evidence for an indictment. This follows a June decision by a Swedish court that Assange should not be detained.
Wikileaks editor-in-chief Kristinn Hrafnsson wrote on Twitter that public conversation should now focus on the "the belligerent prosecution of the United States and the threat it poses" to free speech.
Assange had consistently denied the allegations, claiming it was a ploy by Washington to get him extradited to the United States.
To evade an international arrest warrant, Assange sought asylum in the Ecuadorian Embassy in London in 2012. In April 2019, however, Ecuador's President Lenin Moreno said that the 48-year-old Australian had violated the terms of his asylum and he was expelled from the embassy. He was then promptly arrested by British authorities.
Assange is currently serving a 50-week jail sentence in the UK for skipping bail. He is still fighting extradition to the US after he has served this sentence, where he is wanted for violating the Espionage Act in connection with Wikileaks' publishing of classified documents.
His extradition hearing is set for February 2020.
New Interview with John Sipton, the father of Julian Assange
- with Spanish subtitles
Intervista a John Shipton, padre di Julian Assange
PandoraTV Premiered Nov 20, 2019
Pandora TV e l'Associazione Per un Mondo Senza Guerre presentano: Intervista a John Shipton, padre di Julian #Assange. Intervista a cura di Berenice Galli.
Dropped Investigations: Julian Assange, Sex and Sweden
By Dr. Binoy Kampmark - GR - 20. November 2019
Sex, the late Gore Vidal astutely observed, is politics, and not merely from the vantage point of those who wish to police it. In the case of whistleblowers, claims of aberrant, unlawful sex serves the purpose of diminishing credibility, tarring and feathering the individual and furnishing a distraction. Forget what was disclosed; focus, instead, on the moral character of the person in question. The rotter could not have been good anyway.
In the case of Julian Assange, the stench of accusation (never charge) of sexual assault clung stubbornly.
"The road to Belmarsh and 175-years in prison was paved in Stockholm – and so it will be remembered," tweeted the Defend Assange Campaign.
Then came the announcement from the Deputy Director of Public Prosecution Eva-Marie Persson: the Swedish investigation was being laid to rest.
"The reason for this decision is that the evidence has weakened considerably due to the long period of time that has elapsed since the events in question."
This did not mean Persson would let Assange off without a blemish on character. Some stain still had its place.
"I would like to emphasise that the injured party has submitted a credible and reliable version of events. Her statements have been coherent, extensive and detailed; however, my overall assessment is that the evidential situation has been weakened to such an extent that there is no longer any reason to continue the investigation."
Despite no charge or trial, untested accounts are still being permitted to linger on the historical chronicle.
The effort to get at Assange via the sexual channel has been sporadic, arbitrary and inconsistent. In 2010, Assange was accused by two women of rape and sexual assault following a WikiLeaks conference in Stockholm. One of the women, Miss A (Anna Ardin), claimed that Assange had fiddled with a condom during sex. Miss W claimed to have been penetrated by Assange without a condom while asleep. The accusations were also supplemented by claims of unlawful coercion and molestation, though these had run their course by 2015.
The initial phase of prosecution lacked conviction. Stockholm chief prosecutor, Eva Finne, was unimpressed. She immediately cancelled the arrest warrant claiming no "reason to suspect that he has committed rape." Four days later, she dismissed the rape investigation. One of the accusers would also say that he had not been raped. But another chapter was being drafted. Claes Borgström, taking it upon himself to represent the two women, persuaded Marianne Ny seize the reins. The case was re-opened. All of this took place under the cloud of claims that US-Sweden intelligence sharing would be compromised if Assange was sheltered in Sweden, and the very pointed views of Sweden's military intelligence service that WikiLeaks posed a threat to the country's soldiers in Afghanistan under US command.
In 2017, the tired effort was shelved. With the storming of Ecuadorean embassy in London and the forced eviction of Assange, prosecutors again got a burst of inspiration: the investigation was re-opened for a second time. The exercise seemed redundant, given that the United States would be having first dibs with its effort to extradite the publisher.
Over time, the sexual angle to the issue morphed into a crusade, becoming, intentionally or otherwise, a means to demonise the efforts of Assange and WikiLeaks. It aligned neatly, consistently, and even conspiratorially, with the recommendations of the US Army Counterintelligence Centre within the Counterintelligence Assessments Branch in its March 2008 document "Wikileaks.org – An Online Reference on Foreign Intelligence Services, Or Terrorist Groups?" As WikiLeaks relies on "trust as a centre of gravity by protecting the anonymity of the insiders, leakers or whistleblowers," it was possible that "identification, exposure, termination of employment, criminal prosecution, legal action against current or former insiders, leakers, or whistleblowers could potentially damage or destroy this centre of gravity and deter others considering similar actions from using the Wikileaks.org Web site."
Sexual misdemeanour was always going to be a formidable vehicle by which this could be executed. For Yana Walton of the Women's Media Centre, the issue was condensed and simple: "Rape is rape is rape is rape, and should be prosecuted as such." Such arguments ignored the defective processes behind the Swedish prosecution, the refusal to conduct interviews with Assange in the embassy, and the obsession with physically having him present in Sweden.
Beyond that was the point made by WikiLeaks, now gruesomely evident, that the United States would seek to have Assange delivered into its custody the moment he reached Swedish soil. Claims of sexual impropriety were subsequently sharpened to suggest that Assange was never a political prisoner in the embassy, let alone an agent of radical transparency.
In May this year, Caroline Orr's less than considered scribbles parroted the US Department of Justice line that Assange "wasn't a prisoner at all. He wasn't being pursued for bravely standing up for truth; rather, he was hiding from it." Very generous of Orr to know something others do not.
In suggesting her own understanding of the truth as unimpeachable, she proceeded to take a leaf out of the covert manual of whistleblower demonization, using misogyny as her preferred weapon. Being one naturally meant you could not speak, let alone shout truth, to power. "Assange is a misogynist who spent nearly seven years living in the Ecuadorean Embassy in London because he didn't want to return to Sweden to answer to two women accusing him of sex crimes. Regardless of your feelings toward WikiLeaks, this is a major part of Assange's legacy – and it matters."
On his apprehension, British Labour MP Jess Phillips was appalled by the idea of women's issues being "the political side salad, never the main event." In responding to Assange's arrest, "the political establishment slapped us around the face." Speaking collectively as voice of the slapped, she found the debate about how best to deal with the Australian publisher one that ignored "the fact that Assange, for seven years, evaded accusations of sexual violence in Sweden." Not a sliver of acknowledgment about Assange's status of political asylum was made. Assange was merely a creep worthy of punishment.
Philips's own tendency to trim the record was evident, ignoring the obvious point that the sex allegations (and not charges, as she mistakenly implies) were very much placed in the foreground to take discussions away from WikiLeaks and its disruptions. The bigger picture, which she dismisses as a case of "big boys playing toy soldiers", was cluttered with the ongoing US investigation that finally confirmed its presence in April this year.
As with other figures with historical freight, Assange is a character flawed and troubled, hardly your card carrying Women's Libber or gallant knight. The ramshackle motor of history is not operated by saints; to even assume that level of purity and clean living suggests a degree of shuddering naïveté. But the stuttering Swedish prosecution, shelved then restarted, was never based purely on the dictates of conscience and the pursuit of justice on behalf of the claimed victims. Sex is politics, and from the start, the Assange prosecution, from Washington to Stockholm, was and remains, political.
* Note to readers: Forward this article to your email lists. Crosspost on your blog site, internet forums. etc.
Dr. Binoy Kampmark was a Commonwealth Scholar at Selwyn College, Cambridge. He lectures at RMIT University, Melbourne. He is a frequent contributor to Global Research and Asia-Pacific Research. Email:
Featured image: Julian Assange court sketch, October 21, 2019, supplied by Julia Quenzler.
The original source of this article is Global Research - Copyright © Dr. Binoy Kampmark, Global Research, 2019
READ ALSO: