China, USA and the Geopolitics of Lithium
By F. William Engdahl - GR - 19. November 2019
For several years since the global push to develop mass-scale Electric Vehicles, the element Lithium has come intofocus as a strategic metal. Demand is enormous in China, in the EU and in the USA at present, and securing control over lithium supplies is already developing its own geopolitics not unlike that for the control of oil.
China Moves to Secure Sources
For China, which has set major targets to become the world's largest producer of EVs, developing lithium battery materials is a priority for the 13th Five-Year Plan (2016-20) period. Though China has its own lithium reserves, recovery is limited, and China has gone to secure lithium mining rights abroad.
In Australia Chinese companyTalison Lithium, controlled by Tianqi, mines and owns the world's largest and highest grade spodumene reserves in Greenbushes, Western Australia near Perth.
Talison Lithium Inc. is the world's largest primary lithium producer. Their Greenbushes site in Australia produces today some 75% of China's lithium demands and about forty percent of world demand. This as well as other vital Australian raw materials, has made relations with Australia, traditionally a firm US ally, of strategic importance to Beijing. As well, China has become the largest trade partner for Australia.
However China's growing economic influence in the Pacific around Australia led Prime Minister Scott Morrison to send a warning message to China not to challenge Australia's strategic backyard region. In late 2017 Australia, with growing concern over expanding Chinese influence in the region, resumed informal cooperation in what is sometimes called the Quad,with USA, India and Japan, reviving an earlier attempt to check Chinese influence in the South Pacific. Australia has also recently stepped up lending to strategic Pacific island nations to counter China's lending. All this clearly makes it imperative for China to go global to other sites to secure its lithium in order to become the key player in the emerging EV economy over the coming decade.
As development of electric vehicles became priority in Chinese economic planning, the search for secure lithium turned to Chile,another major source of the lithium. There,China's Tianqiis amassing a major share of Chile's SociedadQuimica Y Minera (SQM), one of the world's largest lithium producers. If China's Tianqi succeeds in gaining control of SQM it will change the geopolitics of world lithium control according to mining industry reports.
The global supply of lithium metals, a strategic component of lithium-ion batteries used to power electric vehicles (EVs) is concentrated in a very few countries.
To give an idea of lithium's potential demand, the battery for Tesla's Model S requires 63 kilograms of lithium carbonate, enough to power approximately 10,000 cell phone batteries. In a recent report, the Goldman Sachs bank has called lithium carbonate the new gasoline. Only a 1 per cent increase in electric vehicle production could increase lithium demand by more than 40 per cent of current global production, according to Goldman Sachs. With many governments demanding lower CO2 emission, the global auto industry is expanding plans for EVs massively over the coming decade, which will make lithium potentially as strategic as oil is today.
Saudi Arabia of Lithium?
Bolivia, whose lithium is far more complicated to extract, has alsoin recent years become a target of interest for Beijing. Some geological estimates rank Bolivia's lithium reserves as the world's largest.Salar de Uyuni salt flats alone are estimated to contain nine million tons of lithium.
Since 2015 a Chinese mining company, CAMC Engineering Company, has been operating a large plant in Bolivia to produce potassium chloride as fertilizer. What CAMC downplays is the fact that beneath the potassium chloride are the largest known lithium reserves in the world in Salar de Uyuni salt flats, one of 22 such salt flats in Bolivia. China's Linyi Dake Trade in 2014 constructed a lithium battery pilot plant on the same site.
Then in February 2019 the Morales government signed another lithium deal, this with China's Xinjiang TBEA Group Co Ltd who will hold a 49 percent stake in a planned joint venture with Bolivia's state lithium company YLB. That deal is to produce lithium and other materials from the Coipasa and PastosGrandes salt flats and would cost an estimated $2.3 billion.
In terms of lithium, China so far dominates the global new Great Game for control. Chinese entities now control nearly half of global lithium production and 60 percent of the electric battery production capacity. Within a decade, Goldman Sachs predicts China could supply 60 percent of the world's EVs. In short lithium is a strategic priority for Beijing.
USA China Lithium Rivalry?
The other major actor in the global lithium mining world today is the United States. Albemarle, a Charlotte, North Carolina company with an impressive board of directors, has major lithium mining in Australia and Chile,notably, just as does China. In 2015 Albemarle became a dominant factor in world lithium mining when it bought US company, Rockwood Holdings. Notably, Rockwood Lithium had operations in Chile in the Salar de Atacama, and in the same Greenbushes mine in Australia, where China'sTianqi Industry Group owns 51 percent. That gave Albemarle 49% share of the huge Australian lithium project, in partnership with China.
What is beginning to become clear is that US-China tensions over Chinese economic plans also likely include countering China influence in controlling key strategic lithium reserves. The recent military coup in Bolivia that forced Evo Morales into Mexican exile, from early evidence, had the fingerprints of Washington. The entry of acting interim President Jeanine Áñez, a right-wing Christian,and the right-wing millionaire, Luis Fernando Camacho, signals a nasty turn to the right in the country's political future, one openly backed by Washington. Crucial among other issues will be whether a future government will annul the lithium mining agreements with Chinese companies.
So too, the cancellation of the November 16 meeting in Chile of APEC, which was to have featured a summit on trade between Trump and Xi Jinping, takes another significance. The meeting was also to have been the venue for major China-Chile trade deals according to the South China Morning Post. Xi's planned delegation would have included 150 corporate heads and plans to sign major economic agreements, further tightening Chile-China economic ties, something the US has recently warned against.
The eruption of mass protests across Chile opposing government public transit fare increases bears the signs of similar economic triggers in other countries used to ignite Washington Color Revolutions. The protests had the short-term effect of cancelling the APEC summit in Chile. The active role of the US-financed NGOs in the Chile protests has not been confirmed, but the growing economic relations between Chile and China clearly are not seen as positive by Washington. China lithium exploitation in Chile at this point is a little-discussed strategic geopolitical factor that could be target of Washington interventions despite the free market economics of the present government.
At this juncture what is clear is that there is a global battle on for domination of the EV battery market of the future and control of lithium is at the heart of it.
* F. William Engdahl is strategic risk consultant and lecturer, he holds a degree in politics from Princeton University and is a best-selling author on oil and geopolitics, exclusively for the online magazine "New Eastern Outlook" where this article was originally published. He is a frequent contributor to Global Research.
The original source of this article is Global Research - Copyright © F. William Engdahl, Global Research, 2019
Note to readers: Forward this article to your email lists. Crosspost on your blog site, internet forums. etc.
Bolivian Coup Comes Less Than a Week After Morales Stopped Multinational Firm's Lithium Deal
"Bolivia's lithium belongs to the Bolivian people. Not to multinational corporate cabals."
By Eoin Higgins (*) - 11. November 2019
Bolivia's Salar de Uyuni salt flats hold the largest reserves of lithium in the world. (Photo: Psyberartist/Flickr/cc)
The Sunday military coup in Bolivia has put in place a government which appears likely to reverse a decision by just-resigned President Evo Morales to cancel an agreement with a German company for developing lithium deposits in the Latin American country for batteries like those in electric cars.
"Bolivia's lithium belongs to the Bolivian people," tweeted Washington Monthly contributor David Atkins. "Not to multinational corporate cabals."
The coup, which on Sunday resulted in Morales resigning and going into hiding, was the result of days of protests from right-wing elements angry at the leftist Morales government. Sen. Jeanine Añez, of the center-right party Democratic Unity, is currently the interim president in the unstable post-coup government in advance of elections.
Investment analyst publisher Argus urged investors to keep an eye on the developing situation and noted that gas and oil production from foreign companies in Bolivia had remained steady.
The Morales move on Nov. 4 to cancel the December 2018 agreement with Germany's ACI Systems Alemania (ACISA) came after weeks of protests from residents of the Potosí area. The region has 50% to 70% of the world's lithium reserves in the Salar de Uyuni salt flats.
Among other clients, ACISA provides batteries to Tesla; Tesla's stock rose Monday after the weekend.
As Bloomberg News noted in 2018, that has set the country up to be incredibly important in the next decade:
Demand for lithium is expected to more than double by 2025. The soft, light mineral is mined mainly in Australia, Chile, and Argentina. Bolivia has plenty—9 million tons that have never been mined commercially, the second-largest amount in the world—but until now there's been no practical way to mine and sell it.
Morales' cancellation of the ACISA deal opened the door to either a renegotiation of the agreement with terms delivering more of the profits to the area's population or the outright nationalization of the Bolivian lithium extraction industry.
As Telesur reported in June, the Morales government announced at the time it was "determined to industrialize Bolivia and has invested huge amounts to ensure that lithium is processed within the country to export it only in value-added form, such as in batteries."
It's unclear what the next steps are for the industry in a post-coup Bolivia, according to global intelligence analysis firm Stratfor:
In the longer term, continued political uncertainty will make it more difficult for Bolivia to increase its production of strategic metals like lithium or develop a value-added sector in the battery market. The poor investment climate comes at a time of expanding global opportunities in lithium-ion battery production to meet rising demand from electric vehicle manufacturing.
ACISA told German broadcaster DW last week that the company was "confident that our lithium project will be resumed after a phase of political calmness and clarification."
On Sunday, Morales resigned.
(*) Work is licensed under a Creative Commons Attribution-Share Alike 3.0 License. Feel free to republish and share widely.
China-Bolivia – A Lithium Deal, No More?
By Peter Koenig - GR - 21. November 2019
China has by far the largest lithium market. China produces already today the most electric cars, about 1 million in 2018, and will at least triplicate their production by 2025 – and in the following decade or two, demand is expected to increase exponentially.
Bolivia has the world's largest – by far – known lithium reserves. A long-term win-win contract between China and Bolivia was under preparation since early 2019 and being negotiated as a 51% Bolivia – 49% China share-arrangement, with manufacturing of batteries and other lithium-related products foreseen in Bolivia – added value, job creation in Bolivia – with an initial investment of US$ 2.3 billion – was about to be signed, when the US-instigated Bolivian military coup occurred. It was immediately followed with the usual US-style intimidating, violent and murderous oppression, particularly directed at protests by indigenous people.
They – the indigenous people, 70% to 80% of the Bolivian people – didn't want to lose their President, Evo Morales, who has improved their lives enormously, like nobody else before since Bolivia's independence from Spain some 200 years ago. Evo has drastically reduced poverty and provided most Bolivians with jobs and with a decent living. President Evo Morales had to seek asylum in Mexico to protect himself and his family from threats to his life and that of his loved ones, as well as to his political associates and members of Congress, who were in line to succeed him. The CIA, its handlers and their paid assets work with impunity, without scruples.
A day after Evo Morales left Bolivia, the opposition, led by the self-proclaimed neofascist, racist President, Jeanine Añez, ransacked and looted the Central Bank of its gold and large amounts of cash reserves. The loot was seen to be transported to the airport to be flown out of the country, presumably to the US. Madame Añez said she needed the money to buy weapons, of course, from America to keep oppressing and killing the indigenous protesters.
After the long-prepared and US- orchestrated 'civic-military' coup on 10th November, Bolivia is being ruled by a self-appointed, illegal, temporary (they say), neofascist government which is not only supported by the United States – the "putsch-maker" – but also by the abysmally shameful European Union, as well as by the Organization of American States – OAS (boasting, the US pays 60% of OAS' budget…).
Bolivians have been plunged into a violent military-police dictatorship knowing no restraint beating up indigenous protesters and shooting them with live ammunition. At least 25 have already been killed and hundreds wounded. Añez has signed a decree exonerating police and military from criminal prosecution for crimes and murders committed on protesters, giving the police and military a direct license to kill. Evo Morales, was forced to resign by top military brass which has been secretly trained by the School of the Americas, now called The Western Hemisphere Institute for Security Cooperation (WHINSEC).Evo has been bitterly betrayed by Washington-corrupted and trained officers.
About 20 of Evo's closest entourage, including members of congress, who according to the Bolivian Constitution would have been in line to take up temporarily the Presidency until new elections are organized – a fact Evo proposed before being forced to resign, hardly reported by the western media – were also ordered to resign. They were all granted asylum in Mexico. They were told by the new, illegal self-appointed Government, that they were not allowed to run for the Presidency in upcoming elections. This is the type of "Democracy" exported by Washington. Its more aptly called dictatorship.
The power and fervor of pro-Morales protests in Bolivia is increasing day-by-day. Evo was the first indigenous President of the plurinational Andean country. Indigenous Bolivians, the vast majority, are strong supporters of Evo's and his MAS party (MAS = Movimiento al Socialismo, or movement towards socialism).
US President Trump has made it abundantly clear that he does not tolerate socialist governments in the world, let alone in his backyard, Latin America. Congratulating the US-trained putsch leaders, he warned Venezuela, Cuba and Nicaragua of what might soon happen to them. He doesn't lose an opportunity dishing out threats to world leaders who do not follow his orders. Indeed, the CIA via locally trained and bought agents is also causing havoc and bloody uprisings in Iran, Hong Kong, Lebanon. He, Mr. Trump the Great, a President in the process of being impeached himself for corruption and other misdeeds by the US Parliament. Bravo.
Having a socialist Government was certainly a reason for the coup d'état, but not the only one, perhaps not even the key reason. Bolivia, like Venezuela, is rich in natural resources, gas, oil, minerals and metals – and lithium, a light metal, used in car batteries, especially batteries for electric cars. They are ideal assets to be privatized by a neoliberal government for the benefit of a few local oligarchs and of foreign corporations – mostly US, of course. Stealing natural resources from developing countries is a key objective for the empire's attempting to establish monetary and territorial world hegemony.
Bolivian Coup Comes Less than a Week After Morales Stopped Multinational Firm's Lithium Deal
Already before Evo Morales first took office in January 2006, he pledged to the Bolivian people that the vast and rich natural resources treasures of Bolivia belong to Bolivia, to the Bolivian people. Among the first actions of his Presidency was the partial nationalization of the hydrocarbon industry – gas and petrol. Evo inherited from his predecessors, Goni Sanchez and Carlos Mesa an absurd arrangement, whereby the foreign corporations would receive on average 82% of the profits from hydrocarbon exploitation and the remaining 18% would stay in Bolivia. It is precisely for this reason that both Goni and Mesa were thrown out by the people in bloody people's rebellions in 2003 and 2005, respectively.
When Evo was elected President in 2005 and took office in January 2006, he reversed this proportion: 82% for Bolivia and 18% for the transnationals. The western world screamed and hollered and warned him that all the foreign investors will abandon Bolivia – and Bolivia will be alone and her economy will collapse miserably. None of this happened, of course. Because even under this new arrangement foreign corporations made enough profit for them to stay in Bolivia. They are there as of this day.
In comes lithium, a soft, light and highly flammable mineral – what some call the gold of the 21st Century. The world's total known lithium reserves are about 15 million tons, with a potential of up to 65 million tons. Bolivia has arguably the world's largest single known lithium deposits with a projected 9 million tons, about 60% of all known reserves.
Bolivia's lithium has so far remined largely untapped, whereas major current producers are Chile, Argentina, Australia and China. Bolivia's reserves are located in the Uyuni salt flats, the world's largest salt desert (some 10,000 km2) in the remote southern tip of Bolivia, about 4,000m above sea level. Lithium is contained in salt brine pools below the Uyuni salt flats.
Access is complicated because of altitude and remoteness and lithium mining has also environmental issues. Finally, and maybe most importantly, Evo Morales has promised his people that this valuable resource will not just be exported as raw material, but processed in Bolivia so that added value and major benefits remain in Bolivia. The general manager of state-owned Yacimientos de Litio Bolivianos (YLB) assures that "Bolivia will be a relevant actor in the global lithium market within four or five years."
Lithium is mainly used for the production of car batteries, cell phones, electronic devices in sophisticated weapons systems. In the age of growing environmental consciousness and electric cars, the car battery market is expected to explode in the coming years. China's President, Xi Jinping, recently said that as of 2030, all new cars on China's roads will be electric. Though, this may be optimistic, it speaks for a huge market. It is expected that the use of lithium in car batteries alone could triple – or beyond – in the coming 5 to 10 years.
In the last few weeks, the Bolivian Government was about to sign a contract with ACI Systems Alemania (ACISA), a small German mining company. On November 4, the deal was canceled, due to local protests over profit sharing. The local population wanted an increase of royalty payments from 3% to 11%. The deal would have brought a US$ 1.3 billion investment in the Salar del Uyuni (the Uyuni Salt Flats) over time for a vehicle battery factory and a lithium hydroxide plant. Similar deals with Tesla and other US and Canadian battery producers also failed, because of unacceptable profit-sharing arrangements.
China has the World's largest lithium market. By far. And the one with the fastest growth potential. With a million Chinese electric cars sold in 2018 alone, demand is expected to increase almost exponentially. President Xi's predictions may be slightly optimistic, but according to a Chinese thinktank, by 2040 all new vehicles on China's roads will be electric. Already today, almost 100% of all scooters roaming major cities are electric.
In February 2019, the Chinese company Xinjiang TBEA Group Co Ltd. And the Bolivian state company Yacimientos de Litio Bolivianos (YLB) negotiated a deal that would have given Bolivia 51% and the Chinese 49% shares of a lithium extraction investment, an initial US$ 2.3 billion investment venture, expandable according to market demand. The project would have included manufacturing of vehicle batteries – and more – thus, adding value in Bolivia and creating thousands of jobs.
The Chinese Ambassador to Bolivia estimates that China would need some 800,000 tons of the light metal by 2025. Electric cars with today's technology require massive amounts of lithium, about 63 kilograms for a single 70 kWh Tesla Model S battery pack.Officially known reserves in the Salar Uyuni of some 9 million tons, correspond to about a quarter of total known world reserves, according the US Geological Survey. Countrywide lithium deposits in Bolivia, but not yet proven, may reach 21 million tons, mostly in the Uyuni salt flats, according to government projections. World Bank projections see global demand for lithium skyrocketing in the coming years, reaching more than 1,000% of present demand by 2050.
A huge proportion of this multi-multibillion-dollar market would be Chinese. It is therefore not too far-fetched to believe that the US-induced military coup itself, and particularly its timing – has something to do with Bolivia's lithium – and more precisely with the China-Bolivia partnership deal.
Since the beginning of this year Bolivia has been negotiating with China, Bolivia's linking up to the Chinese Belt and Road Initiative (BRI). The lithium extraction and industrial development was part of it. Under Evo's guidance it could have lifted this still most impoverished country of South America out of poverty, to a level of "living well" for most Bolivians. China, with her win-win approach for the BRI expansion around the globe and for such bilateral deals, as would have been lithium development in and with Bolivia – would have contributed greatly to the improvement of living conditions for this landlocked Andean country.
With China being lambasted, thrashed and aggressed on every occasion, clearly, such a multiple billion-dollar long-term arrangement, for a market the west wants to claim for itself, is not allowed by the true axis of evil, the United States, the vassalic Europeans, Canada and Australia. So, President Evo Morales and his close MAS party allies – and potential successors – had to go. Unarmed indigenous people had to be intimidated by bought police and military forces. They are beaten up and shot at with live ammunition. As of today, the dead toll has reached at least 25, since the police-military violence began when Evo was forced to resign, about a week ago.
It is predictable that the current "interim" government will call a State of Emergency, meaning a de factomilitary-police dictatorship. The natural riches of a poor country that wants to use reserves for the betterment of her people, can be a curse – and especially if that country has a socialist regime. But – as a positive glare of hope, the Bolivian people are known to be headstrong and staunch defenders of their rights. So, with the support and solidarity of neighboring countries' people protesting for their lost civil rights, Chile, Ecuador, Argentina and maybe soon also Brazil, not all may be lost.
* Note to readers: Forward this article to your email lists. Crosspost on your blog site, internet fora. etc.
Peter Koenig is an economist and geopolitical analyst. He is also a water resources and environmental specialist. He worked for over 30 years with the World Bank and the World Health Organization around the world in the fields of environment and water. He lectures at universities in the US, Europe and South America. He writes regularly for Global Research; ICH; RT; Sputnik; PressTV; The 21st Century; Greanville Post; Defend Democracy Press, TeleSUR; The Saker Blog, the New Eastern Outlook (NEO); and other internet sites. He is the author of Implosion – An Economic Thriller about War, Environmental Destruction and Corporate Greed – fiction based on facts and on 30 years of World Bank experience around the globe. He is also a co-author of The World Order and Revolution! – Essays from the Resistance. He is a Research Associate of the Centre for Research on Globalization.
The original source of this article is Global Research - Copyright © Peter Koenig, Global Research, 2019
The Strategic Battle for Lithium. Huge Reserves in Bolivia, Argentina, Chile
By Enzo Pellegrin - GR - 14. November 2019
On March 15, 2018, Maurizio Stefanini, reporter of an italian right think-tank, complained that the huge reserve of Lithium present in Bolivia was in the hands of the State"" and of the bad example"" of Evo Morales. (1) In the same article it was pointed out that, on the contrary, Chile and Argentina, the other two Saudi Arabian"of Lithium, had generated a real race for lithium", as in romantic Yukon era.
In Chile, according to 2016 data, 68,874 metric tons ™ of lithium carbonate equivalent (cle) were extracted by private companies Albemarle and Sociedad Química de Minerales de Chile (SGM). The latter is owned 29 percent by billionaire Julio Ponce Lerou, who ranked 422 on the Forbes chart of the rich planetary planets, thanks to the Lithium boom. At that time, Chile had a 33% share of the Lithium world market.
In 2016, the Argentinean companies FMC Corporation and Orocobre produced 30,340 tm of cle, reaching a 16 percent share of the world market.
The article reported the opinion of an alleged expert in the field, named Joe Lowry, nicknamed in the branch as "Mr. lithium". According to Lowry, the mineral mining industry would require large and adequate investments to achieve discrete extractive values.
The subordinate position of the Argentinean companies was precisely due to the absence of investment, due to the "conflicts with the Kirchner", contrasts which would evidently have ceased with the establishment of the neoliberal government of Macri.
The global capital wants to put its hands on lithium, a strategic element for the production of batteries, not only for the mobile phone market, but especially for the new business of electric car industry.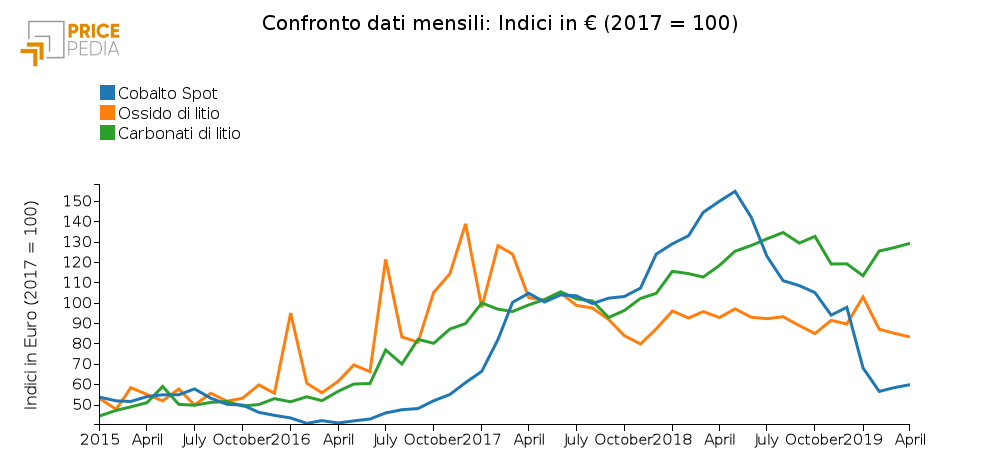 Price indexes of Lithium Carbonate, Lithium Oxide and Cobalt (Source: Pricepedia)
In recent years, the "lithium rush" has generated a significant increase in prices of mineral, and, consequently, in the profits of mining companies. The price of lithium, in the form of carbonate, in 2015 was around 5 euro/kg, while in 2018 it reached 12 euro/kg (+140%). Lithium oxide increased from 7.5 to 12 euro/kg (+61%). "Currently the Li-Ion accumulators are the most used and according to a report of the Chilean Chemical and Mining Society (SQM), one of the largest lithium producers in the world, The demand for key components for the production of this type of accumulator will also increase significantly in the coming years (2).
The important question we should ask ourselves is this: has this Lithium Rush brought wealth to popular classes of Argentina and Chile, as well as to the pockets of speculators?
The answer is obviously negative. This is demonstrated by the history of recent events in Chile and Argentina.
In the first of the two countries, a great popular riot has broken out against the neoliberal Pinera government, which has given rise to a bloody repression of demonstrators, on which there has been the complete disregard of the Western world.
Likewise in Argentina, a large popular opposition has decreed the end of the neoliberal government and the election of a government once again close to Kirchnerian popular politics.
Underlying both popular protests are extreme poverty, the indecent level of wages, privatisations, the high cost of living and services – largely owned by private companies – the subtraction of the nation's wealth by monopolistic enterprises, in comparison with the high salaries of police soldiers and all government officials and bureaucrats who help to maintain the order of neoliberal autocracy.
In short, the money of the Lithium Rush has filled the pockets of monopolists.
From these pockets – now absolutely hermetic – despite neoliberal fables, no wealth poured in favour of popular classes.
Otherwise, what happened in Bolivia?
The government of Evo Morales had placed its attention on Lithium. In the Salar of Uyumni, the country boasts the most important reserve of lithium in the world. In 2018, its production amounted to around 120 tons of cle per year: a small share for the interests of speculators. The government of Evo Morales recalled that projects developed in Bolivia have tried to take account of environment. More importantly, the government had chosen a social route for the development of this mining industry. The aim of the projects was not only to export, but to manufacture the finished product (batteries) in Bolivia, reserving the monopoly of extraction and subsequent production to industries wholly owned by the State, such as the mining industry, entrusted exclusively to the Yacimientos de Litio Bolivia.
Evo Morales applied the recipe of reserving to community the means of production, in order to decide what, how, where to produce, in accordance with the conservation needs of the environment.
The goals achieved in recent years by the Bolivian State, the elections always won by its President, including the last, show that there has been a fair distribution of wealth in favor of the popular classes of the country.
Against this socialist path, in recent years almost all mainstream and all think-thanks of neoliberalism have been hurled.
The production sector of electric cars is also at the heart of great financial manoeuvres that are taking place in the green economy sector. There has been an undoubted massive investment of resources in the promotion of cultural hegemony within the Western mainstream, towards the need for massive investments in"technologies considered green", even if these are not so "green" such as the production of battery-powered cars, which become impacting hazardous waste after a few years of operation.
These great manoeuvres were well explained by F. William Engdahl, in an article recently appeared in Global Research (3).
Engdahl notes that the mega-corporations and mega-billionaires behind the globalisation of world economy, whose pursuit for shareholder value and cost reduction has caused so much damage to our environment both in the industrial world and in the underdeveloped economies of Africa, Asia and Latin America, are the main supporters of the decarbonisation movement.
Engdahl also affirms:
"In 2013 after years of careful preparation, a Swedish real estate company, Vasakronan, issued the first corporate "Green Bond." They were followed by others including Apple, SNCF and the major French bank Credit Agricole. In November 2013 Elon Musk's problem-riddled Tesla Energy issued the first solar asset-backed security. Today according to something called the Climate Bonds Initiative, more than $500 billion in such Green Bonds are outstanding. The creators of the bond idea state their aim is to win over a major share of the $45 trillion of assets under management globally which have made nominal commitment to invest in "climate friendly" projects." […] "In 2016 the TCFD along with the City of London Corporation and the UK Government initiated the Green Finance Initiative, aiming to channel trillions of dollars to "green" investments. The central bankers of the FSB nominated 31 people to form the TCFD. Chaired by billionaire Michael Bloomberg of the financial wire, it includes key people from JP MorganChase; from BlackRock–one of the world's biggest asset managers with almost $7 trillion; Barclays Bank; HSBC, the London-Hong Kong bank repeatedly fined for laundering drug and other black funds; Swiss Re, the world's second largest reinsurance; China's ICBC bank; Tata Steel, ENI oil, Dow Chemical, mining giant BHP Billington and David Blood of Al Gore's Generation Investment LLC. In effect it seems the foxes are writing the rules for the new Green Hen House.

Bank of England's Carney was also a key actor in efforts to make the City of London into the financial center of global Green Finance. The outgoing UK Chancellor of the Exchequer, Philip Hammond, in July 2019 released a White Paper, "Green Finance Strategy: Transforming Finance for a Greener Future." The paper states, "One of the most influential initiatives to emerge is the Financial Stability Board's private sector Task Force on Climate-related Financial Disclosures (TCFD), supported by Mark Carney and chaired by Michael Bloomberg. This has been endorsed by institutions representing $118 trillion of assets globally." There seems to be a plan here. The plan is the financialization of the entire world economy using fear of an end of world scenario to reach arbitrary aims such as "net-zero greenhouse gas emissions." (3).
This important concentration of financial forces, as also demonstrated by Cory Morningstar, author and environmental activist, have strongly supported that investment in cultural hegemony represented by the apparitions of Greta Thunberg and the Fridays for Climate. Both this phenomena has been reproduced and amplified by the mainstream media, just as the size of these economic interests is great.
Follow the money trail, people say in USA about politics and media.
This economic path is now quite clear: the crisis of over-production needs new financial outlets: raising money from funds to invest in prospects that become credible and also necessitated, such as the decrease of CO2 in the atmosphere, presented as the last opportunity before the Apocalypse.
To give a concrete dimension to these investments, however, they also need neoliberal domination of raw materials needed: lithium is among them.
From the neo-liberal point of view, their management must be taken away from the bad examples of "nationalization". Thinking about extracting and producing lithium for the needs of the people and in respect for the environment, outside of speculative ambitions, is an attack at heart of globalized capitalist economy.
This is the reason why a freely elected President who enjoys the granite consensus of the popular masses of Bolivia should be ousted and forced to resign and flee the Country.
It becomes also clear which is the main enemy of the self-determination of peoples: in Bolivia there is not a song much different from the one played by the United States, NATO and the European Union in Syria, trying to break up an oil-producing country in order to throw it into easy hands to run.
Italian main press agency, ANSA, reported a few days ago that an order of capture was allegedly issued against Evo Morales. The source were statements of Mr. Camacho, who is none other than the leader of that opposition which challenged without substantiated reason the President's legitimate election. No official charge was held by Mr Camacho at the time of that statement.
This says a lot about how West Governments and European Union are aligned with the NATO imperialistic agenda, and with the interests of finance and globalized industry.
The enemy is naked, we have just to refuse to cover him up and start fighting.
Notes
(1) M. Stefanini, Chi ha il litio non ha i denti, Il Foglio, 15.3.2018
(2) C. Ranocchia, I prezzi del litio su livelli da record, Pricepedia, 29.5.2019
(3) F William Engdahl, Climate and The Money Trail, Globalresearch, 25.9.2019
The original source of this article is Global Research - Copyright © Enzo Pellegrin, Global Research, 2019 - Note to readers: Forward this article to your email lists. Crosspost on your blog site, internet forums. etc.